United States Grand Prix 2 Oktober 1977, Watkins Glen
Ronnie Peterson kan inför sin 107:e F1-start i karriären meddela att han efter 1977-års säsong lämnar Tyrrell för att återvända till Colin Chapman och Lotus-stallet. Även Ferrari låter kungöra att Gilles Villeneuve blir den som ersätter Lauda och som det verkar redan från säsongens två avslutande deltävlingar i Kanada och Japan.
Frågan är om inte insikten att han under nästa säsong kommer att sitta i en vinnarbil får Ronnie att tända till lite extra. I den elfte timmen presterar Ronnie säsongens näst bästa startposition och står i det tredje startledet efter en femte bästa tid. "Pole position" har erövrats av James Hunt (McLaren). Andra- och tredjeplatsen har intagits av den båda Brabham-bilarna med Hans-Joachim Stuck och John Watson. Mario Andretti fyra (Lotus).
Inför starten är banan blöt, men Watson chansar att inleda med "slicks". Det blir dock Stuck som går in i första kurvan före Hunt, Andretti, Reutemann och Ronnie - Watson faller snabbt bakåt i fältet. Ronnie kan inte hålla sin passering och blir snart passerad av såväl Lauda som Scheckter. På det femtonde varvet snurrar dock Stuck och ledningen kan övertas av Hunt. Denna ställningen håller sig in över mållinjen, med Andretti som tvåa före Scheckter och Lauda.
Ronnie är hela tre varv efter i mål, men kan ändå glädja sig åt att ha presterat snabbaste varvtid med 1.51,854. Loppets ledare: Stuck 1-14; Hunt 15-59.
Summary in english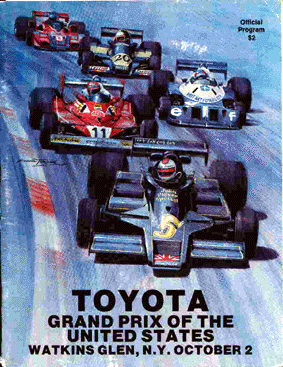 The entry was slightly smaller than had been the norm with 27 cars vying for 26 places on the grid. ATS had decided not to make the trip to the United States and most of the privateers were gone as well. The major addition to the field was Danny Ongais in an Interscope Racing Penske PC4.

Ferrari had already announced that Niki Lauda's replacement at Ferrari would be Gilles Villeneuve and as Ferrari and Lauda were becoming increasingly estranged it looked more and more likely that Lauda would not even bother to finish the season. Team Lotus also announced that Gunnar Nilsson would not be retained and that Ronnie Peterson would be returning to the team in 1978. There was a change at Shadow as well as Riccardo Patrese was busy with a Formula 2 race in Estoril and so his place was taken by Jean-Pierre Jarier who had been released from his ATS contract.

Qualifying resulted in another pole position for James Hunt with Hans Stuck showing well to qualify second in his Brabham-Alfa Romeo. Then came John Watson in the second Brabham and Mario Andretti in the Lotus. Peterson was next up in the Tyrrell and shared the third row of the grid with Carlos Reutemann's Ferrari while Lauda was seventh alongside the second Tyrrell of Patrick Depailler. The top 10 was completed by Jody Scheckter (Wolf), Jacques Laffite (Ligier), Vittorio Brambilla (Surtees) and Nilsson in the second Lotus.

At the start the track was damp and Watson gambled on slick tires. Stuck went into the lead with Hunt second, Andretti third ahead of Reutemann, Peterson, Lauda, Scheckter and the rest. Watson dropped quickly to the tail of the field. Stuck continued to lead in the early laps while Scheckter passed Lauda, Peterson and Reutemann to take fourth. Stuck however spun off on lap 15 and as he had no clutch he was unable to rejoin. The order at the front then remained unchanged all the way to the flag with Hunt winning from Andretti, Scheckter and Lauda. Clay Regazzoni (Ensign) was able to overhaul Reutemann to take fifth place.
Sammanställning

Grand Prix

Datum

2 Oktober 1977

Bana

Säsong

1977

Deltävling

15

Längd (km)

5.435

Varv

59

Tid

1:58:23.267
| | | | | | |
| --- | --- | --- | --- | --- | --- |
| Placering | Nr | Förare | Team | Tid | Grid |
| 1 | 1 | | | 1:58:23.267 | 1 |
| 2 | 5 | | | 2.026 | 4 |
| 3 | 20 | | | 78.879 | 9 |
| 4 | 11 | | | 100.615 | 7 |
| 5 | 22 | | | 108.138 | 19 |
| 6 | 12 | | | +1 varv | 6 |
| 7 | 26 | | | +1 varv | 10 |
| 8 | 24 | | | +1 varv | 20 |
| 9 | 16 | | | +1 varv | 16 |
| 10 | 30 | | | +2 varv | 17 |
| 11 | 18 | | | +2 varv | 25 |
| 12 | 7 | | | +2 varv | 3 |
| 13 | 28 | | | +2 varv | 18 |
| 14 | 4 | | | +3 varv | 8 |
| 15 | 9 | | | +3 varv | 23 |
| 16 | 3 | | | +3 varv | 5 |
| 17 | 25 | | | +4 varv | 22 |
| 18 | 27 | | | +4 varv | 24 |
| 19 | 19 | | | +5 varv | 11 |
| r | 15 | | | +29 varv | 14 |
| r | 6 | | | +42 varv | 12 |
| r | 8 | | | +45 varv | 2 |
| r | 10 | | | +49 varv | 21 |
| r | 2 | | | +51 varv | 15 |
| r | 14 | | | +53 varv | 26 |
| r | 17 | | | +56 varv | 13 |
| nq | 23 | | | | |
| | | |
| --- | --- | --- |
| NC=Not Classified | NT=No time set in qualifying | R=Retired |
| EX=Excluded from meeting | W=Withdrawn | DQ=Disqualified |
| NS=Did not start | NQ=Did not qualify | NPQ=Did not pre-qualify |

Aktuell ställning
| | | | |
| --- | --- | --- | --- |
| Position | Förare | Nation | Poäng |
| 1 | | | 72 |
| 2 | | | 47 |
| 3 | | | 46 |
| 4 | | | 36 |
| 5 | | | 31 |
| 6 | | | 21 |