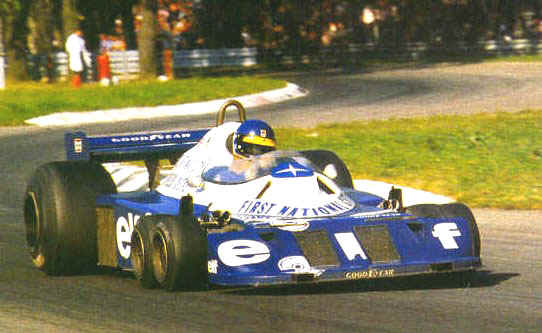 Gran Premio d`Italia 11 September 1977, Monza
Ronnie Peterson är regerande mästare på Monza inför den 106:e F1-starten totalt och den 14:e deltävlingen i 1977 års GP mästerskap. Från att i inledningen av säsongen ha haft svårare än teamkompisen Patrick Depailler att prestera resultat med den spektakulära 6-hjulingen från Tyrrell (Depailler med erfarenhet även från säsongen 1976), så är det nu Ronnie som presterar de mer framskjutna startpositionerna. Tyvärr uppvisar bilen en minst sagt dålig teknisk uthållighet och Ronnie har tvingats bryta sex av årets lopp efter problem med P34:an.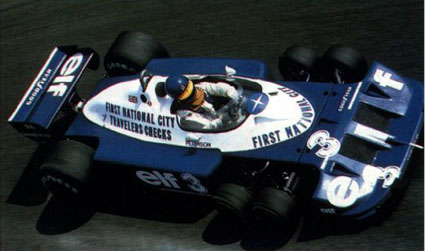 Kvalet i Italien har dock inte varit bra för de båda Tyrrellbilarna och Ronnie delar det sjätte startledet tillsammans med stallkamraten Depailler. I "pole position" återfinns James Hunt (McLaren), med Carlos Reutemann (Ferrari) på en andraplats. I ledet bakom tätförarna står Jody Scheckter (Wolf) placerad som trea tillsammans med fyran Mario Andretti (Lotus). Clay Regazzoni (Ensign) delar fjärde startledet tillsammans med en imponerande Riccardo Patrese (Shadow).
Scheckter tar starten och även en våldsamt satsande Regazzoni klämmer sig förbi Hunt in i första kurvan. Under det första varvet kan dock Hunt och Andretti återta sina förlorade placeringar då de tar sig förbi Ensign-bilen. Andretti tar sig på det andra varvet även förbi Hunt och påbörjar jakten efter Scheckter. I en spektakulär omkörning på utsidan tar sig Andretti förbi och går på det tionde varvet upp i ledning. Scheckter tvingas senare bryta efter att ha drabbats av motorproblem.
Andretti kan utan problem ta sig i mål som segrare. Lauda har arbetat sig tillbaka och slutar som tvåa före Alan Jones (Shadow) och Jochen Mass (McLaren). Regazzoni, som efter sin fantastiska start varit uppe på en andraplats, slutar femma.
Ronnie tar den sista poängen för dagen och är som sexa den siste föraren som klarar sig från att bli varvad. Ronnie har nu poäng från tre av de fjorton deltävlingarna - 7 poäng totalt i 1977 års förarmästerskap.
Snabbaste varv presterar Mario Andretti med 1.39,10 och loppets ledare kan sammanfattas i förarmästerskapets tvåa och trea: Scheckter 1-9; Andretti 10-52.
Med endast tre tävlingar kvar att köra leder Niki Lauda på ointagliga 69 poäng. Även om Scheckter skulle vinna de tre återstående deltävlingarna och därmed hamna på samma poäng som Lauda, så går totalsegern till Lauda i kraft av fler andraplatser. Det stora samtalsämnet på Monza är dock Laudas klargörande att han skrivit på för Brabham inför nästa säsong - Ferrari är inte glada...
Summary in english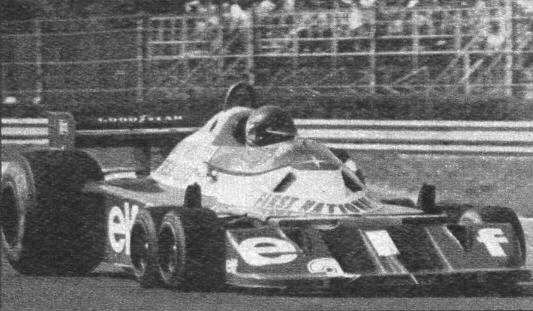 Niki Lauda's victory in Holland gave him a 21 point lead in the World Championship with four races to go but the major talking point at Monza was the announcement that the Austrian was going to leave the team to drive for Brabham in 1978. The Ferrari team was not happy.

There were a variety of new faces for the race with Brabham-Alfa Romeo running a third car for Giorgio Francia, Lamberto Leoni replacing Vern Schuppan in the second Surtees and Bruno Giacomelli being given a run in a factory McLaren M23. Loris Kessel also reappeared in an old Williams which had been christened an Apollon. There were 34 entries and only 24 starters and the unlucky 10 included a depressed Emerson Fittipaldi.

At the front James Hunt took pole in his McLaren with Carlos Reutemann second in his Ferrari ahead of Jody Scheckter (Lauda's nearest championship challenger in his Wolf) and Mario Andretti (Lotus). Then came Lauda who shared the third row with an impressive Riccardo Patrese (Shadow). Clay Regazzoni was on the fourth row in the Ensign alongside Jacques Laffite's Ligier and the top 10 was completed by Jochen Mass's McLaren and Vittorio Brambilla's Surtees.

The Brabham-Alfa Romeos were not on the pace and the Tyrrells were also struggling, while Giacomelli did a commendable job to line up 15th.

At the start Scheckter took the lead and Regazzoni pulled off a remarkable dash to the first corner to take second place ahead of Hunt and Andretti. In the course of the first lap. however, both the McLaren and the Lotus repassed the Ensign and Regazzoni fell back to Reutemann and Lauda. On the second lap Andretti breezed past Hunt and set off after Scheckter while behind them Reutemann and Lauda both overtook Regazzoni and were followed through by Mass although with a few laps he had fallen behind a charging Hans Stuck (Brabham-Alfa Romeo). For a few laps the order settled and then on lap 10 Andretti drove around the outside of the Wolf in the Parabolica and took the lead. Andretti was not troubled for the rest of the afternoon. Scheckter went out with an engine failure on lap 24 and Reutemann was overtaken by Lauda on lap 35. Reutemann then had the misfortune to be running being Giacomelli when the youngster's engine failed and the Ferrari driver spun off. This elevated Alan Jones to third in his Shadow with Mass fourth, Regazzoni fifth and Ronnie Peterson sixth for Tyrrell.

With 69 points to Scheckter's 42 Lauda was the World Champion because even if Scheckter won the final three races, Lauda still had enough second places to still be ahead.
Sammanställning

Grand Prix

Italien

Datum

11 September 1977

Bana

Säsong

1977

Deltävling

14

Längd (km)

5.800

Varv

52

Tid

1:27:50.300
| | | | | | |
| --- | --- | --- | --- | --- | --- |
| Placering | Nr | Förare | Team | Tid | Grid |
| 1 | 5 | | | 1:27:50.300 | 4 |
| 2 | 11 | | | 16.960 | 5 |
| 3 | 17 | | | 23.630 | 16 |
| 4 | 2 | | | 28.480 | 9 |
| 5 | 22 | | | 31.110 | 7 |
| 6 | 3 | | | 79.220 | 12 |
| 7 | 27 | | | +2 varv | 24 |
| 8 | 26 | | | +2 varv | 8 |
| 9 | 24 | | | +4 varv | 23 |
| r | 10 | | | +11 varv | 17 |
| r | 12 | | | +13 varv | 2 |
| r | 14 | | | +14 varv | 15 |
| r | 16 | | | +14 varv | 6 |
| r | 8 | | | +21 varv | 11 |
| r | 1 | | | +26 varv | 1 |
| r | 4 | | | +28 varv | 13 |
| r | 20 | | | +29 varv | 3 |
| r | 15 | | | +29 varv | 20 |
| r | 34 | | | +33 varv | 18 |
| r | 23 | | | +44 varv | 21 |
| r | 19 | | | +47 varv | 10 |
| r | 30 | | | +48 varv | 22 |
| r | 6 | | | +48 varv | 19 |
| r | 7 | | | +49 varv | 14 |
| nq | 9 | | | | |
| nq | 28 | | | | |
| nq | 18 | | | | |
| nq | 38 | | | | |
| nq | 36 | | | | |
| nq | 25 | | | | |
| nq | 29 | | | | |
| nq | 33 | | | | |
| nq | 41 | | | | |
| nq | 21 | | | | |
| | | |
| --- | --- | --- |
| NC=Not Classified | NT=No time set in qualifying | R=Retired |
| EX=Excluded from meeting | W=Withdrawn | DQ=Disqualified |
| NS=Did not start | NQ=Did not qualify | NPQ=Did not pre-qualify |

Aktuell ställning
| | | | |
| --- | --- | --- | --- |
| Position | Förare | Nation | Poäng |
| 1 | | | 69 |
| 2 | | | 42 |
| 3 | | | 41 |
| 4 | | | 35 |
| 5 | | | 22 |
| 6 | | | 21 |