Labatt´s 50 Canadian Grand Prix 9 Oktober 1977, Mosport Park
Ronnie Peterson gör sin 108:e F1-start endast en vecka efter att ha tävlat på Watkins Glen i USA West GP. Inför den näst sista deltävlingen i årets mästerskap har den redan klare världsmästaren Niki Lauda fått nog av Ferraristallet och istället står dennes efterträdare Gilles Villeneuve, hemmasonen, på startlinjen. Ronnie presterar årsbästa med Tyrrells sexhjuling i och med den tredje bästa kvaltiden, endast Mario Andretti (Lotus) och James Hunt (McLaren) är snabbare. Andra startled delas av en annan svensk, Gunnar Nilsson i den Lotus 78 som Ronnie kommer att köra kommande säsong - det är upplagt för en tvekamp de två emellan.
Andretti tar utan större problem starten före Hunt och Mass (från en femteplats i startfältet). Denna ordning håller sig oförändrad i tre fjärdedelar av loppet, då de två ledande bilarna kommer ikapp trean i loppet för varvning. I samband med denna varvning kan Hunt ta sig förbi Andretti, men därefter uppstår ett misstag mellan de båda McLaren-förarna och de kolliderar - endast Mass kan senare fortsätta loppet. Lotus-bilen ser ut att gå mot en säker seger, men endast två varv före mål ger motorn upp och plötsligt befinner sig den redan varvade Scheckter i täten. Det blir en ledning Wolf:en kan hålla in över mållinjen, Patrick Depailler (Tyrrell) åker in som tvåa - knappt sju sekunder efter. Mass räddar tredjeplatsen åt McLaren, men är drygt femton sekunder efter segraren i mål.
Mario Andretti presterar den snabbaste varvtiden med 1.13,299 och loppets ledartrojka kan sammanfattas i: Andretti 1-60, 62-78; Hunt 60; Scheckter 79-80.
Ronnie kan inte göra sin fina startposition rättvisa och tvingas bryta på det 34:e varvet p g a bränsleläckage. Gunnar Nilsson har redan tidigare parkerat den svarta Lotus:en...
Summary in english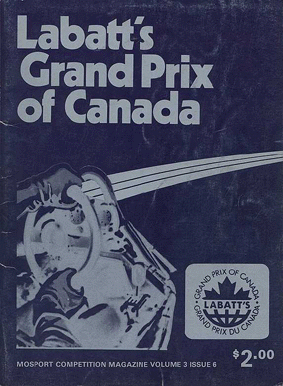 There was only a week between the United States East Grand Prix and the race at Mosport Park but there was significant change with World Champion deciding that he was fed up with Ferrari. He declined to race. The team had been planning to run a third car for Gilles Villeneuve and so he merely took over. The only other change was the return to Shadow of Riccardo Patrese. There were worries about safety over the Mosport Park bumps and in practice Ian Ashley's Obex Oil Hesketh flipped after cresting one of the brows. It somersaulted over the barriers and collided with a television tower. Ashley (who had suffered nasty leg injuries in a crash at the Nürburgring in 1975) was seriously hurt again and rescue operations were inefficient and time-consuming. The lack of safety of Mosport was underlined when Jochen Mass spun into the guardrail later that day and it was flattened.

The grid consisted of Mario Andretti on pole by six-tenths in his Lotus with James Hunt second fastest in the McLaren. Then came Ronnie Peterson (Tyrrell), Gunnar Nilsson (Lotus), Mass (McLaren), Patrick Depailler (Tyrrell), Alan Jones and Riccardo Patrese (both in Shadows), Jody Scheckter's Wolf and John Watson's Brabham-Alfa Romeo. The Ferraris were not competitive with Carlos Reutemann 12th and Villeneuve 17th.

In the race Andretti took an early lead with Hunt and Mass in pursuit and the order remained unchanged at the front until the 60th lap when the two leaders were coming up to lap third-placed Mass. Hunt scrambled ahead of Andretti and then there was a misunderstanding and the two McLarens collided and spun off. Andretti went back into the lead but on lap 78 the Lotus stopped with an engine failure and so Scheckter took the victory with Depailler second and the recovering Mass third after Brambilla crashed on oil from Andretti's engine and smashed into Patrese's Shadow which had gone off a lap early. Jones finished fourth with Patrick Tambay fifth for Ensign with Brambilla being classified sixth.
Sammanställning

Grand Prix

Datum

9 Oktober 1977

Bana

Säsong

1977

Deltävling

16

Längd (km)

3.957

Varv

80

Tid

1:40:00.000
| | | | | | |
| --- | --- | --- | --- | --- | --- |
| Placering | Nr | Förare | Team | Tid | Grid |
| 1 | 20 | | | 1:40:00.000 | 9 |
| 2 | 4 | | | 6.770 | 6 |
| 3 | 2 | | | 15.760 | 5 |
| 4 | 17 | | | 46.690 | 7 |
| 5 | 23 | | | 63.260 | 16 |
| r | 19 | | | +2 varv | 15 |
| 7 | 14 | | | +2 varv | 22 |
| 8 | 9 | | | +2 varv | 23 |
| r | 5 | | | +3 varv | 1 |
| r | 16 | | | +4 varv | 8 |
| r | 30 | | | +4 varv | 20 |
| r | 21 | | | +4 varv | 17 |
| r | 1 | | | +19 varv | 2 |
| r | 27 | | | +24 varv | 21 |
| r | 3 | | | +46 varv | 3 |
| r | 24 | | | +48 varv | 25 |
| r | 18 | | | +49 varv | 24 |
| r | 28 | | | +51 varv | 19 |
| r | 10 | | | +51 varv | 18 |
| r | 12 | | | +60 varv | 12 |
| r | 8 | | | +61 varv | 13 |
| r | 6 | | | +63 varv | 4 |
| r | 26 | | | +68 varv | 11 |
| r | 7 | | | +79 varv | 10 |
| r | 22 | | | +80 varv | 14 |
| ns | 25 | | | | |
| nq | 15 | | | | |
| | | |
| --- | --- | --- |
| NC=Not Classified | NT=No time set in qualifying | R=Retired |
| EX=Excluded from meeting | W=Withdrawn | DQ=Disqualified |
| NS=Did not start | NQ=Did not qualify | NPQ=Did not pre-qualify |

Aktuell ställning
| | | | |
| --- | --- | --- | --- |
| Position | Förare | Nation | Poäng |
| 1 | | | 72 |
| 2 | | | 55 |
| 3 | | | 47 |
| 4 | | | 36 |
| 5 | | | 31 |
| 6 | | | 25 |