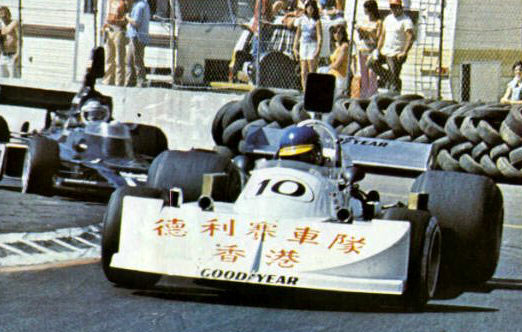 United States Grand Prix West 28 Mars 1976, Long Beach
Ronnie Petersons March har inför USA:s GP i Long Beach en ny sponsor i form av Teddy Yip. Fast på bilen stod det "Theodore Racing Hongkong" med kinesiska tecken. Bilen är nylackad i en annan kulör än tidigare och detta blir något vi kommer att få vänja oss vid under denna säsong - ändrade sponsorer och nya färgställningar. Ronnie kommer allt bättre överens med 761:an och är inför sin 79:e F1-start placerad i tredje startled efter att ha åstadkommit sjätte bästa tid i kvalet.
Clay Regazzoni (Ferrari) står i "pole" före Patrick Depailler (Tyrrell) och kombatanterna Hunt (McLaren) och Lauda (Ferrari) i andra startled.
För att göra en lång historia kort - detta är Regazzonis dag helt och hållet. Han tar starten och leder loppet alla 80 varv in i mål. Ohotad sätter han snabbaste varvtid med 1.23,076 och vinner drygt 42 sekunder före tvåan och teamkamraten - Niki Lauda.
Redan på det tredje varvet har Hunt kört ihop med Depailler och tvingas bryta. En skön minnesbild är hur Hunt "höttar" med knuten näve mot Depailler när han gående tvingas ta sig tillbaka till depån. Ronnie är som bäst uppe på en femte plats, men tvingas släppa efter problem med bromsarna - han blir till slut tia.
Depailler återhämtar sig och slutar trea före Jacques Laffite i en Ligier och Jochen Mass (McLaren).
Summary in english
A week after the South African GP there was the Race of Champions at Brands Hatch with victory going to James Hunt with the Durex-sponsored Surtees of Alan Jones second. The cars were then sent off to California for a new race on the streets of Long Beach. The only changes to the entry were Jones joining Surtees alongside Brett Lunger, March running a fourth car for Arturo Merzario (in Ovoro colors) and Ingo Hoffmann reappearing in the second Fittipaldi. The factory Marches of Hans Stuck and Ronnie Peterson appeared with backing from Teddy Yip and Ensign had new sponsorship from Norris Industries. Parnelli also added sponsorship from American Racing Wheels while the Shadow cars were back in black after running with Lucky Strike sponsorship in South Africa.

Qualifying resulted in a number of crashes into the concrete walls and a few mechanical failures because of the bumpy nature of the circuit. Clay Regazzoni emerged on pole in his Ferrari with Patrick Depailler (Tyrrell) second, James Hunt (McLaren) third and Niki Lauda (Ferrari) fourth. The top 10 was completed by Tom Pryce (Shadow), Ronnie Peterson (March), Jean-Pierre Jarier (Shadow), Vittorio Brambilla (March), John Watson (Penske) and Carlos Reutemann in the Brabham-Alfa. With only 20 cars allowed to start there were seven disappointed drivers, including both Williams entries (Michel Leclere and Jacky Ickx), Merzario, Hoffmann, Harald Ertl (Hesketh), Lunger and Bob Evans (Lotus).

Regazzoni took the lead at the start ahead of Depailler and Hunt. Further back Reutemann collided with Brambilla at the first corner while later in the lap Gunnar Nilsson's Lotus suffered a suspension failure and crashed.

On the third lap Hunt and Depailler collided at the hairpin, leaving an unhappy Hunt waving his fist at the Frenchman as he walked back to the paddock. As a result Lauda moved to second place and Depailler then had a spin and dropped behind Scheckter, Pryce, Peterson and Jarier. Depailler recovered well and climbed back up to third, aided by the retirements of Pryce and Scheckter, both with mechanical problems. Peterson dropped back with a brake problem but it was Laffite who was strongest at the end of the race, grabbing fourth place from Jarier and Mass.

Emerson Fittipaldi finished sixth to score his first point in a Fittipaldi chassis.
Sammanställning

Grand Prix

Datum

28 Mars 1976

Bana

Säsong

1976

Deltävling

3

Längd (km)

3.251

Varv

80

Tid

1:53:18.471
| | | | | | |
| --- | --- | --- | --- | --- | --- |
| Placering | Nr | Förare | Team | Tid | Grid |
| 1 | 2 | | | 1:53:18.471 | 1 |
| 2 | 1 | | | 42.414 | 4 |
| 3 | 4 | | | 49.972 | 2 |
| 4 | 26 | | | 72.828 | 12 |
| 5 | 12 | | | 82.292 | 14 |
| 6 | 30 | | | +1 varv | 16 |
| 7 | 17 | | | +1 varv | 7 |
| 8 | 22 | | | +2 varv | 17 |
| 9 | 8 | | | +3 varv | 13 |
| 10 | 10 | | | +3 varv | 6 |
| nc | 19 | | | +10 varv | 19 |
| nc | 28 | | | +11 varv | 9 |
| r | 3 | | | +46 varv | 11 |
| r | 16 | | | +48 varv | 5 |
| r | 27 | | | +65 varv | 15 |
| r | 11 | | | +77 varv | 3 |
| r | 34 | | | +78 varv | 18 |
| r | 6 | | | +80 varv | 20 |
| r | 7 | | | +80 varv | 10 |
| r | 9 | | | +80 varv | 8 |
| nq | 21 | | | | |
| nq | 31 | | | | |
| nq | 35 | | | | |
| nq | 5 | | | | |
| nq | 20 | | | | |
| nq | 24 | | | | |
| nq | 18 | | | | |
| | | |
| --- | --- | --- |
| NC=Not Classified | NT=No time set in qualifying | R=Retired |
| EX=Excluded from meeting | W=Withdrawn | DQ=Disqualified |
| NS=Did not start | NQ=Did not qualify | NPQ=Did not pre-qualify |

Aktuell ställning
| | | | |
| --- | --- | --- | --- |
| Position | Förare | Nation | Poäng |
| 1 | | | 24 |
| 2 | | | 10 |
| 3 | | | 9 |
| 4 | | | 7 |
| 5 | | | 6 |
| 6 | | | 5 |