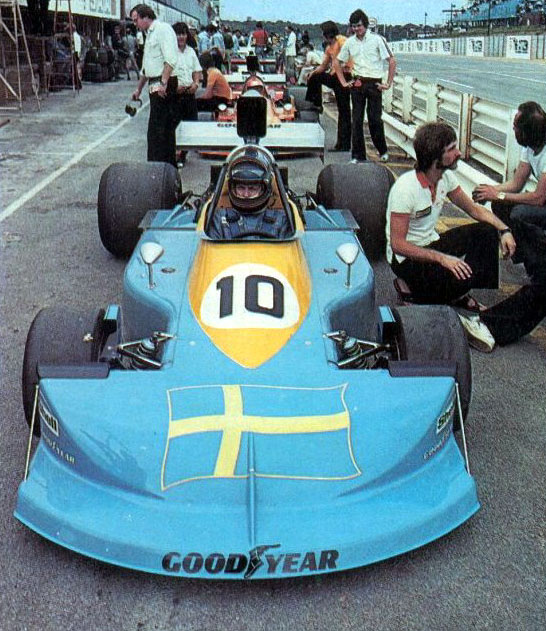 Citizen Grand Prix of South Africa 6 Mars 1976, Kyalami
Ronnie Peterson utnyttjade de fem veckorna mellan tävlingarna i Brasilien och Sydafrika till att skriva ett nytt kontrakt. I utbyte mot Formel 2-föraren Gunnar Nilsson gick Lotus med på att släppa Ronnie till March. Detta gav också utrymme för Chapman att engagera ytterligare en ny förare, Bob Evans.
För March innebär "bytet" ett kärt gammalt återseende - Ronnie hade som inget annat namn fört fram märket till de främsta positionerna under sin tid i stallet 1970-72 och det var snarare tillfälligheter i kombination med experimentbilar som gjorde att en seger aldrig gick att räkna in i samlingen av framgångar. Dock hade Ronnie lyckats med det omöjliga och placerat March på en andra plats i den totala sammanräkningen för förar-VM 1971, utan att ha vunnit en enda deltävling!
Inför sin 78.e F1-start sitter Ronnie i en för honom helt ny bekantskap. March-Ford 761 är ingen dålig bil, men heller ingen vinnare. Trots den relativt korta förberedelsetid Ronnie haft inför tävlingen lyckas han prestera en tionde bästa kvalificeringstid, men han är en bra bit efter James Hunt som i sin McLaren knipit "pole position". Hunts ärkerival Niki Lauda står med sin Ferrari bredvid i första startled. John Watson (Penske) och Jochen Mass (McLaren) delade andra startled strax där bakom. Ronnie kör hos March med nummer tio på bilen.
Lauda gör en kanonstart och tar omedelbart ledningen. Även Ronnie är på hugget och avancerar direkt upp till en sjätteplats. Hunt lyckas inte heller hålla undan för Mass och Brambilla, men kan gå in i första kurvan framför Depailler på en femte plats. Tyvärr kolliderar Ronnie med Depailler på det fjortonde varvet och tvingas bryta utifrån en poängplats.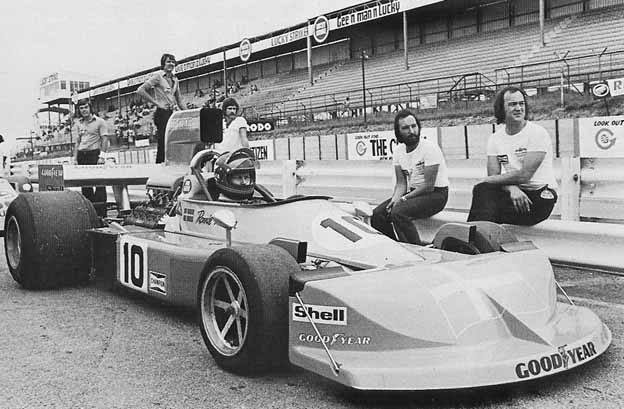 Lauda har ryckt åt sig en betryggande ledning på över tio sekunder (sätter bl a snabbaste varvtid med 1.17,97), men en pysande punktering tvingar honom i slutet av loppet att sänka farten. Fältet bakom honom knappar oroväckande snabbt in, men han lyckas hålla undan och vinner med en marginal om 1,3 sekunder före James Hunt. Långt bakom går den andra McLaren-bilen med Jochen Mass in som trea och fyra slutar Jody Scheckter (Tyrrell), 68 sekunder efter.
Summary in english
There were no F1 races in the five week gap between the Brazilian and South African GPs but there were some changes in the lineup. Ronnie Peterson had decided to leave Lotus. As part of the deal March agreed to release its Formula 2 driver Gunnar Nilsson and he joined another new signing Bob Evans. With Peterson joining March there was no room for Lella Lombardi and she disappeared from F1. Surtees reappeared with the new TS19, the car being driven by Brett Lunger in the colors of Chesterfield cigarettes. Frank Williams signed up Michel Leclere to partner Jacky Ickx. Ensign was back with Chris Amon with sponsorship from John Day Model Cars while a revived Hesketh Racing (being run by Bubbles Horsley) ran Harald Ertl. The Stanley BRM team did not appear and there was only one local driver, Ian Scheckter in the Lexington Racing Tyrrell 007. The Shadow cars appeared in Lucky Strike colors for this race.

Practice was dominated by arguments over the legality of the plastic "skirts" being used by McLaren and Penske. These were the first hints of ground-effect aerodynamics.

Qualifying resulted in pole position for James Hunt but again Niki Lauda was right behind him and there was then a two-tenths gap back to John Watson (Penske). Then came Jochen Mass (McLaren), Vittorio Brambilla (March), Patrick Depailler (Tyrrell), Tom Pryce (Shadow), Jacques Laffite (Ligier), Clay Regazzoni (Ferrari) and Peterson.

At the start of the race Lauda beat Hunt away while Mass and Brambilla also overtook Hunt. Depailler was fifth with Peterson sixth. Behind them Ian Scheckter and Leclere collided. Only the Frenchman rejoined.

On the second lap Brambilla, Mass and Hunt all ended up side by side at they battled for second place and it was the brave Italian who emerged ahead. Mass then let Hunt pass and the Englishman attacked Brambilla. It was not until the fifth lap that Hunt found a way past and went after Lauda, who was by then 10 seconds ahead. Mass soon followed and Brambilla later fell behind Pryce as well (the Englishman having moved up when Peterson and Depailler collided). The order at the front remained unchanged as Hunt edged closer to the leader. On lap 44 Pryce had to pit and so Regazzoni moved into fourth place but he went out with engine failure nine laps later leaving J Scheckter fourth.

The order remained the same all the way to the flag although the final laps were exciting as Lauda had a slow puncture and Hunt closed fast. The Austrian finished just over a second ahead. Regazzoni was third, Scheckter fourth, John Watson (Penske) fifth and Mario Andretti (Parnelli) sixth.
Sammanställning

Grand Prix

Sydafrika

Datum

6 Mars 1976

Bana

Säsong

1976

Deltävling

2

Längd (km)

4.104

Varv

78

Tid

1:42:18.400
| | | | | | |
| --- | --- | --- | --- | --- | --- |
| Placering | Nr | Förare | Team | Tid | Grid |
| 1 | 1 | | | 1:42:18.400 | 2 |
| 2 | 11 | | | 1.300 | 1 |
| 3 | 12 | | | 45.900 | 4 |
| 4 | 3 | | | 68.400 | 12 |
| 5 | 28 | | | +1 varv | 3 |
| 6 | 27 | | | +1 varv | 13 |
| 7 | 16 | | | +1 varv | 7 |
| 8 | 9 | | | +1 varv | 5 |
| 9 | 4 | | | +1 varv | 6 |
| 10 | 5 | | | +1 varv | 23 |
| 11 | 18 | | | +1 varv | 20 |
| 12 | 34 | | | +2 varv | 17 |
| 13 | 21 | | | +2 varv | 22 |
| 14 | 22 | | | +2 varv | 18 |
| 15 | 24 | | | +4 varv | 24 |
| 16 | 20 | | | +5 varv | 19 |
| r | 30 | | | +8 varv | 21 |
| r | 2 | | | +26 varv | 9 |
| r | 26 | | | +29 varv | 8 |
| r | 17 | | | +50 varv | 15 |
| r | 8 | | | +56 varv | 14 |
| r | 6 | | | +60 varv | 25 |
| r | 7 | | | +62 varv | 11 |
| r | 10 | | | +63 varv | 10 |
| r | 15 | | | +78 varv | 16 |
| | | |
| --- | --- | --- |
| NC=Not Classified | NT=No time set in qualifying | R=Retired |
| EX=Excluded from meeting | W=Withdrawn | DQ=Disqualified |
| NS=Did not start | NQ=Did not qualify | NPQ=Did not pre-qualify |

Aktuell ställning
| | | | |
| --- | --- | --- | --- |
| Position | Förare | Nation | Poäng |
| 1 | | | 18 |
| 2 | | | 6 |
| " | | | 6 |
| 4 | | | 5 |
| " | | | 5 |
| 6 | | | 4 |