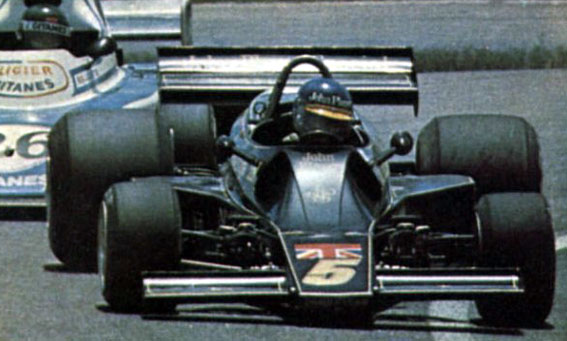 Grande Premio do Brasil 25 Januari 1976, Interlagos
Ronnie Peterson årsdebuterar med att göra sin 77:e F1-start i en ny Lotus 77:a. Tillsammans med nya teamkamraten Mario Andretti lider han dock bokstavligt talat alla helvetes kval och lyckas inte prestera en bättre tid än 18:e med plats i nionde startled (kollegan är 16:e).
James Hunt i en McLaren lyckas knipa "pole position", endast en två hundradelar före Niki Lauda i en Ferrari. I andra startled återfinns Jean-Pierre Jarier (Shadow) tillsammans med Clay Regazzoni (Ferrari). Inför denna säsong har ett nytt system med startljus införts och det visar sig att den som blir minst förvånad av detta är Regazzoni - som kastar sig upp i ledning före Lauda, Hunt, Brambilla, Jarier och Mass.
På det nionde varvet kan Lauda dock tränga sig förbi stallkompisen och han behåller denna ledning in i mål. Även Hunt och Jarier tar upp kampen med Regazzoni, något som tvingar denne in i depå för däcksbyte. När Hunt sedan tappar en cylinder faller han tillbaka i fältet. När Hunt går in i depå efter en avåkning är Pryce uppe på andra plats. Denna placering är han dock nära att tappa enär han är på väg att gå samma öde till mötes som Jarier som sladdat av i en oljefläck som Hunt lämnat efter sig då han åter kommit in på banan. Trots snabbaste varv för Jarier med 2.35,07 blir dock Depailler till slut för svår - så ordningen i mål kan summeras Lauda (Ferrari), Depailler (Tyrrell), Pryce (Shadow) och Stuck (March). Ledare: Regazzoni 1-8; Lauda 9-40.
Ronnie tvingas bryta efter 10 varv efter en avåkning med den nya Lotus 77:an.
Summary in english
The 1975-76 off-season produced a series of shocks for the Formula 1 community. In mid November Lord Hesketh announced that he was closing down his team as money could not be found to run it. James Hunt was out of work. A few days later Emerson Fittipaldi informed McLaren that he had decided to race for his brother's Fittipaldi team and that he was not going to sign a new three-year contract. McLaren boss Teddy Mayer signed Hunt.

Within a week there was disastrous news. Graham Hill was flying his team back from a test when the small plane crashed on approach to Elstree aerodrome to the north of London. Hill, his driver Tony Brise, his designer Andy Smallman, his team manager Ray Brimble and two mechanics were all killed. The Embassy Hill had ceased to exist.

Shadow was also struggling because Universal Oil Products had decided not to renew its sponsorship deal while Frank Williams had gone into partnership with Canadian oilman Walter Wolf, who had bought the assets of Hesketh. Williams hired Jacky Ickx and Renzo Zorzi to be its drivers, as Jacques Laffite had departed to join a new team which had been established by former F1 racer Guy Ligier. He had taken over most of the staff and the engines of the old Matra team and had landed backing from the Gitanes cigarette brand.

Team Lotus was undergoing change with the arrival of the new Lotus 77. The team started the year in Brazil with Ronnie Peterson and Mario Andretti driving. The Ferrari driver lineup was unchanged with Niki Lauda and Clay Regazzoni, while Tyrrell retained Jody Scheckter and Patrick Depailler. The year began with the old 007 chassis but there was a secret P34 six-wheeler program going on which would catch the F1 community by surprise when the car first appeared at the Spanish GP in May. Brabham had decided to use Alfa Romeo's flat-12 engine and a completely new car (the BT45) appeared. With Ferrari having dominated the previous season, Brabham designer Gordon Murray felt that the team had to have a flat-12 engine to get the best possible aerodynamics. Brabham sold its old Cosworth-engined cars to John Macdonald's RAM Racing.

March continued to run three cars for Vittorio Brambilla, Hans Stuck and Lella Lombardi, while Shadow retained Jean-Pierre Jarier and Tom Pryce. Penske Racing fielded John Watson, Ian Ashley raced the Stanley BRM. The field was completed by Fittipaldi which ran Emerson Fittipaldi and new boy Ingo Hoffmann.

The field in Brazil was only 22 cars but the quality was high and the battle for pole position at Interlagos was intense. In the end the position fell to Hunt, who lapped two-hunredths faster than Lauda. Jarier was tenth behind them and then came Regazzoni, Fittipaldi (an impressive effort) and Jochen Mass (McLaren). The top was completed Brambilla, Watson, Depailler and Carlos Pace (Brabham-Alfa Romeo). The new Ligier looked promising in 11th while Lotus was struggling with Andretti 16th and Peterson 18th.

There was a new system of starting lights to replace the old haphazard flag-dropping and Regazzoni was the least surprised by this and took the lead with Lauda, Hunt, Brambilla, Jarier and Mass behind him. They were followed by Watson and the slow-starting Fittipaldi.

In the early laps Mass, Watson and Fittipaldi all dropped away and Pryce emerged in sixth. Jarier showed that the Shadow was still a competitive car by overtaking Brambilla for fourth and a few laps later Pryce followed him through. On the ninth lap the order at the front changed when Lauda forced his way ahead of Regazzoni. He was followed through by Hunt and Jarier, the latter banging wheels with Regazzoni, leaving the Swiss to pit for repairs. The top six remained unchanged for a few laps before Brambilla (who was sixth) disappeared with an oil pressure problem leaving the place for Stuck. For 12 laps the order stayed the same as Jarier tried to pass Hunt. The matter was solved when Hunt's car lost a cylinder and the Shadow went ahead and began to close on the leader. Hunt soon dropped behind Pryce as well and retired on lap 33 when he was caught out by a sticking throttle and spun out. He rejoined, spilling oil on the track. Next time around Jarier hit it and spun off. Pryce nearly did the same but managed to stay on the track, losing second place to Depailler as he did so. Stuck claimed fourth, Scheckter fifth and Mass sixth
.
Sammanställning

Grand Prix

Brasilien

Datum

25 Januari 1976

Bana

Säsong

1976

Deltävling

1

Längd (km)

7.960

Varv

40

Tid

1:45:16.780
| | | | | | |
| --- | --- | --- | --- | --- | --- |
| Placering | Nr | Förare | Team | Tid | Grid |
| 1 | 1 | | | 1:45:16.780 | 2 |
| 2 | 4 | | | 21.470 | 9 |
| 3 | 16 | | | 23.840 | 12 |
| 4 | 34 | | | 88.170 | 14 |
| 5 | 3 | | | 116.460 | 13 |
| 6 | 12 | | | 118.270 | 6 |
| 7 | 2 | | | 135.240 | 4 |
| 8 | 20 | | | +1 varv | 19 |
| 9 | 21 | | | +1 varv | 17 |
| 10 | 8 | | | +1 varv | 10 |
| 11 | 31 | | | +1 varv | 20 |
| r | 7 | | | +3 varv | 15 |
| 13 | 30 | | | +3 varv | 5 |
| 14 | 10 | | | +4 varv | 22 |
| r | 17 | | | +7 varv | 3 |
| r | 11 | | | +8 varv | 1 |
| r | 9 | | | +25 varv | 7 |
| r | 26 | | | +26 varv | 11 |
| r | 5 | | | +30 varv | 18 |
| r | 6 | | | +34 varv | 16 |
| r | 28 | | | +38 varv | 8 |
| r | 14 | | | +38 varv | 21 |
| | | |
| --- | --- | --- |
| NC=Not Classified | NT=No time set in qualifying | R=Retired |
| EX=Excluded from meeting | W=Withdrawn | DQ=Disqualified |
| NS=Did not start | NQ=Did not qualify | NPQ=Did not pre-qualify |

Aktuell ställning
| | | | |
| --- | --- | --- | --- |
| Position | Förare | Nation | Poäng |
| 1 | | | 9 |
| 2 | | | 6 |
| 3 | | | 4 |
| 4 | | | 3 |
| 5 | | | 2 |
| 6 | | | 1 |