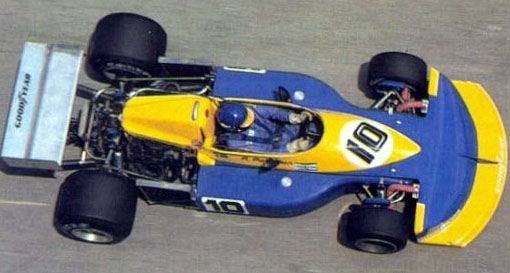 Gran Premio de Espana 2 Maj 1976, Jarama
Ronnie Peterson kör återigen i nya kläder. March 761:an har inför Spaniens GP lackerats i de svenska kulörerna gult och blått. Inför loppet gäller en rad nya regler - bl a är de höga luftintagen förbjudna och storleken på den bakre vingen har måste nu vara mindre. Ferrari presenterar sin nya modell 312T2, men samtalsämnet för dagen är Tyrrells 6-hjuliga "monster" P34.
Det är Ronnies 80:e start i Formel 1, men definitivt inget jubileum att fira. Ronnie brottas med stora problem under träningen och presterar inte bättre än en sextonde tid.
James Hunt (McLaren) står i "pole position" före Niki Lauda (Ferrari) - de två ärkerivalerna om årets världsmästartitel. I andra startled återfinns Patrick Depailler (Tyrrell) och Jochen Mass (McLaren).
Återigen är Lauda snabbast in i första kurvan, men Hunt arbetar sig allt närmare och kan överta täten på det 32:a varvet. Två varv senare har även Jochen Mass lyckats passera Lauda och McLaren ser ut att kunna gå mot en dubbelseger, men på det 66:e varvet ger Mass motor upp och Lauda är åter tvåa.
Under loppet tvingas en rad etablerade förare att bryta - något som bäddar för vår egen Gunnar Nilsson i Lotus som startat från sjunde position; då Laffite och Brambilla kastar in handduken är Gunnar plötsligt uppe på en femteplats. När även Depailler på det 26:e varvet spinner av avancerar Gunnar ytterligare och då Mass lämnar in är tredjeplatsen ett faktum. Detta är också den tågordning som gäller in i mål. Gunnars första pallplacering i Formel 1...
Jochen Mass tar den snabbaste varvtiden med 1.20,93 och loppet ser följande förare i ledning: Lauda 1-31; Hunt 32-75.
Och Ronnie då? Ja, han tvingas bryta redan på det elfte varvet efter problem med transmissionen.
Efter loppet uppstod vissa kontroverser då Hunts McLaren befanns vara för bred. McLaren förklarade att detta berodde på däckens expansion under loppet, men Lauda tilldömdes segern. Domen överklagades och det dröjde ända till juli innan Hunt återfick segern - dock med en bifogad böteslapp till stallet på $3000...
Summary in english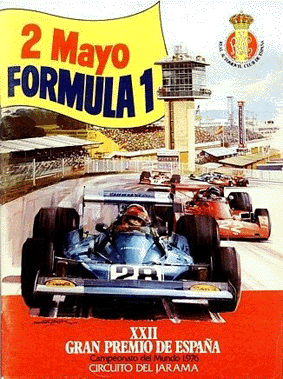 There were a package of new regulations which outlawed the in-vogue high airboxes and reduced the size of the rear wings. Ferrari arrived with the new 312T2 which featured air ducts around the side of the cockpit. Ensign also had a new car. The major talking point, however, was the six-wheeled Tyrrell P34 one of which had been entered for Patrick Depailler. Team Lotus had dropped Bob Evans and Mario Andretti appeared alongside Gunnar Nilsson following Parnelli's decision to withdraw from F1. The field was boosted by the appearance of the RAM Brabham team with drivers Loris Kessel and Emilio de Villota and a third Williams which was entered for local hero Emilio Zapico. There was also a car called the Boro, which was little more than an old Ensign with another name. It was driven by Australian Larry Perkins. With only 24 starters there would be six non-qualifiers, including both RAM Brabhams, Brett Lunger's Surtees, Zapico, Harald Ertl's Hesketh and Ingo Hoffmann in the second Fittipaldi.

Qualifying resulted in James Hunt (McLaren) just beating Niki Lauda (Ferrari). Then came Depailler's Tyrrell, Jochen Mass's McLaren and Clay Regazzoni in the second Ferrari which shared the third row with Vittorio Brambilla's March. The fourth row featured Nilsson and Jacques Laffite (Ligier) with the top 10 completed by Andretti and Chris Amon, going well in the Ensign.

Lauda once again beat Hunt to the first corner with the fast-starting Brambilla third ahead of Depailler and Mass. The Beta March driver could not hold on to the position and drifted behind both Depailler and Mass in the early laps and on the 12th lap also fell behind Laffite. Both men would disappear soon afterwards leaving Nilsson to move to fifth. This became fourth on the 26th lap when Depailler spun out with brake problems.

At the front Hunt closed in on Lauda and on lap 32 the Englishman took the lead. Two laps later Mass was also ahead of the Ferrari and McLaren looked to be on course for a 1-2 result until lap 66 when Mass retired with an engine failure. This promoted Nilsson to third with Carlos Reutemann fourth in his Brabham-Alfa, Chris Amon fifth in the Ensign and Carlos Pace sixth in the second Brabham-Alfa.

After the race there was controversy when Hunt's McLaren was found to be too wide. The McLaren team argued that this had been caused by the expansion of the tires during the race and appealed. It was not until July that Hunt was reinstated, although the team was fined $3000 by the FIA.
Sammanställning

Grand Prix

Spanien

Datum

2 Maj 1976

Bana

Säsong

1976

Deltävling

4

Längd (km)

3.404

Varv

75

Tid

1:42:20.430
| | | | | | |
| --- | --- | --- | --- | --- | --- |
| Placering | Nr | Förare | Team | Tid | Grid |
| 1 | 11 | | | 1:42:20.430 | 1 |
| 2 | 1 | | | 30.970 | 2 |
| 3 | 6 | | | 48.020 | 7 |
| 4 | 7 | | | +1 varv | 12 |
| 5 | 22 | | | +1 varv | 10 |
| 6 | 8 | | | +1 varv | 11 |
| 7 | 20 | | | +1 varv | 21 |
| 8 | 16 | | | +1 varv | 22 |
| 9 | 19 | | | +1 varv | 20 |
| 10 | 21 | | | +2 varv | 23 |
| 11 | 2 | | | +3 varv | 5 |
| 12 | 26 | | | +3 varv | 8 |
| 13 | 37 | | | +3 varv | 24 |
| r | 12 | | | +10 varv | 4 |
| r | 17 | | | +14 varv | 15 |
| r | 3 | | | +22 varv | 14 |
| r | 28 | | | +24 varv | 13 |
| r | 35 | | | +39 varv | 18 |
| r | 5 | | | +41 varv | 9 |
| r | 4 | | | +50 varv | 3 |
| r | 9 | | | +54 varv | 6 |
| r | 34 | | | +59 varv | 17 |
| r | 10 | | | +64 varv | 16 |
| r | 30 | | | +72 varv | 19 |
| nq | 18 | | | | |
| nq | 32 | | | | |
| nq | 25 | | | | |
| nq | 33 | | | | |
| nq | 24 | | | | |
| nq | 31 | | | | |
| | | |
| --- | --- | --- |
| NC=Not Classified | NT=No time set in qualifying | R=Retired |
| EX=Excluded from meeting | W=Withdrawn | DQ=Disqualified |
| NS=Did not start | NQ=Did not qualify | NPQ=Did not pre-qualify |

Aktuell ställning
| | | | |
| --- | --- | --- | --- |
| Position | Förare | Nation | Poäng |
| 1 | | | 30 |
| 2 | | | 15 |
| 3 | | | 10 |
| 4 | | | 9 |
| 5 | | | 7 |
| 6 | | | 5 |