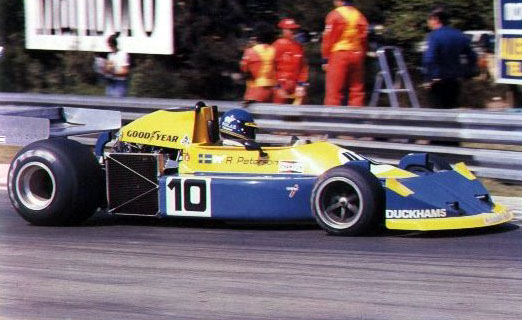 Grand Prix de Belgique 16 Maj 1976, Zolder
Ronnie Peterson har inte haft någon vidare nystart hos March denna säsong. I de fyra körda deltävlingarna har Ronnie hittills kommit i mål endast i en (tia), men tvingats bryta de övriga tre. Inför den 81:a F1-starten ser det inte mycket ljusare ut, men Ronnie presterar ändock tionde bästa träningstid.
Det är Ferrari som dominerar tidskvalet och således återfinns Niki Lauda i första startled tillsammans med teamkompisen Clay Regazzoni. Den jagande James Hunt står som trea i andra startled tillsammans med sensationen Jody Scheckter i Tyrrells 6-hjuling.
Sin vana trogen tar Lauda starten, men Hunt lyckas pressa sig förbi Regazzoni upp på en andraplats. Det står dock tidigt klart att Ferraribilarna är snabbare denna dag och duon är redan på det sjätte varvet återsamlad för att i det närmaste defilera hem en dubbelseger efter 70 körda varv. Niki Lauda är i storslag och leder loppet från start till mål samt får också snabbaste varvtid med 1.25,98. Bakom dessa bilar gör Jacques Laffite (Ligier) ett bra lopp, men är ändock som trea hela 35 sekunder efter segraren. Scheckter i Tyrrells P34:a håller undan och kan i det närmaste ohotad gå i mål som fyra, ytterligare en knapp minut senare.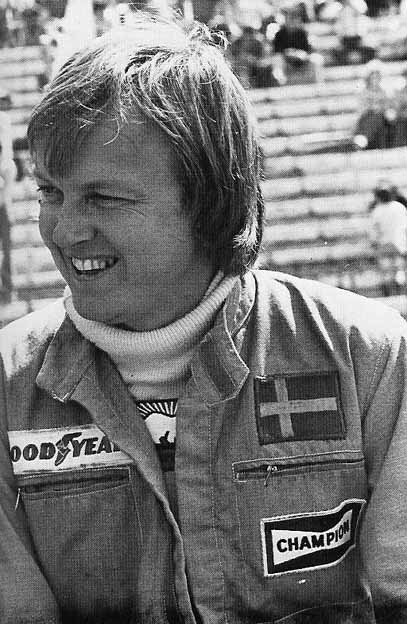 Ronnie trots allt leende...
För tredje gången denna säsong åker Ronnie av banan och detta sker redan på det 16:e varvet.
Summary in english
Two weeks after the controversial race in Spain (which had been won by James Hunt before being given to Niki Lauda when Hunt's McLaren was found to be too wide) the F1 team gathered at Zolder. The field included two six-wheeler Tyrrells (Jody Scheckter having used an older car in Spain). Hesketh had expanded to two cars with the return of Guy Edwards, who had found sponsorship from Penthouse and Rizla, while RAM Racing had replaced Emilio de Villota with local driver Patrick Neve. He would end up as the only Belgian in the race as Jacky Ickx failed to qualify the Williams-run Hesketh.

Ferrari dominated practice with Niki Lauda on pole from Clay Regazzoni. Hunt was third with Depailler fourth, Vittorio Brambilla fifth in his March and Jacques Laffite sixth in the Ligier-Matra. Scheckter qualified seventh in his Tyrrell, just ahead of Chris Amon's Ensign with the top 10 being completed by Carlos Pace in the Brabham-Alfa and Ronnie Peterson's March.

At the back there was disappointment for Emerson Fittipaldi who failed to qualify his Fittipaldi.

At the start Lauda went into the lead and Hunt grabbed second from Regazzoni. It soon became clear that the Ferraris was quicker on lap six Regazzoni moved to second. The two Ferraris then ran off to a dominant 1-2 victory. In the early laps Laffite ran fourth but he was passed on the ninth lap by Depailler after an attempt to pass Hunt caused him to slow down. The Ligier driver recovered and retook Depailler on lap 15. Two laps later Laffite went ahead of Hunt. Depailler followed by the Tyrrell went out with engine failure on lap 29, elevating Scheckter to fourth. Hunt was fifth but retired on lap 36 with a transmission failure, leaving the place to Amon. On the 52nd lap a wheel came off the Ensign and Amon crashed, the car being flipped upside-down by an earth bank but the New Zealander emerging unscathed. This left Alan Jones (Surtees) to finish sixth.
Sammanställning

Grand Prix

Belgien

Datum

16 Maj 1976

Bana

Säsong

1976

Deltävling

5

Längd (km)

4.262

Varv

70

Tid

1:42:53.230
| | | | | | |
| --- | --- | --- | --- | --- | --- |
| Placering | Nr | Förare | Team | Tid | Grid |
| 1 | 1 | | | 1:42:53.230 | 1 |
| 2 | 2 | | | 3.460 | 2 |
| 3 | 26 | | | 35.380 | 6 |
| 4 | 3 | | | 91.080 | 7 |
| 5 | 19 | | | +1 varv | 16 |
| 6 | 12 | | | +1 varv | 18 |
| 7 | 28 | | | +1 varv | 17 |
| 8 | 37 | | | +1 varv | 20 |
| 9 | 17 | | | +1 varv | 14 |
| 10 | 16 | | | +2 varv | 13 |
| 11 | 21 | | | +2 varv | 25 |
| 12 | 32 | | | +7 varv | 23 |
| r | 18 | | | +8 varv | 26 |
| r | 8 | | | +12 varv | 9 |
| r | 22 | | | +19 varv | 8 |
| r | 11 | | | +35 varv | 3 |
| r | 34 | | | +37 varv | 15 |
| r | 24 | | | +39 varv | 24 |
| r | 4 | | | +41 varv | 4 |
| r | 5 | | | +42 varv | 11 |
| r | 33 | | | +46 varv | 19 |
| r | 35 | | | +49 varv | 21 |
| r | 7 | | | +53 varv | 12 |
| r | 10 | | | +54 varv | 10 |
| r | 6 | | | +63 varv | 22 |
| r | 9 | | | +64 varv | 5 |
| nq | 30 | | | | |
| nq | 20 | | | | |
| nq | 25 | | | | |
| | | |
| --- | --- | --- |
| NC=Not Classified | NT=No time set in qualifying | R=Retired |
| EX=Excluded from meeting | W=Withdrawn | DQ=Disqualified |
| NS=Did not start | NQ=Did not qualify | NPQ=Did not pre-qualify |

Aktuell ställning
| | | | |
| --- | --- | --- | --- |
| Position | Förare | Nation | Poäng |
| 1 | | | 39 |
| 2 | | | 15 |
| " | | | 15 |
| 4 | | | 10 |
| 5 | | | 8 |
| " | | | 8 |