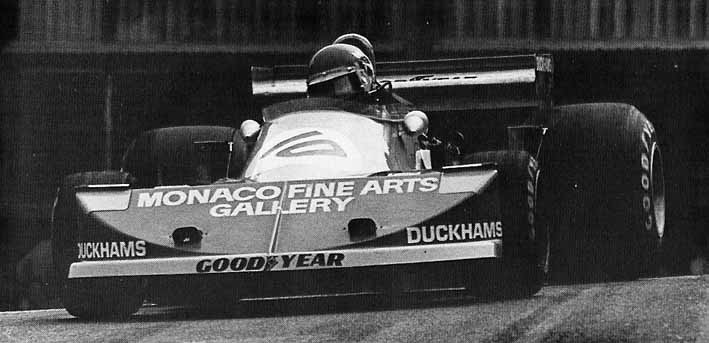 Grand Prix de Monaco 30 Maj 1976
Ronnie Peterson har normalt gott handlag med banan i Monte Carlo. Alltsedan F1 debuten 1970 och en sjundeplats, har Ronnie presterat toppresultat (2:a, 11:a, 3:a, 1:a och 4:a). Inför det 82:a framträdandet i GP-cirkusen har tidskvalet gått över förväntan. Eller kanske inte ändå. Stadsloppet i Monaco ställer större krav på förarna än bilarna och således kunde Ronnie med undermåliga bilar åstadkomma underverk tack vare sin stora körskicklighet.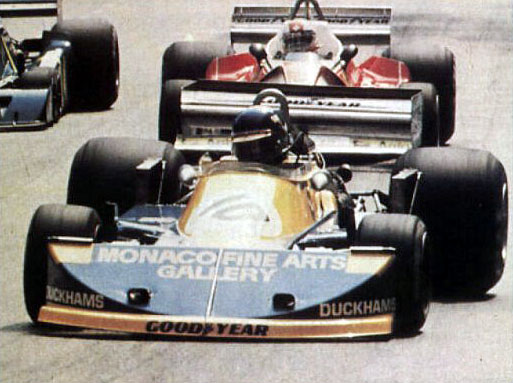 Det finns inget att göra åt Ferraribilarna och återigen står Lauda i främsta startledet tillsammans med Regazzoni. Men det är Ronnie som grejar tredjeplatsen och han delar andra startled tillsammans med den spektakulära skapelsen från Tyrrell - och då menar vi 6-hjulingen (inte Patrick Depailler)...
Inför detta lopp har Ronnie fått en helt ny monocoque och bilen uppför sig nu betydligt bättre än tidigare under säsongen. Vid chassiebytet upptäcktes en spricka i ramen som funnits under lång tid - det var anledningen till att såväl Ronnie som Lella klagat på hur bilen uppförde sig i vissa situationer.
Niki Lauda tar som vanligt starten, men Ronnie lurar Regazzoni på dubbelt Ferrari och smiter upp på en andraplats. Hunt har ingen lyckad veckända och spinner så småningom av banan. När han sedan försöker ta sig tillbaka in i loppet lämnar han ett oljespår efter sig - något som kommer att få ödesdigra konsekvenser för ett flertal förare. Regazzoni tvingas t ex ut på en nödväg och måste släppa de båda 6-hjulingarna förbi sig. Ett varv senare är det Ronnie som spinner i oljan och som därefter kör in i avbärarräckena - helgen förstörd!
Regazzoni jobbar sig tillbaka och tar sig med snabbaste varvtid (1.30,28) åter upp på en tredjeplats. På det 74:e varvet kör han emellertid ett misstag, varför Depailler återfår sin position. Lauda leder från start till mål och tar sin fjärde seger för säsongen. P34:orna fortsätter att plocka poäng då Scheckter och Depailler slutar tvåa respektive trea.
Summary in english
The entry was slightly smaller than in previous races as RAM decided not to enter as only 20 cars would be allowed to start and the Automobile Club of Monaco had limited the entry to 25. Mario Andretti was away racing at Indianapolis and Lotus ran only one car and Brett Lunger's Surtees had been sold to Henri Pescarolo's Team Norev and the American was waiting for the team to finish a new car for him. Also missing was the second Fittipaldi which had been run for Ingo Hoffmann.

Qualifying resulted in the usual site of Ferrari being 1-2 with Niki Lauda ahead of Clay Regazzoni as usual. Ronnie Peterson was on the second row in his March with Patrick Depailler's Tyrrell six-wheeler alongside, while Jody Scheckter's similar car shared the third row with Hans Stuck's March. Emerson Fittipaldi (who had failed to qualify in Spain) was seventh, ahead of Jacques Laffite (Ligier), Vittorio Brambilla (March) and Jean-Pierre Jarier (Shadow). Chris Amon again showed well in the Ensign in 11th while James Hunt was a disastrous 13th in his McLaren because of gearbox troubles. Carlos Reutemann was the final qualifier in the troublesome Brabham-Alfa Romeo, the Argentine driver become increasingly frustrated with the car's lack of performance.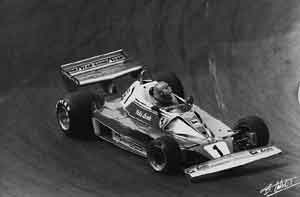 At the start Lauda went into the lead but it was Peterson who grabbed second from Regazzoni. Most of the field managed to squeeze through Ste Devote but at the back Reutemann collided with Alan Jones's Surtees and both cars retired. The only change at the front in the early laps came on lap 15 when Scheckter passed Depailler to take fourth. Hunt's terrible weekend continued when he spun at Tabac and dropped to the tail of the field. Eventually he went out with an engine failure.

This caused a significant change at the front as oil from Hunt's car caught out Regazzoni and he went up an escape road and dropped behind the two Tyrrells. A lap later Peterson spun on the oil and hit the barriers.

This left Lauda a long way clear of the two Tyrrells, Depailler gradually dropping back as his rear suspension became increasingly fragile. On lap 64 he was overtaken for third by Regazzoni but the Ferrari made a mistake on lap 74 and crashed out and so Depailler regained third. Stuck finished fourth, Mass fifth and Fittipaldi sixth.
Sammanställning

Grand Prix

Datum

30 Maj 1976

Bana

Säsong

1976

Deltävling

6

Längd (km)

3.312

Varv

78

Tid

1:59:51.470
| | | | | | |
| --- | --- | --- | --- | --- | --- |
| Placering | Nr | Förare | Team | Tid | Grid |
| 1 | 1 | | | 1:59:51.470 | 1 |
| 2 | 3 | | | 11.130 | 5 |
| 3 | 4 | | | 64.840 | 4 |
| 4 | 34 | | | +1 varv | 6 |
| 5 | 12 | | | +1 varv | 11 |
| 6 | 30 | | | +1 varv | 7 |
| 7 | 16 | | | +1 varv | 15 |
| 8 | 17 | | | +2 varv | 10 |
| 9 | 8 | | | +2 varv | 13 |
| 10 | 28 | | | +2 varv | 17 |
| 11 | 21 | | | +2 varv | 18 |
| r | 26 | | | +3 varv | 8 |
| 13 | 22 | | | +4 varv | 12 |
| r | 2 | | | +5 varv | 2 |
| r | 6 | | | +39 varv | 16 |
| r | 10 | | | +52 varv | 3 |
| r | 11 | | | +54 varv | 14 |
| r | 9 | | | +69 varv | 9 |
| r | 19 | | | +77 varv | 19 |
| r | 7 | | | +78 varv | 20 |
| nq | 20 | | | | |
| nq | 38 | | | | |
| nq | 37 | | | | |
| nq | 24 | | | | |
| nq | 35 | | | | |
| | | |
| --- | --- | --- |
| NC=Not Classified | NT=No Tid set in qualifying | R=Retired |
| EX=Excluded from meeting | W=Withdrawn | DQ=Disqualified |
| NS=Did not start | NQ=Did not qualify | NPQ=Did not pre-qualify |

Aktuell ställning
| | | | |
| --- | --- | --- | --- |
| Position | Förare | Nation | Poäng |
| 1 | | | 48 |
| 2 | | | 15 |
| " | | | 15 |
| 4 | | | 14 |
| " | | | 14 |
| 6 | | | 10 |