Gislaved Sveriges Grand Prix 13 Juni 1976, Anderstorp
Ronnie Peterson kom aldrig att ta någon F1-seger i Sveriges GP, även om det var nära 1973 då en punktering sackade Ronnie till en andraplats 1973. Inför Ronnies 83:e start i Formel 1 synes chanserna inte särskilt stora att ändra detta faktum. I och för sig nia efter tidskvalet, men två av de nya bilkonstruktionerna har till denna tävling verkligen fått upp farten...
I "pole position" står för första gången den 6-hjuliga P34:an från Tyrrell. Jody Scheckter sitter vid ratten och teamkompisen Patrick Depailler är placerad några hack längre ner på en fjärdeplats. Mario Andretti i Lotus 77:an har fått ordning på grejorna och delar första startled med Scheckter - Lotus med Gunnar Nilsson visar att något är på gång med den nya bilen genom att även kvalificera sig med sjätte bästa tid. Chris Amon (Ensign) har något sensationellt knipit tredje startposition och alla ställer sig frågan vad som hänt med Ferrari och McLaren där Niki Lauda är bäst med en femte bästa tid.
Det blir Andretti som tar starten före Scheckter, Depailler och Amon. Gunnar Nilsson förstör sina chanser till en bra placering genom att spinna av in i skyddsbarriären och som om detta inte var nog straffas Mario med en minuts tillägg för att ha tjuvstartat. Andrettis möjlighet att vinna loppet bestod då i att köra ifrån det övriga fältet så gott tygen kunde hålla, men på varv 46 är det stopp då motorn säger ifrån. I och med att Amon på det 39:e varvet kraschat p g a en trasig fjädring så befinner sig plötsligt de båda Tyrrell-bilarna i topp.
Sexhjulingarna tar en dubbelseger (även om det skiljer nästan 20 sekunder mellan ettan och tvåan). Niki Lauda rullar i mål som tre, nästan 34 sekunder efter segraren. Laffite blir fyra, strax James Hunt.
Ronnie når inte riktigt fram till en poängplats, men gör ändock en fullt godkänd insats genom att ta sig i mål som sjua bakom Regazzoni. Även om denna placering inte är mycket att yvas över så är det säsongens bästa resultat - so far...
Mario Andretti klockas för det snabbaste varvet med 1.28,002 och loppet kan summera följande förare i ledning: Andretti 1-45; Scheckter 46-72.
Summary in english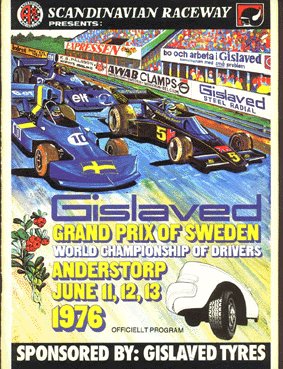 The teams rushed north from Monaco to Sweden and there was little time for modifications to be made. Team Lotus was back to two cars again as Mario Andretti had returned from the Indianapolis 500 which had caused him to miss the Monaco race. Brett Lunger was also back in action, Surtees having completed a new car for him. Williams had only one car as Jacky Ickx was busy winning the Le Mans 24 Hours. RAM Racing was back with Loris Kessel and Denmark's Jac Nelleman in the second car (although he was the unlucky man who failed to qualify). Penske had the new PC4 on hand for John Watson.

Team Lotus had been working to develop the new Lotus 77 and Mario Andretti showed that the car had potential as he qualified second, just behind Jody Scheckter in the Tyrrell six-wheeler. Chris Amon was a remarkable third on the grid in the Ensign while Patrick Depailler was fourth fastest in the second Tyrrell. Usual front-runner Niki Lauda (Ferrari) was fifth with Lotus's Gunnar Nilsson sixth. Then came James Hunt (McLaren), Jacques Laffite (Ligier), Carlos Pace (Brabham-Alfa Romeo) and Ronnie Peterson (March).

At the start it was Andretti who took the lead from Scheckter, Depailler and Amon. Nilsson blew his chances with a spun into the pit wall and moment later the team was informed that Andretti was being penalized one minute for jumping the start. Andretti's only choice to was push as hard as possible and try to create a gap of more than a minute. The race was very dull with the only changes coming when a driver retired. Amon went out of fourth place on lap 39 when his suspension failed and he crashed. On lap 46 Andretti disappeared with an engine failure, leaving the Tyrrells running 1-2 at the front.

Third place fell to Lauda with Laffite fourth, Hunt fifth, while Regazzoni charged in the closing laps to pass Pace and Peterson to claim sixth.
Sammanställning

Grand Prix

Sverige

Datum

13 Juni 1976

Bana

Säsong

1976

Deltävling

7

Längd (km)

4.018

Varv

72

Tid

1:46:53.729
| | | | | | |
| --- | --- | --- | --- | --- | --- |
| Placering | Nr | Förare | Team | Tid | Grid |
| 1 | 3 | | | 1:46:53.729 | 1 |
| 2 | 4 | | | 19.766 | 4 |
| 3 | 1 | | | 33.866 | 5 |
| 4 | 26 | | | 55.819 | 7 |
| 5 | 11 | | | 59.483 | 8 |
| 6 | 2 | | | 60.366 | 11 |
| 7 | 10 | | | 63.493 | 9 |
| 8 | 8 | | | 71.613 | 10 |
| 9 | 16 | | | +1 varv | 12 |
| 10 | 9 | | | +1 varv | 15 |
| 11 | 12 | | | +1 varv | 13 |
| 12 | 17 | | | +1 varv | 14 |
| 13 | 19 | | | +1 varv | 18 |
| r | 35 | | | +2 varv | 19 |
| 15 | 18 | | | +2 varv | 24 |
| r | 24 | | | +18 varv | 23 |
| r | 34 | | | +20 varv | 20 |
| r | 5 | | | +27 varv | 2 |
| r | 22 | | | +34 varv | 3 |
| r | 21 | | | +52 varv | 25 |
| r | 37 | | | +54 varv | 22 |
| r | 30 | | | +62 varv | 21 |
| r | 32 | | | +67 varv | 26 |
| r | 6 | | | +70 varv | 6 |
| r | 7 | | | +70 varv | 16 |
| r | 28 | | | +72 varv | 17 |
| nq | 33 | | | | |
| | | |
| --- | --- | --- |
| NC=Not Classified | NT=No time set in qualifying | R=Retired |
| EX=Excluded from meeting | W=Withdrawn | DQ=Disqualified |
| NS=Did not start | NQ=Did not qualify | NPQ=Did not pre-qualify |

Aktuell ställning
| | | | |
| --- | --- | --- | --- |
| Position | Förare | Nation | Poäng |
| 1 | | | 52 |
| 2 | | | 23 |
| 3 | | | 20 |
| 4 | | | 17 |
| 5 | | | 16 |
| 6 | | | 10 |
| " | | | 10 |