Grand Prix de France 4 Juli 1976, Paul Ricard
Ronnie Peterson tog 1973 sin första GP-seger på just Paul Ricard banan i Frankrike. När de 1975 åter tävlade här satt Ronnie fortfarande kvar i den då hopplöst gamla Lotus 72:an, men lyckades ändock knipa en tiondeplats. Inför den 84:e F1-starten totalt finns vissa förhoppningar. Ronnie kommer allt bättre överens med March 761:an, även om det fortfarande är problem med att få grejorna att hålla ihop.
Träningen går mycket bra och Ronnie förbättrar sitt årsbästa genom att kvalificera sig med en sjätte bästa tid. James Hunt (McLaren) är åter i slag och står i "pole" före Niki Lauda (Ferrari).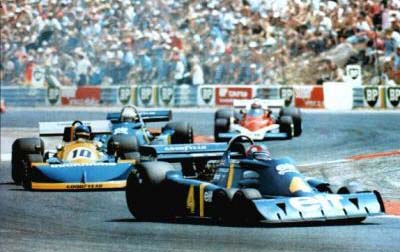 Lauda är den som gör en bättre start och som sålunda går in före Hunt i den första kurvan. Ronnie tar omedelbart en placering och ligger närmast efter Regazzoni och Depailler. Den senare tar han sig även förbi i slutet av det första varvet. På det nionde varvet går Laudas motor upp i rök. Även den andra Ferrarin med Regazzoni får motorproblem på det artonde varvet och Hunt leder plötsligt loppet i överlägsen stil. Tyvärr har såväl Depailler och Scheckter lyckats ta sig förbi Ronnie i Marchen, samtidigt som Watson attackerar bakifrån. Ronnie kan dock svara och tar sig åter förbi Scheckter upp på en tredjeplats.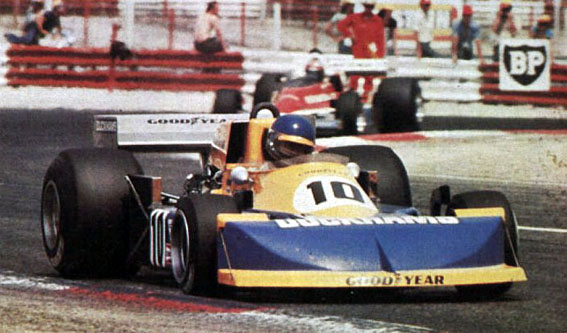 Oturen grinar dock Ronnie i ansiktet och på det 52:a varvet tvingas han ge upp efter problem med bränsleförsörjningsenheten. Hunt vinner loppet före Depailler och Watson. Snabbaste varv får Lauda med 1.51,0 och loppets ledare summeras som följer: Lauda 1-8; Hunt 9-54.
Summary in english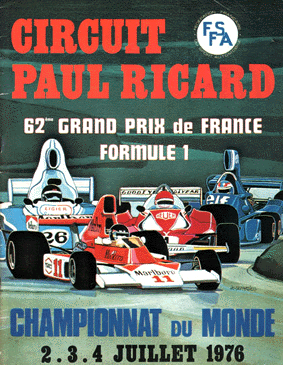 There was a three gap gap after the Swedish GP, where Tyrrell had scored a remarkable 1-2 with the new six-wheeler, before the teams gathered again at Paul Ricard for the French GP. Chris Amon was out of action with bad problems after his crash at Anderstorp and the Ensign was being driven by Patrick Neve. Larry Perkins's Boro team had run out of money but both Jacky Ickx (Williams) and Henri Pescarolo (Team Norev Surtees) were back in action having missed the Swedish race because of the Le Mans 24 Hours. Guy Edwards was back in the second Hesketh and Ingo Hoffmann was having another try in the second Fittipaldi while RAM Racing had taken on Damien Magee in place of Jac Nelleman.

Qualifying resulted in pole position going to James Hunt (McLaren) with Niki Lauda (who had more than twice as many points in the World Championship than his nearest rival Jody Scheckter) was second. Patrick Depailler was third fastest and Clay Regazzoni fourth with Carlos Pace showing well (for a change) in the Brabham-Alfa. Ronnie Peterson was sixth in his March while Mario Andretti (Lotus) was seventh, John Watson (Penske) eighth, Scheckter (Tyrrell) ninth and Carlos Reutemann (Brabham-Alfa) 10th.

At the start Lauda made the better start and took the lead from Hunt with Regazzoni third, Depailler fourth and Peterson fifth. In the course of the first lap Peterson moved ahead of Depailler, while on the second lap Watson was push back to seventh place by Scheckter. The order then settled and it was not until lap nine that there were any major developments. Lauda's Ferrari blew up and slewed off the line. The World Champion was out. This put Hunt into the lead with Regazzoni chasing him but on lap 18 Regazzoni suffered an engine failure and Hunt was left alone in the lead while Depailler was second, having repassed Peterson and Scheckter was third, having also overtaken the March. Watson challenged Peterson for fifth place but after a tussle Peterson went ahead and then recaught Scheckter and moved to third, the Tyrrell fading because of engine trouble. On lap 52, however, Peterson stopped with a fuel problem and so third place went to Watson. Pace and Andretti finished fourth and fifth with Scheckter surviving to pick up a single point.
Sammanställning

Grand Prix

Frankrike

Datum

4 Juli 1976

Bana

Säsong

1976

Deltävling

8

Längd (km)

5.810

Varv

54

Tid

1:40:58.600
| | | | | | |
| --- | --- | --- | --- | --- | --- |
| Placering | Nr | Förare | Team | Tid | Grid |
| 1 | 11 | | | 1:40:58.600 | 1 |
| 2 | 4 | | | 12.700 | 3 |
| 3 | 28 | | | 23.550 | 8 |
| 4 | 8 | | | 24.820 | 5 |
| 5 | 5 | | | 43.920 | 7 |
| 6 | 3 | | | 55.070 | 9 |
| 7 | 34 | | | 81.550 | 17 |
| 8 | 16 | | | 90.670 | 16 |
| 9 | 35 | | | 120.570 | 20 |
| 10 | 20 | | | +1 varv | 19 |
| 11 | 7 | | | +1 varv | 10 |
| 12 | 17 | | | +1 varv | 15 |
| 13 | 21 | | | +1 varv | 22 |
| 14 | 26 | | | +1 varv | 13 |
| 15 | 12 | | | +1 varv | 14 |
| 16 | 18 | | | +1 varv | 23 |
| 17 | 25 | | | +1 varv | 25 |
| 18 | 22 | | | +1 varv | 26 |
| r | 10 | | | +3 varv | 6 |
| r | 19 | | | +10 varv | 18 |
| r | 9 | | | +26 varv | 11 |
| r | 30 | | | +33 varv | 21 |
| r | 38 | | | +35 varv | 24 |
| r | 2 | | | +37 varv | 4 |
| r | 1 | | | +46 varv | 2 |
| r | 6 | | | +46 varv | 12 |
| r | 24 | | | +50 varv | 27 |
| nq | 33 | | | | |
| nq | 31 | | | | |
| nq | 32 | | | | |
| | | |
| --- | --- | --- |
| NC=Not Classified | NT=No time set in qualifying | R=Retired |
| EX=Excluded from meeting | W=Withdrawn | DQ=Disqualified |
| NS=Did not start | NQ=Did not qualify | NPQ=Did not pre-qualify |

Aktuell ställning
| | | | |
| --- | --- | --- | --- |
| Position | Förare | Nation | Poäng |
| 1 | | | 52 |
| 2 | | | 26 |
| " | | | 26 |
| 4 | | | 24 |
| 5 | | | 16 |
| 6 | | | 10 |
| " | | | 10 |