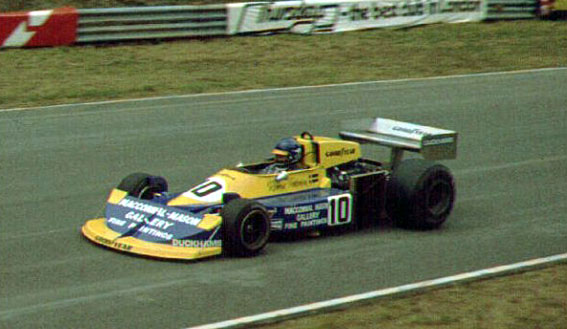 John Player British Grand Prix 18 Juli 1976, Brands Hatch
Ronnie Peterson är inför sin 85:e start åter tillbaka på Brands Hatch med Formel 1 cirkusen - en rad förbättringar har gjorts för att höja banans säkerhet. Ronnie fortsätter att imponera med Marchen och får sjunde bästa kvalificeringstid. Åt ledarduon Lauda och Hunt förefaller ingenting kunna göras och de står återigen bredvid varandra i första startled.
Andretti kommer allt bättre överens med den nyutvecklade Lotus 77:an och har något överraskande lyckats prestera en tredje bästa tid. Fyra är Clay Regazzoni i den andra Ferrarin. Precis före Ronnie står Patrick Depailler (Tyrrell) och Chris Amon (Ensign).
Starten blir dramatisk. Lauda tar täten, men då Regazzoni försöker tränga sig förbi Hunt så touchar de båda Ferraribilarna varandra. Regazzoni spinner av och Hunt lyckas ej undvika att kollidera. Hunts McLaren flyger upp i luften och landar så tungt att hjulupphängningen skadas. Även Jacques Laffite kör på Regazzoni och hamnar i avbärarräcket.
Arrangörerna beslutar sig för att flagga av loppet då banan måste rensas från skrot. Detta leder till en debatt huruvida de förare som varit inblandade i kraschen skall få starta igen i sina reservbilar. McLaren löser detta dilemma genom att reparera Hunt bil, men både Ferrari och Ligier skickar in Regazzoni och Laffite i nya fräscha kärror...
Vid omstarten tar Lauda återigen täten och denna gång klarar sig de främsta förarna igenom första kurvan utan incidenter. Ronnie går inledningsvis upp på en femteplats, men faller efterhand tillbaka - först omkörd av Brambilla. När så Brambilla går i depå och såväl Regazzoni som Merzario tvingas bryta, är plötsligt Gunnar Nilsson i sin Lotus uppe på en fjärdeplats.
Lauda har inte valt rätt utväxling och hamnar på det 45:e varvet bakom Hunt. Detta blir också ställningen i mål. Scheckter slutar trea (Tyrrell), Watson blir fyra (Penske) efter det att Nilsson tvingats bryta efter motorhaveri.
Snabbaste varv har Lauda med 1.19,91 och han leder även loppet från start till mål.
Ronnie har under hela loppet problem med bränsletrycket, något som också efter 60 av de 76 varven tvingar honom slutgiltigt av banan.
Efterloppet lämnas en protest in mot att Hunt har tillåtits att starta. Protesten avslogs, men Ferrari överklagade och det dröjde ända till september innan Hunt blev diskvalificerad. Vid den tidpunkten hade mycket förändrats...
Summary in english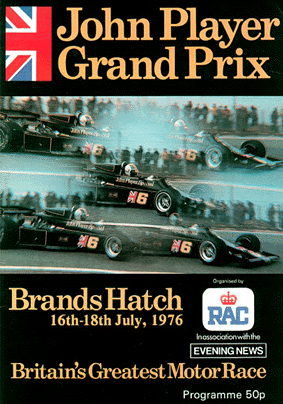 Formula 1 returned to Brands Hatch where considerable changes had been made with the aim of improving safety. James Hunt had won the appeal against his disqualification in Spain and so had 26 points to Niki Lauda's 52 but beating the Austrian still looked unlikely. The British GP grid was slightly different to the entry in France with the addition of a couple of the locals: Divina Galica running in a Shellsport-sponsored Surtees entered for her by Nick Whiting and Mike Wilds in an old Shadow entered by Team P R Reilly. Chris Amon was back in the Ensign and RAM was running Bob Evans and Lella Lombardi for the weekend. Both Williams and Fittipaldi had reduced their efforts to one car.

In qualifying Lauda took pole position with Hunt alongside him. Then came Mario Andretti in the ever-improving Lotus 77 and Clay Regazzoni's Ferrari. Patrick Depailler was fifth in his Tyrrell and then came Amon, doing another good job in the underfunded Ensign. The top 10 was completed by the Marches of Ronnie Peterson, Arturo Merzario and Vittorio Brambilla with Jody Scheckter's Tyrrell in eighth spot between them. Galica, Lombardi, Wilds and Jacky Ickx failed to qualify, the last-named being dumped by Walter Wolf as a result.

The start of the race was to be a dramatic affair, with Lauda leading away but with Regazzoni blasting ahead of Hunt and challenging for the lead at Paddock Hill Bend. The two Ferraris touched and Regazzoni spun. Hunt tried to avoid the Ferrari but touched and his McLaren was launched into the air, narrowly avoiding rolling. It landed heavily, damaging its suspension. Jacques Laffite's Ligier hit Regazzoni and went into the barriers but most of the rest of the field got through without drama. The organizers decided that there was too much debris on the track and a red flag was shown. This led to arguments as to whether or not the three drivers could start in spare cars and while this debate was raging, the McLaren mechanics rebuilt Hunt's car. Ferrari and Ligier had spare cars but they were going to race them and face the consequences later.

At the restart Lauda took the lead again and this time all the front-runners got through although at the back Evans and Guy Edwards (Hesketh) collided. At Druids Depailler and Stuck came to grief. At the front Lauda began to pull away and the order remained unchanged with Hunt second, Regazzoni third and Scheckter fourth. Peterson was fifth early on but dropped behind Brambilla, who had previously overtaken Amon, the Ensign driving retiring quickly with a water leak.

On lap 15 Brambilla pitted for new tires and so fifth place went to Merzario with Gunnar Nilsson (Lotus) sixth. In the mid-race Regazzoni went out with an oil pressure problem and Merzario suffered a broken driveshaft and so Nilsson moved to fourth and Tom Pryce (Shadow) to fifth.

Lauda began to suffer from gear selection problems and dropped back towards Hunt and on lap 45 Hunt went into the lead. He won the race by nearly a minute with Lauda second, Scheckter third and John Watson (Penske) fourth after Nilsson retired with an engine failure. Pryce finished fifth with Alan Jones (Surtees) sixth. After the race, however, there were protests against Hunt having been allowed to take part. The protest was rejected but Ferrari appealed and the result of the race was not settled until September when Hunt was disqualified, leaving Lauda as the winner.

By then, however, much had changed...
Sammanställning

Grand Prix

Storbritannien

Datum

18 Juli 1976

Bana

Säsong

1976

Deltävling

9

Längd (km)

4.207

Varv

76

Tid

1:44:19.660
| | | | | | |
| --- | --- | --- | --- | --- | --- |
| Placering | Nr | Förare | Team | Tid | Grid |
| dq | 11 | | | | 2 |
| 1 | 1 | | | 0.000 | 1 |
| 2 | 3 | | | 16.180 | 8 |
| 3 | 28 | | | +1 varv | 11 |
| 4 | 16 | | | +1 varv | 20 |
| 5 | 19 | | | +1 varv | 19 |
| 6 | 30 | | | +2 varv | 21 |
| 7 | 24 | | | +3 varv | 23 |
| 8 | 8 | | | +3 varv | 16 |
| 9 | 17 | | | +6 varv | 24 |
| r | 6 | | | +9 varv | 14 |
| r | 10 | | | +16 varv | 7 |
| r | 18 | | | +21 varv | 18 |
| r | 4 | | | +29 varv | 5 |
| r | 7 | | | +30 varv | 15 |
| r | 35 | | | +37 varv | 9 |
| dq | 2 | | | | 4 |
| dq | 26 | | | | 13 |
| r | 32 | | | +52 varv | 22 |
| r | 9 | | | +54 varv | 10 |
| r | 38 | | | +60 varv | 26 |
| r | 22 | | | +68 varv | 6 |
| r | 5 | | | +72 varv | 3 |
| r | 12 | | | +75 varv | 12 |
| r | 34 | | | +76 varv | 17 |
| r | 25 | | | +76 varv | 25 |
| nq | 20 | | | | |
| nq | 13 | | | | |
| nq | 40 | | | | |
| nq | 33 | | | | |
| | | |
| --- | --- | --- |
| NC=Not Classified | NT=No time set in qualifying | R=Retired |
| EX=Excluded from meeting | W=Withdrawn | DQ=Disqualified |
| NS=Did not start | NQ=Did not qualify | NPQ=Did not pre-qualify |

Aktuell ställning
| | | | |
| --- | --- | --- | --- |
| Position | Förare | Nation | Poäng |
| 1 | | | 61 |
| 2 | | | 30 |
| 3 | | | 26 |
| " | | | 26 |
| 5 | | | 16 |
| " | | | 10 |
| " | | | 10 |
| " | | | 10 |