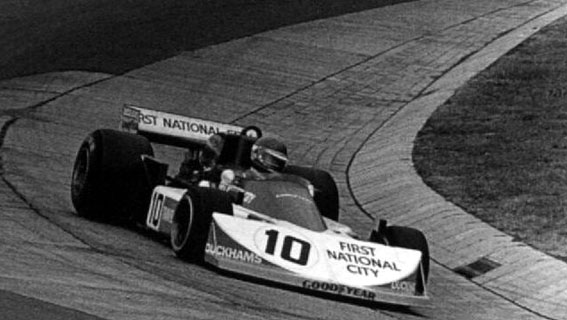 Grosser Preis von Deutschland 1 Augusti 1976, Nürburgring
Ronnie Peterson gör sin 86:e start på en bana där han inte lyckats särskilt bra under sin tid som F1-förare - eller "dvr" som Ronnie brukade förkorta sin yrkesbeteckning vid incheckning på hotell. Nürburgring mötte inte förarnas uppskattning, banan var kritiserad säkerhetsmässigt, men hade ändock acceptans för tävlande.
I tidskvalet hade Ronnie en av sina sämre dagar och hamnade precis utanför 10-bästalistan. I första statled återfanns dock en välkänd duo med James Hunt i "pole position" med sin McLaren (hårt kritiserad after "vinsten" på Brands Hatch två veckor tidigare) tillsammans med Niki Lauda (Ferrari). Sexhjulingen från Tyrrell med Jody Scheckter står tillsammans med Hans Stuck (March) i ledet omedelbart bakom. Den andra Ferrarin med Clay Regazzoni och Jacques Laffite (Ligier) intar startpositionerna fem och sex.
Det regnar precis före tävlingsstart och alla utom Jochen Mass beslutar sig för regndäck. Regazzoni tar starten - såväl Hunt som Lauda är sena iväg - men redan på det första varvet halkar han ner till en fjärde plats efter att ha tappat greppet. Banan har dock torkat upp och alla beslutar sig för att gå i depå för däcksbyte - utom Ronnie Peterson (som väljer att fortsätta på regndäck). Mass finner sig själv plötsligt ligga tvåa bakom Ronnie, men han kan snabbt ta sig förbi. Hunt trea.
Vid Bergwerk tappar Lauda kontrollen över sin Ferrari och plöjer genom staketet ut på en jordbank. Bilen, som fattat eld, studsar tillbaka in på banan och träffas av Harald Ertl (Hesketh( och Brett Luger (Surtees). Tillsammans med Guy Edwards (Hesketh) försöker de få ur Niki ur den brinnande Ferrarin och tillsammans med Merzario, som stannat sin Wolf Williams, lyckades de rädda Lauda från att bli kvar i lågorna. Lauda tas till sjukhuset i Adenau och flygs senare till Universitetssjukhuset i Mannheim där han under ett flertal dagar kämpar för sitt liv. Niki Lauda överlever, men får mycket svåra brännskador.
Loppet har stoppats efter denna svåra olycka och vid omstarten är det endast 20 bilar som står på startlinjen (Chris Amon har fått nog och ställer ej upp till start). Regnet är nu borta och det blir Hunt som kan ta täten före Regazzoni, Scheckter, Depailler och Pace. På det första varvet efter omstarten tappar Ronnie kontrollen över bilen vid Flugplatz och kraschar våldsamt.. Regazzoni spinner igen och Depailler kör av då han försöker undvika Ferrarin. Pace kan köra om Scheckter och ligger tvåa efter första varvet.
Loppet blir därefter ganska så odramatiskt, Hunt håller ledningen från start till mål. Jody Schkter, med snabbaste varvtid om 7.10,8 blir tvåa, före Jochen Mass (McLaren) trea, Carlos Pace (Brabham) fyra - före Gunnar Nilsson som blir femma i sin Lotus.
Summary in english
The highly-charged 1976 season continued at the Nürburgring a fortnight after James Hunt's disputed victory at Brands Hatch. The drivers were not happy with the safety at the Nürburgring but they raced nonetheless. The field was much as it had been at Silverstone although Jacky Ickx had been fired from the Wolf Williams team and had been replaced by Arturo Merzario. There was another new team present for the first time, Scuderia Rondini having acquired an old Tyrrell 007 for Alessandro Pesenti-Rossi. The RAM team had agreed a deal to run Rolf Stommelen in one of the old Brabham-Cosworths but midway through practice the cars were impounded by the local police (!) as a result of legal action from former driver Loris Kessel and so Stommelen transferred into the spare factory Brabham-Alfa Romeo BT45.

In qualifying James Hunt was on pole with Niki Lauda second while Patrick Depailler lined up third in his six-wheeler Tyrrell. Hans Stuck was fourth fastest in his march ahead of Clay Regazzoni (Ferrari), Jacques Laffite (Ligier), Carlos Pace (Brabham-Alfa Romeo), Jody Scheckter (Tyrrell), Jochen Mass (McLaren) and Carlos Reutemann (Brabham-Alfa Romeo). Lombardi could not qualify because RAM could not run its cars and Henri Pescarolo failed to qualify the Team Morev Surtees because of engine troubles.

It rained before the race and everyone apart from Jochen Mass decided to use wet weather tires. At the start Regazzoni took the lead while both Hunt and Lauda were slow away. Hunt took second while third went to a fast-starting Mass and fourth to Laffite who benefited from the fact that Stuck's car had been pushed off the grid with a clutch problem (although the German started at the back of the field). In the course of the first lap Regazzoni spun quickly and dropped to fourth. At the end of the lap half of the field headed for the pits and Mass found himself in second place behind Peterson, who decided to go on wet tires for another lap. On the next lap Mass was ahead with Nilsson (who had not stopped) in second place and Hunt third.

At Bergwerk, out at the back of the circuit, however, Lauda lost control of his Ferrari and spun through the catchfencing into an earth bank. The car (which was enveloped in flames) bounced back onto the circuit in the path of the cars which were following. Guy Edwards (Hesketh) managed to avoid the Ferrari but Harald Ertl (Hesketh) and Brett Lunger (Surtees) both hit it. All three drivers stopped and tried to get Lauda out of the flames and they were joined by Merzario who stopped his Wolf Williams and came their aid. Lauda had suffered serious burns and was rushed to hospital in Adenau and was flown from there to the University Hospital in Mannheim where he fought for his life for the next few days.

The race had been stopped after the accident and at the restart there were only 20 cars as Chris Amon had decided that he had had enough and refused to race. The rain had gone and Hunt took the lead from Regazzoni, Scheckter, Depailler and Pace. At the Flugplatz Peterson lost control of his March and crashed heavily while Regazzoni had another spin and Depailler went off avoiding the Ferrari. Pace overtook Scheckter and so ended the first lap in second place. On the second lap Scheckter passed Pace and the Brazilian fell behind Regazzoni on the third lap, during which sixth placed Vittorio Brambilla (March) crashed at Adenau Bridge as the result of a brake failure. The man on the move was Mass who overtook fifth placed Gunnar Nilsson (Lotus) on the fifth lap and Pace on lap 10. On the 12th lap Regazzoni spun again and Mass moved to third with Pace fourth, Nilsson fifth and Stommelen sixth.
Sammanställning

Grand Prix

Tyskland

Datum

1 Augusti 1976

Bana

Säsong

1976

Deltävling

10

Längd (km)

22.835

Varv

14

Tid

1:41:42.700
| | | | | | |
| --- | --- | --- | --- | --- | --- |
| Placering | Nr | Förare | Team | Tid | Grid |
| 1 | 11 | | | 1:41:42.700 | 1 |
| 2 | 3 | | | 27.700 | 8 |
| 3 | 12 | | | 52.400 | 9 |
| 4 | 8 | | | 54.200 | 7 |
| 5 | 6 | | | 117.300 | 16 |
| 6 | 77 | | | 150.300 | 15 |
| 7 | 28 | | | 153.900 | 19 |
| 8 | 16 | | | 168.200 | 18 |
| 9 | 2 | | | 226.000 | 5 |
| 10 | 19 | | | 227.300 | 14 |
| 11 | 17 | | | 291.700 | 23 |
| 12 | 5 | | | 298.100 | 12 |
| 13 | 30 | | | 325.200 | 20 |
| 14 | 40 | | | +1 varv | 26 |
| 15 | 25 | | | +1 varv | 25 |
| r | 20 | | | +11 varv | 21 |
| r | 9 | | | +13 varv | 13 |
| r | 4 | | | +14 varv | 3 |
| r | 7 | | | +14 varv | 10 |
| r | 10 | | | +14 varv | 11 |
| r | 34 | | | +14 varv | 4 |
| r | 26 | | | +14 varv | 6 |
| r | 22 | | | +14 varv | 17 |
| r | 1 | | | +14 varv | 2 |
| r | 18 | | | +14 varv | 24 |
| r | 24 | | | +14 varv | 22 |
| nq | 33 | | | | |
| nq | 38 | | | | |
| | | |
| --- | --- | --- |
| NC=Not Classified | NT=No time set in qualifying | R=Retired |
| EX=Excluded from meeting | W=Withdrawn | DQ=Disqualified |
| NS=Did not start | NQ=Did not qualify | NPQ=Did not pre-qualify |

Aktuell ställning
| | | | |
| --- | --- | --- | --- |
| Position | Förare | Nation | Poäng |
| 1 | | | 61 |
| 2 | | | 36 |
| 3 | | | 35 |
| 4 | | | 26 |
| 5 | | | 16 |
| 6 | | | 14 |