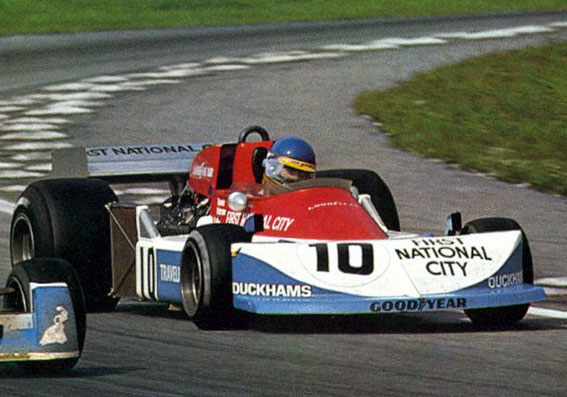 Raiffeisen Grosser Preis von Österreich 15 Augusti 1976, Österreichring
Ronnie Petersons 87:e F1 start. Det råder turbelens inom GP cirkusen. Niki Lauda befinner sig fortfarande i ett kritiskt tillstånd på sjukhus efter den svåra kraschen på Nürburgring två veckor tidigare och Ferrari annonserar att man ej ställer upp i Österrike eftersom Hunt återfått poängen han fråntogs efter Spaniens GP tidigare på året då hans McLaren befanns vara för bred. Tävlingen är t o m på väg att ställas och den drar inga stora åskådarmassor.
James Hunt (McLaren) står i första startled tillsammans med John Watson (Penske). Ronnie Peterson har något sensationellt knipit tredjeplatsen med sin March och formerar ett svenskt anfallsvapen från andra led tillsammans med Gunnar Nilsson i Lotus.
Vädret har under tidskvalet inte varit det bästa och även söndagsmorgonen innehåller oroväckande moln på himlen. Banan torkar dock upp och det blir Watson som kommer in som ledare i första kurvan. Även Ronnie lyckas smita förbi Hunt, varpå han snart även har övertagit Watsons tätposition. Scheckter, som avancerat upp i fältet, tar sig förbi Ronnie på det tionde varvet - men Ronnie svarar på nästa runda med en snygg manöver i samband med varvning. Watson har dock återfått självförtroendet och kan gå om Ronnie på det 12:e varvet.
Emedan John Watson i det närmaste ohotad kan ta sin första seger någonsin i F1 karriären och dessutom Penskes enda, tappar Ronnie. Ett flertal förare kan ta sig förbi på de avslutande varven och tågordningen i mål blir Laffite (Ligier) tvåa, Nilsson (Lotus) trea, Hunt (McLaren) fyra, Andretti (Lotus) femma - men Ronnie ändock på en sjätteplats och poäng, säsongens första!
Snabbaste varv har James Hunt med 1.35,91 och loppet kan summera följande förare i ledning: Watson 1-2, 12-54; Ronnie 3-9, 11; Scheckter 10.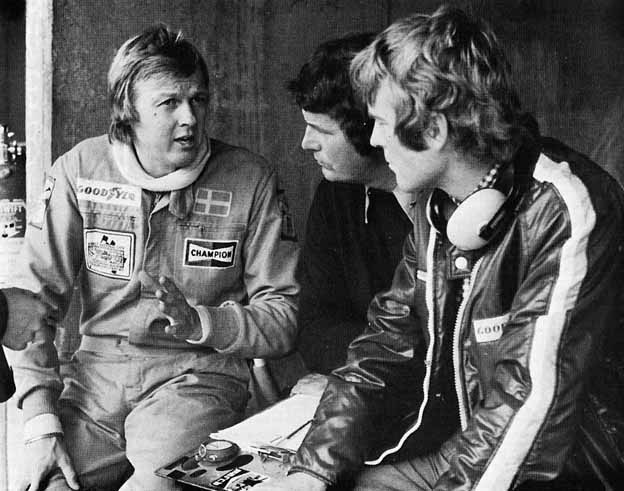 Ronnie i samtal med Robin Herd och Max Mosley
Som kuriosa kan nämnas att John Watson - som en följd av segern - tvingas raka av sig sitt skägg efter att ha slagit vad med stallchefen Roger Penske...
Summary in english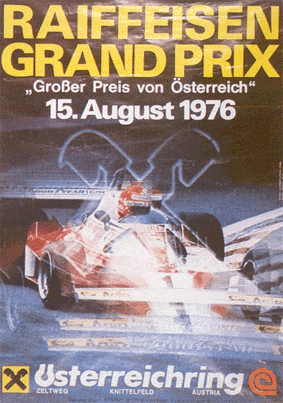 With Niki Lauda in a critical condition in hospital and Ferrari having announced that it was withdrawing from the World Championship because of the reinstatement of James Hunt in the results of the Spanish GP, the Austrian GP was nearly canceled but it went ahead although the crowds were small. With Chris Amon having retired from F1, the Ensign team hired local driver Hans Binder while RAM reappeared with Loris Kessel in one car and Lella Lombardi in the other. Two other locals Karl Oppitzhauser (who had bought a March 761) and Otto Stuppacher (who had acquired an old Tyrrell) had entered but were refused the necessary clearances because of lack of experience.

This meant that all 26 cars would be able to start. At the front of the grid was James Hunt (McLaren) with John Watson's Penske alongside. Then came Ronnie Peterson's March and Gunnar Nilsson (Lotus) with Jacques Laffite (Ligier) and Tom Pryce (Shadow) side by side on the third row. The top 10 was completed by Vittorio Brambilla (March), Carlos Pace (Brabham-Alfa Romeo), Mario Andretti (Lotus) and Jody Scheckter (Tyrrell).

The troubled weather in qualifying continued on Sunday morning with some light rain but it was dry for the start and Watson and Hunt went off side by side, the Ulsterman getting ahead as he had the inside line at the first corner. At the same time Peterson sneaked ahead of Hunt while Nilsson was fourth, Laffite fifth and Pryce sixth. Peterson was soon in the lead while Scheckter was on the move and moved rapidly up to take second place on lap seven. Three laps later he took the lead from Peterson but as Watson and Nilsson were right them the order changed again when Scheckter was held up by a backmarker and so Peterson went ahead again with Scheckter dropping to third behind Watson. The Penske driver than closed up on Peterson and on the 12th lap went into the lead. Three laps later Scheckter suffered a suspension failure and crashed heavily. Peterson and Nilsson were left to duel from second and on the 19th lap Nilsson went ahead, while Peterson dropped back into the clutches of Laffite and Hunt. After a good battle Laffite got ahead and chased after Nilsson. He caught the Swede and on lap 45 moved into second. On the next lap Peterson fell behind Andretti and the order was settled with Watson winning his first Grand Prix victory and the first for the Penske team.

The win meant that Watson had to shave off his beard, having promised Roger Penske he would do it if the team won a race.
Sammanställning

Grand Prix

Österrike

Datum

15 Augusti 1976

Bana

Säsong

1976

Deltävling

11

Längd (km)

5.910

Varv

54

Tid

1:30:07.860
| | | | | | |
| --- | --- | --- | --- | --- | --- |
| Placering | Nr | Förare | Team | Tid | Grid |
| 1 | 28 | | | 1:30:07.860 | 2 |
| 2 | 26 | | | 10.790 | 5 |
| 3 | 6 | | | 11.980 | 4 |
| 4 | 11 | | | 12.440 | 1 |
| 5 | 5 | | | 21.490 | 9 |
| 6 | 10 | | | 34.340 | 3 |
| 7 | 12 | | | 59.450 | 12 |
| 8 | 24 | | | +1 varv | 20 |
| 9 | 38 | | | +2 varv | 22 |
| r | 18 | | | +3 varv | 16 |
| 11 | 39 | | | +3 varv | 23 |
| 12 | 33 | | | +4 varv | 24 |
| r | 22 | | | +7 varv | 19 |
| nc | 32 | | | +10 varv | 25 |
| r | 9 | | | +11 varv | 7 |
| r | 30 | | | +11 varv | 17 |
| r | 17 | | | +14 varv | 18 |
| r | 8 | | | +14 varv | 8 |
| r | 19 | | | +14 varv | 15 |
| r | 34 | | | +28 varv | 11 |
| r | 4 | | | +30 varv | 13 |
| r | 20 | | | +37 varv | 21 |
| r | 16 | | | +40 varv | 6 |
| r | 3 | | | +40 varv | 10 |
| r | 7 | | | +54 varv | 14 |
| | | |
| --- | --- | --- |
| NC=Not Classified | NT=No time set in qualifying | R=Retired |
| EX=Excluded from meeting | W=Withdrawn | DQ=Disqualified |
| NS=Did not start | NQ=Did not qualify | NPQ=Did not pre-qualify |

Aktuell ställning
| | | | |
| --- | --- | --- | --- |
| Position | Förare | Nation | Poäng |
| 1 | | | 61 |
| 2 | | | 38 |
| 3 | | | 36 |
| 4 | | | 26 |
| 5 | | | 19 |
| 6 | | | 16 |
| " | | | 16 |