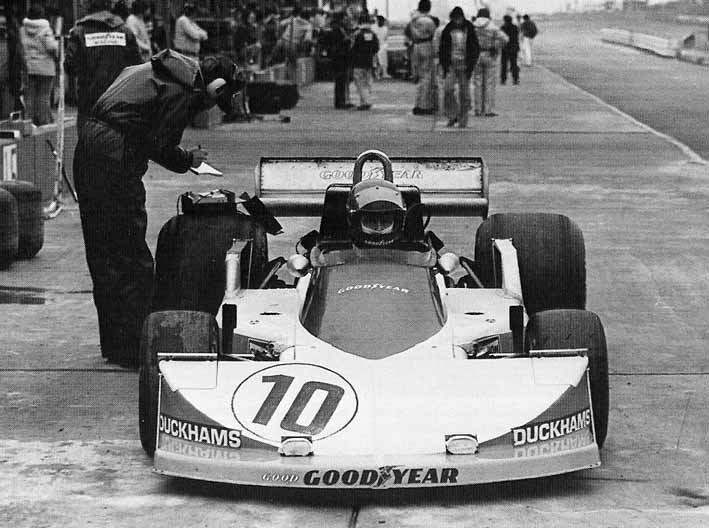 United States Grand Prix 10 Oktober 1976, Watkins Glen
Ronnie Peterson startar sitt 91:a F1-race endast en vecka efter tävligen i Kanada. Kvalificeringen inför Grand Prix på Watkins Glen går över förväntan och Ronnie tar en tredje startposition inför söndagstävlingen. Andra startledet delas av den andra March-bilen med Brambilla. "Pole position" har erövrats av James Hunt (McLaren) med Jody Scheckter på en andraplats i den soektakulära sexhjulingen från Tyrrell.
Det blir Scheckter som gör den bästa starten och han tar ledningen före Brambilla som är något snabbare iväg än Ronnie. Ronnie tvingas ge upp redan på det 12:e varvet efter problem med fjädringen.
Halvvägs in i loppet har Hunt arbetat sig tillbaka och kan ta sig förbi Scheckter, men kort därefter gör han ett misstag och ordning återställs. Hunt ger sig emellertid inte och på varv 46 är han åter i spets.
Längre bak i fältet är det större förändringar. Ronnie tvingas med sina problem släppa förbi sig först Depailler och sedan Laffite. På varv 15 frontalkraschar Ickx i sin Ensign, bilen går i två delar och fattar eld, men Ickx klarar sig med en bruten ankel och några smärre brännskador.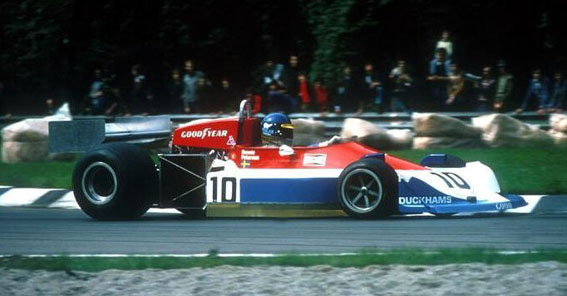 Under loppet tvingas senare såväl Laffite som Brambilla att bryta och överraskande finner sig Mass placerad på en fjärdeplats. Denna ställning håller sig in i mål. Hunts seger innebär att Lauda endast har tre poäng till godo inför den avslutande tävlingen (som går i Japan för första gången).
Jody Scheckter (Tyrrell) blir således tvåa, med Niki Lauda (Ferrari) på en tredjeplats. Snabbaste varv presterar Hunt med 1.42,851 och loppet kan summera följande förare i ledning: Scheckter 1-36, 41-45; Hunt 37-40, 46-59.
Summary in english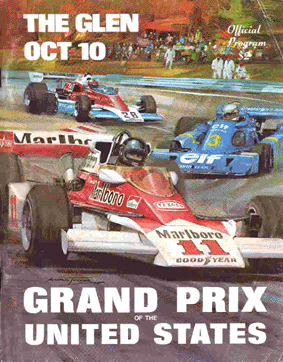 There was only a week between the Canadian and United States East Grand Prix and so there was little time for much change. Guy Edwards had stood down from Hesketh with Brazilian Alex Ribeiro taking over while Wolf Williams was without Chris Amon (who had hurt himself in Canada) and so Australian Warwick Brown was given the drive in an old Hesketh.

The World Championship gap between Niki Lauda and James Hunt was down to just eight points and Hunt was looking strong as he set pole position, ahead of Jody Scheckter (Tyrrell), Ronnie Peterson and Vittorio Brambilla (March) ahead of Lauda and their team mate Hans Stuck. The top 10 was completed by Patrick Depailler (Tyrrell), John Watson (Penske), Tom Pryce (Shadow) and Carlos Pace (Brabham-Alfa Romeo).

In the race Scheckter made the best start and took the lead with Brambilla grabbing third from worked his way ahead of both Peterson and Brambilla to take third position. Towards half-distance Hunt closed up on Scheckter and took the lead but Hunt made a mistake and Scheckter got ahead again and it was not until the 46th lap that Hunt took the lead again.

Further back the action was more intense with fourth place passing from Peterson to Depailler and then to Laffite.

On lap 15 there was nasty accident when Ickx crashed the Ensign, head-on into the guardrail. The car split in two and caught fire but amazingly Ickx was able to hobble away with only a broken ankle and a few minor burns.

Later Laffite went out with a puncture after running over debris. Moments later Brambilla did the same and so Mass found himself fourth with Stuck fifth and Watson sixth.

Hunt's victory closed the World Championship gap to just three points as the F1 circus headed off to Japan for the first time.
Sammanställning

Grand Prix

Datum

10 Oktober 1976

Bana

Säsong

1976

Deltävling

15

Längd (km)

5.435

Varv

59

Tid

1:42:40.741
| | | | | | |
| --- | --- | --- | --- | --- | --- |
| Placering | Nr | Förare | Team | Tid | Grid |
| 1 | 11 | | | 1:42:40.741 | 1 |
| 2 | 3 | | | 8.030 | 2 |
| 3 | 1 | | | 62.324 | 5 |
| 4 | 12 | | | 62.458 | 17 |
| 5 | 34 | | | 67.978 | 6 |
| 6 | 28 | | | 68.190 | 8 |
| 7 | 2 | | | +1 varv | 14 |
| 8 | 19 | | | +1 varv | 18 |
| 9 | 30 | | | +2 varv | 15 |
| 10 | 17 | | | +2 varv | 16 |
| 11 | 18 | | | +2 varv | 24 |
| 12 | 25 | | | +2 varv | 22 |
| 13 | 24 | | | +5 varv | 21 |
| 14 | 21 | | | +5 varv | 23 |
| r | 38 | | | +11 varv | 26 |
| r | 16 | | | +14 varv | 9 |
| r | 26 | | | +25 varv | 12 |
| r | 9 | | | +25 varv | 4 |
| r | 8 | | | +28 varv | 10 |
| r | 7 | | | +29 varv | 13 |
| r | 5 | | | +36 varv | 11 |
| r | 22 | | | +45 varv | 19 |
| r | 6 | | | +46 varv | 20 |
| r | 10 | | | +47 varv | 3 |
| r | 20 | | | +50 varv | 25 |
| r | 4 | | | +52 varv | 7 |
| nq | 39 | | | | |
| | | |
| --- | --- | --- |
| NC=Not Classified | NT=No time set in qualifying | R=Retired |
| EX=Excluded from meeting | W=Withdrawn | DQ=Disqualified |
| NS=Did not start | NQ=Did not qualify | NPQ=Did not pre-qualify |

Aktuell ställning
| | | | |
| --- | --- | --- | --- |
| Position | Förare | Nation | Poäng |
| 1 | | | 68 |
| 2 | | | 65 |
| 3 | | | 49 |
| 4 | | | 33 |
| 5 | | | 29 |
| 6 | | | 20 |
| " | | | 20 |