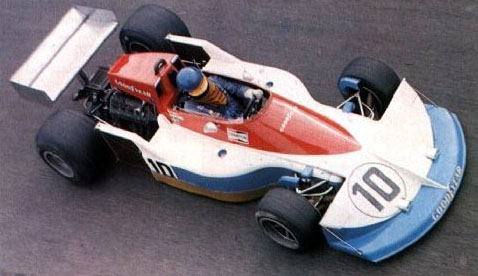 Labatt´s 50 Canadian Grand Prix 3 Oktober 1976, Mosport Park
Ronnie Peterson står återigen som en vinnare inför sin 90:e F1 start. Segern i Italiens GP tre veckor tidigare var Ronnies första på två år, även denna gång på Monza - "turbanan"...
I årets mästerskap har Ronnie efter en trevande inledning allt mer kommit underfund om hur (den egentligen icke så konkurrenskraftiga) Marchen trots allt kan manövreras för att matcha kollegorna i de självklara vinnarbilarna. Sålunda har Ronnie återigen lyckats ta en plats i första startledet, denna gång som tvåa efter tidskvalet och tillsammans med James Hunt i en McLaren. Ronnies teamkompis Vittoria Brambilla har tredje bästa tid, Patrick Depailler (Tyrrell) står vid sidan av som fyra.
Med tre tävlingar kvar är det sjutton poäng som skiljer Hunt från Lauda. Handduken är långt ifrån inkastad från McLarens sida, men man väljer att ställa upp med den gamla M23:an istället för att fortsätta utveckla den svåra M26-modellen.
Ronnie gör en mycket bra start och tar sig omedelbart upp i ledning. På det nionde varvet blir emellertid Hunt för svår och Ronnie märker snart att bilen denna dag inte riktigt hänger med. I snabb följd blir Ronnie omkörd av en mängd förare och i mål lyckas Ronnie endast bärga en besvikelsernas niondeplats - ett varv efter segraren.
James Hunt kan relativt ohotad hålla ledningen och han tar sig i mål som segrare efter 80 körda varv. Därmed hårdnar det i striden om förarmästerskapet, eftersom Niki Lauda med en åttondeplats inte kör hem några ytterligare poäng. Inför de två avslutande racen är det endast 8 poäng som skiljer dem båda åt - 56 mot 64.
Patrick Depailler i den sex-hjuliga Tyrrellen blir tvåa och får även loppets snabbaste tid med 1.13,817. Mario Andretti (Lotus) slutar trea.
Summary in english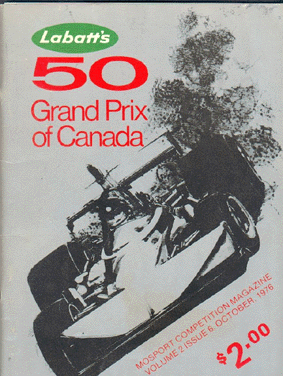 With three races to go in the World Championship Niki Lauda (Ferrari) and James Hunt (McLaren) were 17 points apart (Hunt's disqualification from the British GP having been confirmed after the Italian GP). Hunt was not giving up, however, and took pole position in dominant fashion. The McLaren team decided to concentrate on the old M23s rather than continue to develop the difficult M26. Ferrari had left Carlos Reutemann out of the lineup and ran only two cars for Lauda and Clay Regazzoni while there had been a change at Brabham with Larry Perkins having been hired to stand in for Reutemann. Williams turned up with Chris Amon in a second car but after a spin he was hit by Harald Ertl's Hesketh and both cars seriously damaged. Amon suffered bruising to his legs and Ertl to his back. Otto Stuppacher appeared again but he was well off the pace and failed to qualify.

Alongside Hunt on the front row was Monza winner Ronnie Peterson (March) with his team mate Vittorio Brambilla third ahead of Patrick Depailler (Tyrrell). Mario Andretti (Lotus) shared the third row with Lauda while Jody Scheckter (Tyrrell) and Hans Stuck (March) were on row four ahead of Jacques Laffite (Ligier) and Carlos Pace in the Brabham-Alfa Romeo. Clay Regazzoni was a disappointing 11th in his Ferrari.

At the start Peterson made a better start than Hunt and took the lead while Depailler beat Brambilla into the second corner to grab third. Andretti was fifth with Scheckter and Lauda behind him. By the end of the first lap Brambilla had been pushed down to fifth by Andretti and on the fourth lap he fell behind Scheckter as well.

On the ninth lap Hunt took the lead, while further back Lauda moved ahead of Brambilla to get into sixth place. Peterson was unable to keep up the pace and dropped behind Depailler, Andretti, Scheckter, Lauda and Jochen Mass in quick succession. He would finish a distant ninth.

The order remained unchanged until lap 59 when Lauda began to suffer handling problems and he let Mass, Regazzoni and Pace pass him.

Hunt's victory was thus complete and the World Championship gap closed to just eight points. Depailler finished second with Andretti third, Scheckter fourth, Mass fifth and Regazzoni sixth, just ahead of Pace.
Sammanställning

Grand Prix

Datum

3 Oktober 1976

Bana

Säsong

1976

Deltävling

14

Längd (km)

3.957

Varv

80

Tid

1:40:09.626
| | | | | | |
| --- | --- | --- | --- | --- | --- |
| Placering | Nr | Förare | Team | Tid | Grid |
| 1 | 11 | | | 1:40:09.626 | 1 |
| 2 | 4 | | | 6.331 | 4 |
| 3 | 5 | | | 10.366 | 5 |
| 4 | 3 | | | 19.745 | 7 |
| 5 | 12 | | | 41.811 | 11 |
| 6 | 2 | | | 46.256 | 12 |
| 7 | 8 | | | 46.472 | 10 |
| 8 | 1 | | | 72.957 | 6 |
| 9 | 10 | | | +1 varv | 2 |
| 10 | 28 | | | +1 varv | 14 |
| 11 | 16 | | | +1 varv | 13 |
| 12 | 6 | | | +1 varv | 15 |
| 13 | 22 | | | +1 varv | 16 |
| 14 | 9 | | | +1 varv | 3 |
| 15 | 18 | | | +2 varv | 22 |
| 16 | 19 | | | +2 varv | 20 |
| 17 | 7 | | | +2 varv | 19 |
| 18 | 17 | | | +3 varv | 18 |
| 19 | 38 | | | +3 varv | 21 |
| 20 | 25 | | | +5 varv | 23 |
| r | 26 | | | +37 varv | 9 |
| r | 30 | | | +39 varv | 17 |
| r | 34 | | | +44 varv | 8 |
| r | 20 | | | +69 varv | 24 |
| ns | 24 | | | | |
| ns | 21 | | | | |
| nq | 39 | | | | |
| | | |
| --- | --- | --- |
| NC=Not Classified | NT=No time set in qualifying | R=Retired |
| EX=Excluded from meeting | W=Withdrawn | DQ=Disqualified |
| NS=Did not start | NQ=Did not qualify | NPQ=Did not pre-qualify |

Aktuell ställning
| | | | |
| --- | --- | --- | --- |
| Position | Förare | Nation | Poäng |
| 1 | | | 64 |
| 2 | | | 56 |
| 3 | | | 43 |
| 4 | | | 33 |
| 5 | | | 29 |
| 6 | | | 20 |