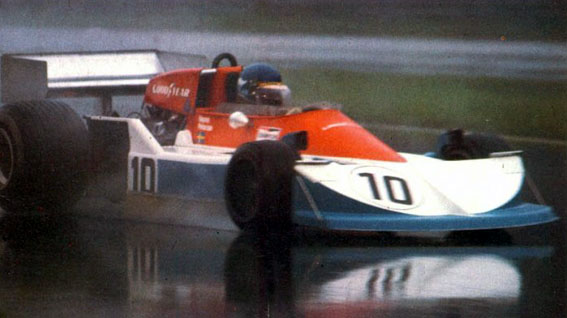 Japanese Grand Prix 24 Oktober 1976, Fuji
Ronnie Peterson gör sin 92:a F1-start på en för GP-cirkusen ny bekantskap - Fuji-banan i Japan. Ronnie, som gör sin sista tävling för March, tar en niondeplats i startfältet inför söndagens lopp. Mario Andretti (Lotus) står i "pole" före mästerskapets tvåa James Hunt (McLaren). Ledande Niki Lauda står med sin Ferrari i ledet omedelbart bakom tillsammans med John Watson som i sin Penske bärgat en fjärdeplacering.
På tävlingsdagen är vädret uruselt med hällande regn och dimma. Det råder viss tvekan om loppet skall dras igång, men med förarnas samtycke beslutas att ändå låta evenemanget gå av stapeln.
Det blir Hunt som tar starten före Watson och Andretti. Värste konkurrenten Lauda tvingas redan på det andra varvet in i depå och återkommer inte in i loppet. Därmed är det upplagt för Hunt som "bara" behöver ta fyra poäng för att kunna titulera sig som världsmästare...
...och det hela ser ut att gå Hunts väg, men banan torkar upp och på varv 62 blir han omkörd av först Depailler i Tyrrells 6-hjuling, därefter Andretti i Lotusen. Hunt vet att han kan köra i mål som fyra och ändå ta hem titeln. Sen händer det saker - såväl Depailler som Hunt tvingas i depå med punkterade bakdäck. När Hunt kommer ut på banan igen lyckas han ta sig förbi Jones och Regazzoni (som hunnit passera), men i mål är Hunt övertygad om att han förlorat mästerskapet.
Men han har fel. Mario Andretti vinner loppet före Depailler, men det är Hunt som är trea (dock varvad av segraren) och därmed världsmästare före Lauda. Med minsta möjliga marginal kan James Hunt med endast en poäng till godo säkra VM-titeln.
Om inte denna utgång kan betraktas som en sensation så kan vi lugnt konstatera att insikten om vem som presterat loppets snabbast varvtid med lätthet klassar in under detta epitet - hemmasonen Masahiro Hasemi, tävlande för Kojima-stallet, klockas för 1.18,23 och ingen är snabbare denna dag. Loppets ledande förare: Hunt 1-61; Depailler 62-63; Andretti 64-73.
Och Ronnie då? Tja, avslutningen hos March kunde ha varit trevligare - Ronnie tvingas ge upp redan på det första varvet efter motorproblem...
Den totala sammanställningen i 1976 års förar-VM i Formel 1:
James Hunt McLaren 69
Niki Lauda Ferrari 68
Jody Scheckter Tyrrell 49
10:a Gunnar Nilsson Lotus 11
12:a Ronnie Peterson March 10
Den totala sammanställningen i 1976 års konstruktörsmästerskap:
Ferrari 83
McLaren-Ford 74
Tyrrell-Ford 71
Summary in english
The World Championship showdown was scheduled to take place at Mount Fuji with Niki Lauda just three points ahead of James Hunt after an incident-packed and controversial season. The field was much the same as usual although Noritake Takahara had rented the second Surtees (replacing Brett Lunger) and Hans Binder was back in the second Wolf Williams after Masami Kuwashima's money failed to materialize. Maki resurrected its old F1 car for Tony Trimmer while Heroes Racing entered an old Tyrrell for Kazuyoshi Hoshino and Kojima Engineering entered a locally-built chassis for Masahiro Hasemi (on Dunlop tires).

In qualifying Mario Andretti took pole position in the Lotus 77 with Hunt alongside him on the front row and Lauda third. Then came John Watson's Penske, Jody Scheckter (Tyrrell), Carlos Pace (Brabham-Alfa), Clay Regazzoni (Ferrari) and Vittorio Brambilla (March). The top 10 was completed by Ronnie Peterson (March and Hasemi in the Kojima. The Maki failed to qualify.

On race day the weather was dreadful with streams running across the track and fog. There were intense debates as to whether the race should be started but the organizers decided to go ahead and the drivers all agreed (although some were not happy). At the start Hunt went into the lead with Watson behind him and Andretti leading the rest of the field. Lauda was in the midfield but in the course of the second lap (during which Watson went down an escape road) Lauda pulled into the pits and withdrew. In the laps that followed Pace and Fittipaldi also pulled out, joining Perkins who had decided against racing at the end of the first lap.

Out on the race track Hunt continued to lead while the situation behind him was rather more confused as second place passed between Andretti and Brambilla. On lap 22 Brambilla even challenged for the lead but then spun. Jochen Mass made it a McLaren 1-2 but on the 36th lap he crashed and so Depailler moved to second place with Andretti third.

It looked as though Hunt was on course for the title but the track was drying and Hunt was fading. On lap 62 he fell behind Depailler and Andretti. Hunt knew he had only to finish fourth to win the title. Two laps later Depailler's left rear started to deflate and he had to pit. Andretti took the lead. Then Hunt had a similar problem. Distraught, he headed for the pits. He dropped to fifth and set off after Depailler, Alan Jones (Surtees) and Regazzoni. Depailler overtook both men on lap 70 and on the next lap Hunt did the same, although he finished thinking that he had lost the World title.
Sammanställning

Grand Prix

Datum

24 Oktober 1976

Bana

Säsong

1976

Deltävling

16

Längd (km)

4.359

Varv

73

Tid

1:43:58.860
| | | | | | |
| --- | --- | --- | --- | --- | --- |
| Placering | Nr | Förare | Team | Tid | Grid |
| 1 | 5 | | | 1:43:58.860 | 1 |
| 2 | 4 | | | +1 varv | 13 |
| 3 | 11 | | | +1 varv | 2 |
| 4 | 19 | | | +1 varv | 20 |
| 5 | 2 | | | +1 varv | 7 |
| 6 | 6 | | | +1 varv | 16 |
| 7 | 26 | | | +1 varv | 11 |
| 8 | 24 | | | +1 varv | 22 |
| 9 | 18 | | | +3 varv | 24 |
| 10 | 17 | | | +4 varv | 15 |
| 11 | 51 | | | +7 varv | 10 |
| r | 3 | | | +15 varv | 5 |
| r | 21 | | | +24 varv | 25 |
| r | 16 | | | +27 varv | 14 |
| r | 9 | | | +35 varv | 8 |
| r | 34 | | | +36 varv | 18 |
| r | 12 | | | +38 varv | 12 |
| r | 28 | | | +40 varv | 4 |
| r | 52 | | | +46 varv | 21 |
| r | 20 | | | +50 varv | 19 |
| r | 30 | | | +64 varv | 23 |
| r | 8 | | | +66 varv | 6 |
| r | 1 | | | +71 varv | 3 |
| r | 7 | | | +72 varv | 17 |
| r | 10 | | | +73 varv | 9 |
| ns | 21 | | | | |
| nq | 54 | | | | |
| | | |
| --- | --- | --- |
| NC=Not Classified | NT=No time set in qualifying | R=Retired |
| EX=Excluded from meeting | W=Withdrawn | DQ=Disqualified |
| NS=Did not start | NQ=Did not qualify | NPQ=Did not pre-qualify |

Slutlig ställning i 1976 års förar-VM i Formel 1
| | | | |
| --- | --- | --- | --- |
| Position | Förare | Nation | Poäng |
| 1 | | | 69 |
| 2 | | | 68 |
| 3 | | | 49 |
| 4 | | | 39 |
| 5 | | | 31 |
| 6 | | | 22 |