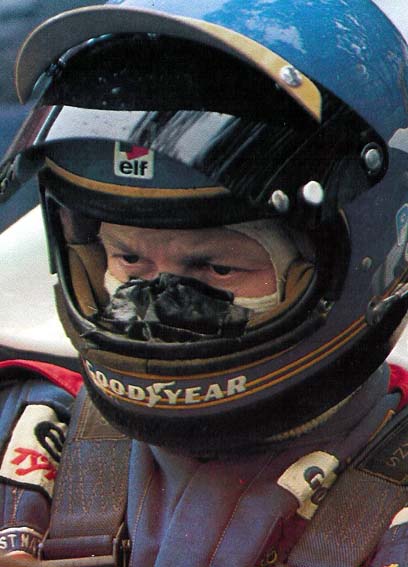 Grosser Preis von Deutschland 31 Juli 1977, Hockenheim
Ronnie Peterson kommer i sin 103:e F1 start att få göra en ny banbekantskap under Tysklands GP. Efter Laudas olycka på Nürburgring 1976 har banan dömts ut för Formel 1 och istället har Hockenheim återuppväckts som officiell tävlingsarena - tidigare främst känd som den bana där Jim Clark omkom 1968.
Ronnie har kanske börjat vänja sig med placeringar längre ner i startfältet, men en fjortonde bästa tid efter tidskvalet är alltid en besvikelse. Jody Scheckter är tillbaka och tar en "pole" med sin Wolf, John Watson delar det första startledet i en Brabham. Mästerskapsledaren Niki Lauda (Ferrari) är trea och James Hunt (McLaren) fyra. Det är mer än upplagt för en rafflande strid...
Scheckter tar starten före Watson och Lauda. Hunt fyra - Stuck femma. En krasch längre bak i "gridden" tvingar Regazzoni (Ensign) och Jones (Shadow) att omgående lämna in. Watson får problem med motorn och bryter på det sjunde varvet. Lauda har till slut jagat ikapp ledande Scheckter och lyckas passera på det trettonde varvet. Även Hunts motor ger upp och VM-femman bryter på det 33 varvet. Detta placerar Stuck på en tredjeplats, strax följd av Reutemann. Andretti bryter med havererad motor och femteplatsen övergår till Brambilla.
Ronnie har arbetat sig upp till en sjätteplats, men tvingas bryta endast fem varv före mål då även P34:ans motor ger upp.
Ordningen står sig i mål och Lauda kan således skära mållinjen som segrare och med loppets snabbaste varv (1.55,99). Scheckter slutar tvåa, Stuck trea. Loppets ledare: Scheckter 1-12; Lauda 13-47.
Summary in english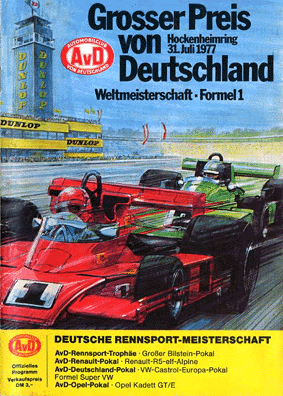 After Niki Lauda's accident at the Nürburgring in 1976 the old race track was doomed for F1 and in 1977 the German GP found a new home at Hockenheim, which was famous only for having been the place where Jim Clark had been killed in 1968. The field was again large with 30 cars fighting for 24 places. McLaren was back to two cars after Gilles Villeneuve's exciting debut at Silverstone and the Renault Sport team was missing as it had decided to do more testing. The ATS team had expanded to two cars with Hans Heyer joining Jean-Pierre Jarier and Teddy Pilette had taken over the recalcitrant Stanley BRM.

In qualifying Jody Scheckter (Wolf) took pole with John Watson second in his Brabham-Alfa Romeo. Then came World Championship leader Niki Lauda in the Ferrari and James Hunt in the McLaren. Hans Stuck was fifth fastest in his Brabham while Jacques Laffite was sixth in the Ligier. The top 10 was completed by Mario Andretti (Lotus), Carlos Reutemann (Ferrari), Gunnar Nilsson (Lotus) and Vittorio Brambilla (Surtees). Patrick Tambay was an impressive 11th in his Theodore Racing Ensign, while Jochen Mass (using a McLaren M26) was down in 13th.

In the race there was a crash at the back of the grid which meant that Clay Regazzoni (Ensign) and Alan Jones (Shadow) were out on the spot.

At the front Scheckter led Watson with Lauda third, Hunt fourth and Stuck fifth. Behind the German came Laffite, Reutemann and Andretti. The two last-named drivers soon overtook the Ligier while Watson's race ended on lap seven with engine failure which left Scheckter in the lead. Lauda then challenged him on lap 13 the Ferrari went ahead. Hunt tried to follow him through by Scheckter held off the attack. After a while Hunt's engine went off and he retired on lap 33. This elevated Stuck into third place with Reutemann fourth. Andretti disappeared from fifth with an engine failure and so that position fell to Brambilla while Tambay picked up sixth after Tyrrell driver Ronnie Peterson retired with engine failure in the closing laps
.
Sammanställning

Grand Prix

Datum

31 Juli 1977

Bana

Säsong

1977

Deltävling

11

Längd (km)

6.789

Varv

47

Tid

1:31:48.620
| | | | | | |
| --- | --- | --- | --- | --- | --- |
| Placering | Nr | Förare | Team | Tid | Grid |
| 1 | 11 | | | 1:31:48.620 | 3 |
| 2 | 20 | | | 14.330 | 1 |
| 3 | 8 | | | 20.900 | 5 |
| 4 | 12 | | | 60.270 | 8 |
| 5 | 19 | | | 87.370 | 10 |
| 6 | 23 | | | 89.810 | 11 |
| 7 | 18 | | | +1 varv | 19 |
| 8 | 9 | | | +1 varv | 20 |
| r | 3 | | | +5 varv | 14 |
| r | 16 | | | +5 varv | 16 |
| r | 24 | | | +7 varv | 23 |
| r | 5 | | | +13 varv | 7 |
| r | 1 | | | +15 varv | 4 |
| r | 6 | | | +16 varv | 9 |
| r | 2 | | | +21 varv | 13 |
| r | 4 | | | +25 varv | 15 |
| r | 26 | | | +26 varv | 6 |
| r | 25 | | | +27 varv | 24 |
| r | 30 | | | +33 varv | 21 |
| r | 10 | | | +38 varv | 18 |
| r | 35 | | | +38 varv | 25 |
| r | 7 | | | +39 varv | 2 |
| r | 34 | | | +42 varv | 12 |
| r | 17 | | | +47 varv | 17 |
| r | 22 | | | +47 varv | 22 |
| nq | 27 | | | | |
| nq | 36 | | | | |
| nq | 28 | | | | |
| nq | 37 | | | | |
| nq | 40 | | | | |
| | | |
| --- | --- | --- |
| NC=Not Classified | NT=No time set in qualifying | R=Retired |
| EX=Excluded from meeting | W=Withdrawn | DQ=Disqualified |
| NS=Did not start | NQ=Did not qualify | NPQ=Did not pre-qualify |

Aktuell ställning
| | | | |
| --- | --- | --- | --- |
| Position | Förare | Nation | Poäng |
| 1 | | | 48 |
| 2 | | | 38 |
| 3 | | | 32 |
| 4 | | | 31 |
| 5 | | | 22 |
| 6 | | | 20 |