Gröbel Möbel Grosser Preis von Österreich 14 Augusti 1977, Österreichring
Ronnie Peterson har inför årets 12:e deltävling endast fått ihop 4 poäng (de han fick för tredjeplatsen i Belgiens GP). Inför sin 104:e start i Formel 1 kan Ronnie endast konstatera att den sexhjuliga Tyrrellbilen inte håller måttet och tidskvalet antyder heller ingenting annat då resultatet endast är en femtonde bästa tid.
Niki Lauda (Ferrari) står i "pole position" före James Hunt (McLaren). Mario Andretti (Lotus) delar andra startled tillsammans med Hans-Joachim Stuck (Brabham).
På tävlingsdagen regnar det, men då startfältet ställer upp sig på "gridden" har banan börjat torka upp varför de flesta väljer att starta på slicks. Lauda tar starten före Hunt och Andretti. Ferrarin har dock inte den bästa dagen och Andretti lyckas i en enda manöver passera de två förarna framför honom. Gunnar Nilsson har valt att starta på regndäck och tar sig i starten upp till en sjundeplats från sin 16:e startposition. Efter ytterligare några varv är Gunnar uppe på en andraplats, men banan torkar och på det tionde varvet tvingas han i depå för däcksbyte.
Andretti tvingas ett par varv att bryta då motorn ger upp och plötsligt befinner sig Hunt i ledning. Mannen för dagen är dock Alan Jones som från en fjortonde startposition arbetar sig upp genom fältet. Relativt snabbt är han uppe på en andraplats och då Hunts motor sprängs på det 44:e varvet kan ledningen övertas.
Alan Jones tar sin och Shadow-stallets första GP-seger, Niki Lauda är hela 20 sekunder efter men är ändock tvåa i loppet. Den tredje pallplatsen tas av Hans-Joachim Stuck, endast 25 hundradelar före den andra Ferraribilen med Carlos Reutemann. Utöver dessa förare är det endast Ronnie som inte blir varvad och med femteplatsen kan ytterligare två poäng adderas till årets skrala skörd.
John Watson klockas för den snabbaste varvtiden med 1.40,96. Förare i ledning under loppet: Andretti 1-11; Hunt 12-43; Jones 44-54.
Loppets slutresultat innebär att Lauda drar ifrån i den totala sammanräkningen; nu med 54 poäng - 16 poäng före Scheckter.
Summary in english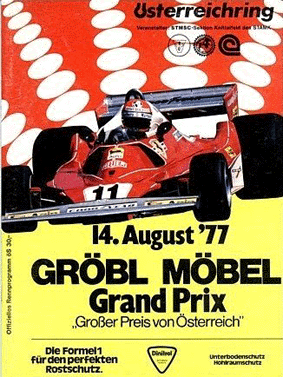 The Osterreichring had been altered again to make the Hella Licht corner into a fast chicane, the initial safety work done after Mark Donohue's accident in 1975 having been judged to have been more dangerous. There were 30 cars again with the only notable change being that there had been a dispute over money at Shadow and so Riccardo Patrese was replaced by Arturo Merzario while at ATS Hans Heyer had been dropped from the second car to make way for Hans Binder. With Harald Ertl having left Hesketh the team ran Ian Ashley instead.

In qualifying Niki Lauda was fastest in his Ferrari with James Hunt alongside him in the McLaren. Mario Andretti was third for Lotus and then came Hans Stuck in the Brabham-Alfa Romeo followed by Carlos Reutemann (Ferrari), Jacques Laffite (Ligier), Patrick Tambay (Theodore Ensign) and Jody Scheckter in the Wolf. The top 10 was completed by Jochen Mass (McLaren) and Patrick Depailler (Tyrrell) while John Watson was less competitive than normal with his Brabham-Alfa Romeo ending up 12th.

It was raining on race day but the track was drying when the grid formed up. Most drivers decided to start on slicks and Lauda had the advantage at the start and went into the lead with Hunt and Andretti chasing. The Ferrari, however, was not handling well and at the Bosch Kurve Andretti managed to overtake both Hunt and Lauda in one move to go into the lead. Scheckter followed with Tambay and Stuck behind him. Nilsson had decided to stay on wet tires and was up to seventh place from 16th on the grid.

In the laps that followed Nilsson climbed up to second, while Lauda fell behind Scheckter and then drifted behind Stuck and Merzario (also on wet tires). By the 10th lap the track was drying and so Nilsson and Merzarion had to pit and this put Hunt back to second, Scheckter to third and Stuck to fourth while Alan Jones was fifth having overtaken a string of cars in the early laps. On the 12th lap Andretti stopped with an engine failure and suddenly Hunt was leading. Jones's progress continued and in the laps which followed he overtook Stuck and Scheckter to move into second position. But Hunt was another matter. Jones could make little impression on him. Nilsson had fought back to third place but he went out with engine failure and so Lauda took the position with Scheckter fourth.

On lap 44 Hunt's engine suddenly blew up and Jones was in the lead. He completed the race without drama to score his first win and the first World Championship victory for the Shadow team. Lauda was second to add to his advantage in the World Championship while Stuck was third.

As the teams packed up Lauda's advantage over Scheckter in the World Championship had grown to 16 points.
Sammanställning

Grand Prix

Datum

14 Augusti 1977

Bana

Säsong

1977

Deltävling

12

Längd (km)

5.942

Varv

54

Tid

1:37:16.490
| | | | | | |
| --- | --- | --- | --- | --- | --- |
| Placering | Nr | Förare | Team | Tid | Grid |
| 1 | 17 | | | 1:37:16.490 | 14 |
| 2 | 11 | | | 20.130 | 1 |
| 3 | 8 | | | 34.500 | 4 |
| 4 | 12 | | | 34.750 | 5 |
| 5 | 3 | | | 62.090 | 15 |
| 6 | 2 | | | +1 varv | 9 |
| 7 | 24 | | | +1 varv | 20 |
| 8 | 7 | | | +1 varv | 12 |
| 9 | 27 | | | +1 varv | 22 |
| 10 | 30 | | | +1 varv | 17 |
| 11 | 28 | | | +1 varv | 23 |
| 12 | 33 | | | +1 varv | 19 |
| 13 | 4 | | | +1 varv | 10 |
| 14 | 34 | | | +2 varv | 18 |
| 15 | 19 | | | +2 varv | 13 |
| 16 | 18 | | | +2 varv | 25 |
| r | 36 | | | +4 varv | 26 |
| r | 20 | | | +9 varv | 8 |
| r | 1 | | | +11 varv | 2 |
| r | 23 | | | +13 varv | 7 |
| r | 6 | | | +16 varv | 16 |
| r | 16 | | | +25 varv | 21 |
| r | 26 | | | +33 varv | 6 |
| r | 5 | | | +43 varv | 3 |
| r | 10 | | | +52 varv | 24 |
| r | 22 | | | +54 varv | 11 |
| nq | 38 | | | | |
| nq | 39 | | | | |
| nq | 25 | | | | |
| nq | 9 | | | | |
| | | |
| --- | --- | --- |
| NC=Not Classified | NT=No time set in qualifying | R=Retired |
| EX=Excluded from meeting | W=Withdrawn | DQ=Disqualified |
| NS=Did not start | NQ=Did not qualify | NPQ=Did not pre-qualify |

Aktuell ställning
| | | | |
| --- | --- | --- | --- |
| Position | Förare | Nation | Poäng |
| 1 | | | 54 |
| 2 | | | 38 |
| 3 | | | 34 |
| 4 | | | 32 |
| 5 | | | 22 |
| 6 | | | 20 |