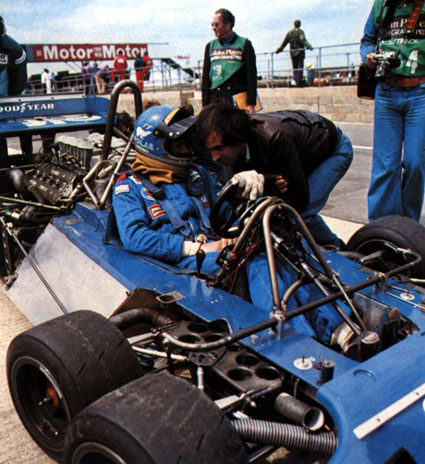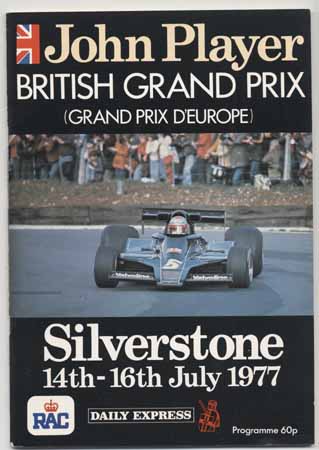 John Player British Grand Prix 16 Juli 1977, Silverstone
Ronnie Peterson kommer i sin 102:a F1-start att göra en ny bekantskap. En ung kanadensare vid namn Gille Villeneuve har via ett förkval även kvalificerat sig till huvudloppet med en tid omedelbart före Ronnie, men tillsammans i femte startled. Hemmapubliken på Silverstone fick det perfekta första startledet med James Hunt vid sidan av John Watson. Niki Lauda har tredje bästa tid, strax före Jody Scheckter. I tredje startledet står de båda Lotusbilarna med Gunnar Nilsson och Mario Andretti.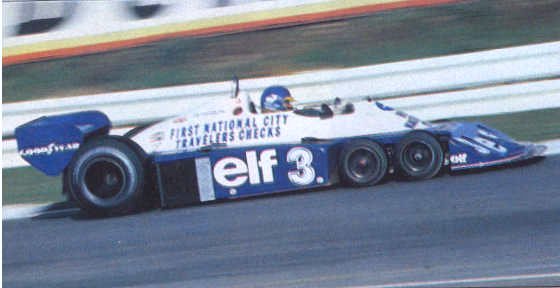 Hunt gör en dålig start och det blir Watson som tar täten före Lauda och Scheckter. Hunt lyckas dock hålla de båda Lotusbilarna bakom sig. På det tredje varvet passerar Andretti Nilsson i den andra Lotusen - stallorder?
Hunt är på bettet och lyckas först passera Scheckter på det sjunde varvet, för att på varv 23 bromsa sig förbi Lauda. Då Watson på varv 50 råkar ut för samma öde som under Frankrikes GP (med ett havererande bränslesystem), så kan Hunt relativt ohotad köra hem segern.
Lauda kör in som tvåa dryga arton sekunder efter, strax före Gunnar Nilsson som ånyo bärgar en pallplats. Såväl Andretti som Scheckter har under de avslutande varven tvingats bryta efter problem med motorerna, vilket medför att Lauda "rycker" i den totala sammanställningen.
Snabbaste varvet presterar James Hunt som i sin McLaren klockas för 1.19,60. Loppets ledare: Watson 1-49; Hunt 50-68.
Ronnie bryter redan på det tredje varvet efter motorproblem. Villeneuve, som varit uppe på en sjundeplats, slutar som tolva - men han har i sin McLaren gjort en mycket övertygande debut.
Summary in english
The growing number of private entries resulted in the idea of a special qualifying session for all those who were not members of the Formula One Constructors Association. The event thus began on Wednesday with 14 cars vying for five available places. Those in pre-qualifying included a youngster called Gilles Villeneuve at the wheel of a third McLaren, Patrick Tambay in a Theodore Racing Ensign, Jean-Pierre Jarier in the ATS Penske, Brett Lunger in the Chesterfield McLaren, Patrick Neve in the Williams March, Mikko Kozarowitsky and Andy Sutcliffe in RAM Racing Marches, Guy Edwards in the Stanley BRM (the team having been dropped by FOCA), Tony Trimmer in a Melchester Racing Surtees, David Purley in the Lec, Emilio de Villota's McLaren, Brian Henton's March and the Williams which was owned by Brian McGuire, which had been renamed the McGuire BM1.

The two sessions were dominated by two large accidents. Kozarowitsky demolished his car in the first session and Purley had an enormous accident in the second when his throttle stuck open at Becketts. Purley survived the crash but suffered serious multiple injuries. Villeneuve, Tambay, Jarier, Lunger and Henton qualified. Later the RAC agreed that Merzario and Neve could also take part in official qualifying and eventually de Villota was allowed to go through as well when it became clear that Harald Ertl did not have enough money to fund the second Hesketh.

With pre-qualifying out of the way, interest centered on Villeneuve's amazing performance and on how the new Renault turbo would go on its Michelin tires in the hands of Jean-Pierre Jabouille. The only big change apart from that was the return of Vern Schuppan, who replaced Larry Perkins at Surtees.

After qualifying James Hunt was on pole in his McLaren with John Watson (Brabham-Alfa Romeo) alongside on the front row. The perfect result for the British fans. Niki Lauda was third in his Ferrari with his World Championship rival Jody Scheckter alongside while Gunnar Nilsson was fifth in his Lotus, sharing the third row with his team mate Mario Andretti. The top 10 was completed by Hans Stuck (Brabham-Alfa Romeo), Vittorio Brambilla (Surtees), the remarkable Villeneuve and Ronnie Peterson (Tyrrell).

In the race Hunt made a bad start and Watson led Lauda and Scheckter. Hunt was fourth ahead of Nilsson, Andretti, Villeneuve, Mass, Brambilla and the rest. On the third lap Andretti passed Nilsson to take fifth and on lap seven Hunt overtook Scheckter for third. Villeneuve went into the pits with his engine temperature off the clock but the team discovered that the gauge rather than the engine was broken and he was sent out again. On lap 23 Hunt outbraked Lauda to take second place and set off in pursuit of Watson. The Ulsterman held him off but on lap 50 the Alfa Romeo's fuel system failed again as it had at the French GP) and Hunt took the lead. Watson pitted took on more fuel and set off but he was too far behind to make an impression. And so Hunt won from Lauda, Nilsson, Mass, Stuck and Jacques Laffite (Ligier), Andretti and Scheckter having both disappeared in the closing laps with engine failures.
Sammanställning

Grand Prix

Datum

16 Juli 1977

Bana

Säsong

1977

Deltävling

10

Längd (km)

4.719

Varv

68

Tid

1:31:46.060
| | | | | | |
| --- | --- | --- | --- | --- | --- |
| Placering | Nr | Förare | Team | Tid | Grid |
| 1 | 1 | | | 1:31:46.060 | 1 |
| 2 | 11 | | | 18.310 | 3 |
| 3 | 6 | | | 19.570 | 5 |
| 4 | 2 | | | 47.760 | 11 |
| 5 | 8 | | | 71.730 | 7 |
| 6 | 26 | | | +1 varv | 15 |
| 7 | 17 | | | +1 varv | 12 |
| 8 | 19 | | | +1 varv | 8 |
| 9 | 34 | | | +1 varv | 20 |
| 10 | 27 | | | +2 varv | 26 |
| 11 | 40 | | | +2 varv | 9 |
| 12 | 18 | | | +2 varv | 23 |
| 13 | 30 | | | +4 varv | 19 |
| r | 5 | | | +6 varv | 6 |
| 15 | 12 | | | +6 varv | 14 |
| r | 7 | | | +8 varv | 2 |
| r | 20 | | | +9 varv | 4 |
| r | 28 | | | +26 varv | 22 |
| r | 37 | | | +40 varv | 17 |
| r | 16 | | | +48 varv | 25 |
| r | 4 | | | +52 varv | 18 |
| r | 15 | | | +52 varv | 21 |
| r | 10 | | | +62 varv | 24 |
| r | 23 | | | +65 varv | 16 |
| r | 3 | | | +65 varv | 10 |
| r | 24 | | | +68 varv | 13 |
| nq | 9 | | | | |
| nq | 22 | | | | |
| nq | 38 | | | | |
| nq | 36 | | | | |
| npq | 31 | | | | |
| npq | 33 | | | | |
| npq | 35 | | | | |
| npq | 44 | | | | |
| npq | 45 | | | | |
| npq | 32 | | | | |
| | | |
| --- | --- | --- |
| NC=Not Classified | NT=No time set in qualifying | R=Retired |
| EX=Excluded from meeting | W=Withdrawn | DQ=Disqualified |
| NS=Did not start | NQ=Did not qualify | NPQ=Did not pre-qualify |

Aktuell ställning
| | | | |
| --- | --- | --- | --- |
| Position | Förare | Nation | Poäng |
| 1 | | | 39 |
| 2 | | | 32 |
| " | | | 32 |
| 4 | | | 28 |
| 5 | | | 22 |
| 6 | | | 20 |