Grosser Preis von Deutschland 3 Augusti 1975, Nürburgring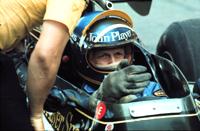 Ronnie Peterson blev fyra i fjolårets tyska GP på Nürburgring, men kan knappast tro på lika gott resultat inför sin 73:e start i Formel 1 sammanhang. Tidskvalet har följt en nedåtgående trend för Ronnie och denna gång är Ronnie inte bättre placerad än 18:e inför starten på söndagen.
Ordningen är återställd och Lauda (Ferrari) står således i "pole position", denna gång före Carlos Pace (Brabham). Lauda har klockats för den första officiella varvtiden under sju minuter. Andra startledet ser de två Tyrrellbilarna med Jody Scheckter och Patrick Depailler.
Lauda tar täten. Efter nio varv har halva startfältet fallit ifrån och det ser ut som om Ferrari skall gå mot en dubbelseger. Plötsligt finner dock Carlos Reutemann (Brabham) sig själv vara i ledning då Regazzoni bryter med motorproblem och Lauda sackar med en punktering. Reutemann kan ta en överlägsen seger och är drygt en och en halv minut före Jacques Laffite (Williams) som kan gå in som tvåa efter det att denna position sett ett antal olika förare. Lauda blir till slut trea och Ferrari tar snabbaste varvet med Regazzoni och 7.06,4. Loppets ledare: Lauda 1-9; Reutemann 10-14.
Ronnie Peterson bryter redan på det första varvet efter problem med kopplingen.
Summary in english
The multiple accidents at Silverstone gave the teams plenty to do in the two weeks before the German Grand Prix. Surtees could not repair its cars and so John Watson was loaned to Team Lotus for the weekend. Williams had taken on Ian Ashley to be Jacques Laffite's partner for the weekend, while Austrian journalist Harald Ertl had found money from Warsteiner to run the old Hesketh which had been run by Harry Stiller earlier in the year. Tony Trimmer turned up to drive the Maki but the car was still well off the pace. In qualifying Ashley had a big accident at Pflanzgarten and suffered serious ankle injuries.

Pole position went as usual to Niki Lauda in his Ferrari (the Austrian clocking the first official sub-seven minute lap of the Ring) with Carlos Pace second on the grid in his Brabham. Then came the two Tyrrells of Jody Scheckter and Patrick Depailler, followed by the Ferrari of Clay Regazzoni and Jochen Mass's McLaren. The top 10 was completed by Hans Stuck's Hesketh and Carlos Reutemann's Brabham.

In the race Lauda took the lead from Pace and Depailler while Scheckter made a terrible start and dropped to the back of the field. On the first lap Mass suffered a tire failure and crashed heavily, emerging unscathed. Mark Donohue had a similar problem but was able to drive back to the pits while Ronnie Peterson (Lotus) also went out with a clutch failure.

By the end of the lap Lauda was leading Depailler with Pace third, Reutemann fourth and Regazzoni fifth. On the second lap sixth-placed Fittipaldi had a puncture but while the field was being thinned out further down the order, the leaders were untroubled until Pace had a puncture on the fifth lap. Scheckter in the meantime had charged back through the field until a tire failure sent him off into the barriers at high speed, luckily without injuring himself.

After nine laps half the field was gone and Depailler had dropped to the back of the field after a suspension failure forced him to pit for repairs. This left the Ferraris to run 1-2 but within minutes Regazzoni's engine failed and he was out. Then Lauda had a puncture and Reutemann found himself in the lead with Hunt second although the Hesketh suffered a hub failure and went out. Pryce was second but he had fuel leaking into his cockpit and could not drive at full pace and so he was overtaken by Laffite and by the recovering Lauda.
Sammanställning

Grand Prix

Tyskland

Datum

3 Augusti 1975

Bana

Säsong

1975

Deltävling

11

Längd (km)

22.835

Varv

14

Tid

1:41:14.100
| | | | | | |
| --- | --- | --- | --- | --- | --- |
| Placering | Nr | Förare | Team | Tid | Grid |
| 1 | 7 | | | 1:41:14.100 | 10 |
| 2 | 21 | | | 97.700 | 15 |
| 3 | 12 | | | 143.300 | 1 |
| 4 | 16 | | | 211.400 | 16 |
| 5 | 22 | | | 230.300 | 21 |
| 6 | 19 | | | 305.500 | 24 |
| 7 | 29 | | | 450.400 | 25 |
| 8 | 25 | | | 460.900 | 23 |
| 9 | 4 | | | +1 varv | 4 |
| r | 27 | | | +2 varv | 13 |
| r | 24 | | | +4 varv | 9 |
| r | 11 | | | +5 varv | 5 |
| r | 23 | | | +5 varv | 17 |
| r | 3 | | | +7 varv | 3 |
| r | 17 | | | +7 varv | 12 |
| r | 8 | | | +9 varv | 2 |
| r | 30 | | | +10 varv | 22 |
| r | 1 | | | +11 varv | 8 |
| r | 10 | | | +11 varv | 7 |
| r | 9 | | | +11 varv | 11 |
| r | 6 | | | +12 varv | 14 |
| r | 5 | | | +13 varv | 18 |
| r | 28 | | | +13 varv | 19 |
| r | 2 | | | +14 varv | 6 |
| ns | 20 | | | | 20 |
| nq | 35 | | | | |
| | | |
| --- | --- | --- |
| NC=Not Classified | NT=No time set in qualifying | R=Retired |
| EX=Excluded from meeting | W=Withdrawn | DQ=Disqualified |
| NS=Did not start | NQ=Did not qualify | NPQ=Did not pre-qualify |

Aktuell ställning
| | | | |
| --- | --- | --- | --- |
| Position | Förare | Nation | Poäng |
| 1 | | | 51 |
| 2 | | | 34 |
| 3 | | | 33 |
| 4 | | | 25 |
| 5 | | | 24 |
| 6 | | | 19 |