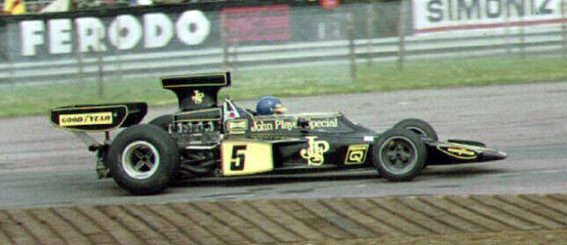 John Player British Grand Prix 19 Juli 1975, Silverstone
Ronnie Petersons 72:a F1 start - det kunde ha varit roligare! Endast sextonde tid i kvalet - långt efter sensationella Tom Pryce (Shadow) i "pole position" före Carlos Pace (Brabham). Andra startledet utgörs av de båda Ferraribilarna med James Hunt och Clay Regazzoni.
Det blir dock Pace som tar starten, följd av Pryce - Regazzoni - Lauda - Hunt. På det 10:e varvet kan Regazzoni gå förbi Pryce och några varv senare även Pace. Regn börjar falla och såväl Regazzoni som Pryce spinner av banan. Detta gör att Scheckter plötsligt är uppe i ledning (efter att ha passerat Lauda och Pace). Regnet gör att Jody går in i depå för att byta till mönstrade däck och han har inga problem att återta ledningen från de bilar som fortfarande kör på slicks. Banan torkar emellertid upp och Scheckter m fl skiftar sulor ännu en gång. Hunt som tagit sig upp i täten börjar tappa kraft i sin bil och måste släppa till Fittipaldi i en McLaren.
Regnet återkommer och på det 56:e varvet blir det i massfall i fältet då 10-talet bilar spinner av. Det blir rödflagg och Emerson Fittipaldi tilldöms segern. I övrigt placeras förarna enligt den ordning som gällde vid ingången av det 56:e varvet, varför Carlos Pace (Brabham) blir tvåa och Jody Scheckter (Tyrrell) trea. Snabbaste varv tar Regazzoni 1.20,9 och loppet ser följande förare i ledarposition: Pace 1-12, 22-26; Regazzoni 13-18; Pryce 19-20; Scheckter 21, 27-32; Jarier 33-34; Hunt 35-42; Fittipaldi 43-56.
Ronnie tvingas i sin gamla Lotus 72:a bryta redan på det sjunde varvet efter motorproblem.
Summary in english
Mindful of the accident in 1973 and demands for more safety after the Barcelona accidents in the Spring, the Silverstone authorities decided to build a chicane at Woodcote Corner. The old Silverstone was no longer.

There were rumors that Graham Hill would finally announce his (long-overdue) decision to retire and he duly did, having set a record of 176 Grands Prix starts, in addition to winning two World Championships, the Le Mans 24 Hours, the Indianapolis 500 and the Targa Florio.

The entry, however, was huge with the World Championship regulars being joined by some of the local machinery. The biggest chance was at Lotus, however, where Jacky Ickx had lost interest after two poor years and had left. Colin Chapman decided to run three cars for Ronnie Peterson, Jim Crawford and Brian Henton. March also expanded to run three cars with Vittorio Brambilla and Lella Lombardi being joined for the occasion by Hans Stuck. The Penske team was also running a March having decided that its own car was not good enough. Surtees also had an additional entry with John Watson being joined by David Morgan. Roelof Wunderink was back in action with Ensign (which had the new N175) but Gijs Van Lennep, who was to drive an older car, failed to appear. Frank Williams was down to only one car because he did not have enough engines and so Jean-Pierre Jabouille did not get a drive. The field was completed by the Maki (with Hiroshi Fushida and David Walker both trying it) and the Lyncar with John Nicholson driving.

Qualifying resulted in a popular pole position for Tom Pryce in the Shadow with Carlos Pace second for Brabham. Then came the two Ferraris of Niki Lauda and Clay Regazzoni, Vittorio Brambilla's March and Jody Scheckter's Tyrrell. The top 10 was completed by World Champion Emerson Fittipaldi (McLaren), Carlos Reutemann (Brabham), James Hunt (Hesketh) and Jochen Mass (McLaren). Wunderink and Fushida failed to qualify.

In the race Pace went away quickest to snatch the lead from Pryce with Regazzoni and Lauda following and a fast-starting Hunt up to fifth. In the early laps Scheckter took Hunt for fifth while Fittipaldi overtook Andretti for seventh and later overtook Hunt as well to move to sixth position. On the 10th lap Regazzoni managed to get ahead of Pryce and three laps later he took the lead from Pace. Four laps later Pryce moved ahead of the Brazilian as well. Rain began to fall and on lap 19 Regazzoni spun at Club and damaged his rear wing. He had to pit. Pryce led for two laps and then he too crashed. This left Scheckter in the lead as he had overtaken both Lauda and Pace. As the weather deteriorated Scheckter pitted for wet weather tires and so Pace went back into the lead. Lauda had a bad stop and he had to stop a second time to have a wheelnut tightened. Some of the cars continued on slicks, notably Pace, Fittipaldi, Hunt and Mass but Scheckter caught them quickly and was followed by Jarier. But now the track was dry again and so Scheckter had to stop again and for two laps Jarier led before he too pitted. This left Hunt in the lead but his engine went flat and began to lose power and so on lap 43 Fittipaldi went ahead again. He was followed by Pace and on lap 53 by Scheckter.

The rain returned and Jarier was the first to go off at Woodcote. On lap 56 Brise, Pace, Scheckter, Hunt, Henton, Nicholson, Morgan and Wilson Fittipaldi (Fittipaldi) all went off at Club while Patrick Depailler (Tyrrell), Mark Donohue, (Penske March) and John Watson (Surtees) all went off at Stowe.

There was a red flag. Emerson Fittipaldi was the winner but the order was decided at the start of lap 56 so Pace, Scheckter and Hunt were given second, third and fourth places with Donohue and Brambilla (the only front-runner other than Fittipaldi who was still going) in sixth.
Sammanställning

Grand Prix

Storbritannien

Datum

19 Juli 1975

Bana

Säsong

1975

Deltävling

10

Längd (km)

4.719

Varv

56

Tid

1:22:05.000
| | | | | | |
| --- | --- | --- | --- | --- | --- |
| Placering | Nr | Förare | Team | Tid | Grid |
| 1 | 1 | | | 1:22:05.000 | 7 |
| r | 8 | | | +1 varv | 2 |
| r | 3 | | | +1 varv | 6 |
| r | 24 | | | +1 varv | 9 |
| r | 28 | | | +1 varv | 15 |
| 6 | 9 | | | +1 varv | 5 |
| r | 2 | | | +1 varv | 10 |
| 8 | 12 | | | +2 varv | 3 |
| r | 4 | | | +2 varv | 17 |
| 10 | 22 | | | +2 varv | 20 |
| r | 18 | | | +2 varv | 18 |
| 12 | 27 | | | +2 varv | 12 |
| 13 | 11 | | | +2 varv | 4 |
| r | 17 | | | +3 varv | 11 |
| r | 23 | | | +3 varv | 13 |
| r | 15 | | | +3 varv | 21 |
| r | 32 | | | +5 varv | 26 |
| r | 19 | | | +6 varv | 23 |
| r | 30 | | | +6 varv | 24 |
| r | 10 | | | +11 varv | 14 |
| r | 6 | | | +28 varv | 25 |
| r | 16 | | | +36 varv | 1 |
| r | 29 | | | +38 varv | 22 |
| r | 5 | | | +49 varv | 16 |
| r | 21 | | | +51 varv | 19 |
| r | 7 | | | +52 varv | 8 |
| nq | 31 | | | | |
| nq | 35 | | | | |
| | | |
| --- | --- | --- |
| NC=Not Classified | NT=No time set in qualifying | R=Retired |
| EX=Excluded from meeting | W=Withdrawn | DQ=Disqualified |
| NS=Did not start | NQ=Did not qualify | NPQ=Did not pre-qualify |

Aktuell ställning
| | | | |
| --- | --- | --- | --- |
| Position | Förare | Nation | Poäng |
| 1 | | | 47 |
| 2 | | | 33 |
| 3 | | | 25 |
| " | | | 25 |
| 5 | | | 24 |
| 6 | | | 19 |