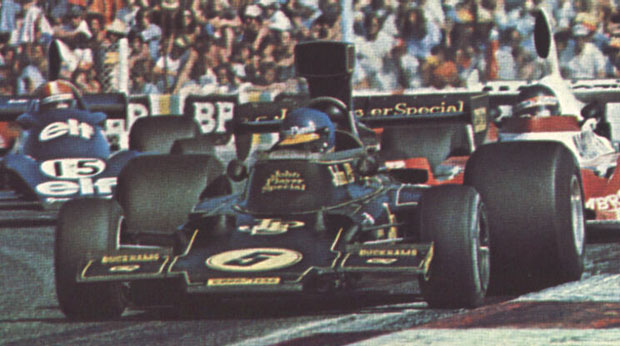 Grand Prix de France 6 Juli 1975, Paul Ricard
Ronnie Peterson gör i Frankrikes GP 1975 sin 71:a start i Formel 1. Det förefaller som Paul Ricard-banan kommer till användning vartannat år då det nu återigen är dags för tävling (-71 och -73 var de tidigare tillfällena, här tog Ronnie sin första seger 1973). År 1970 och 1972 genomfördes Frankrikes GP på banan i Clermont-Ferrand, för att 1974 gå av stapeln på banan i Dijon-Prenois (även här segrade Ronnie).
Som de två senaste årens titelförsvarare har Ronnie en minst sagt misslyckad träning och kan med den gamla Lotus 72:an inte prestera en bättre tid i kvalet än för en plats i nionde startled och 17:e tid. Lauda i sin Ferrari har sin vana trogen lyckats knipa "pole" och står längst fram tillsammans med Scheckter i en Tyrrell. Strax bakom James Hunt (Hesketh) och Jean-Pierre Jarier (Shadow).
Loppet blir närmast odramatiskt och Niki Lauda leder loppets 54 varv från start till mål. Scheckter tvingas efter hand släppa förbi Hunt och faller sedermera bakåt i fältet. Jochen Mass är något av mannen för dagen och med bl a det snabbaste varvet om 1.50,6 tar han sin McLaren från en sjunde plats till att bli trea på pallen - endast en dryg halvsekund efter Hunt.
Ronnie gör i skymundan en fullt godkänd insats och tar sig i mål som slutlig tia.
Summary in english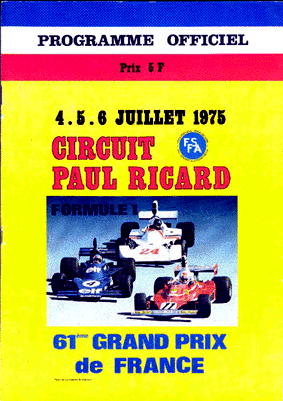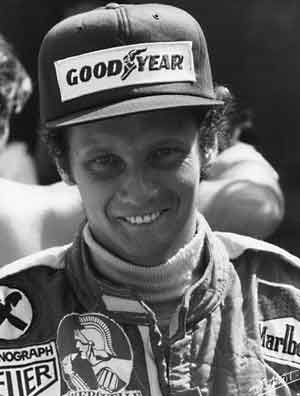 There were few changes from the field which had been in action in Holland a fortnight earlier (where James Hunt had scored his first F1 victory) although Ian Scheckter had left the Williams team and Francois Migault had been taken on as his replacement. Tyrrell agreed to field a third car and Elf protege Jean-Pierre Jabouille was given the drive.

Qualifying was a similar story to recent races with Niki Lauda on pole position for the fifth time in six races. Alongside him was Jody Scheckter's Tyrrell while James Hunt was third in his Hesketh. Fourth on the grid was Jean-Pierre Jarier's Shadow. The third row was shared by Carlos Pace's Brabham and Tom Pryce (Shadow) while the top 10 was completed by Jochen Mass (McLaren), Vittorio Brambilla (March), Clay Regazzoni (Ferrari) and Emerson Fittipaldi (McLaren).

At the start Lauda went into the lead with Scheckter behind him. Hunt was third and Jarier fourth but Pryce made a poor start and had dropped to the tail of the field. Mass was thus fourth with Pace fifth and Regazzoni sixth. The Swiss driver was the man on the move in the early laps, passing Pace, Mass, Hunt and Scheckter to claim second by the sixth lap. On the seventh he suffered engine failure.

A couple of laps later Hunt overtook Scheckter for second and the South African dropped behind Mass and Emerson Fittipaldi soon afterwards. The top four then remained unchanged until the finish while Andretti ended the day fifth with Depailler sixth.
Sammanställning

Grand Prix

Frankrike

Datum

6 Juli 1975

Bana

Säsong

1975

Deltävling

9

Längd (km)

5.810

Varv

54

Tid

1:40:18.840
| | | | | | |
| --- | --- | --- | --- | --- | --- |
| Placering | Nr | Förare | Team | Tid | Grid |
| 1 | 12 | | | 1:40:18.840 | 1 |
| 2 | 24 | | | 1.590 | 3 |
| 3 | 2 | | | 2.310 | 7 |
| 4 | 1 | | | 39.770 | 10 |
| 5 | 27 | | | 62.080 | 15 |
| 6 | 4 | | | 67.400 | 13 |
| 7 | 23 | | | 69.610 | 12 |
| 8 | 17 | | | 79.780 | 4 |
| 9 | 3 | | | 91.680 | 2 |
| 10 | 5 | | | 96.020 | 17 |
| 11 | 21 | | | 96.770 | 16 |
| 12 | 15 | | | 97.130 | 21 |
| 13 | 18 | | | +1 varv | 14 |
| 14 | 7 | | | +1 varv | 11 |
| 15 | 31 | | | +1 varv | 22 |
| 16 | 22 | | | +1 varv | 20 |
| 17 | 14 | | | +2 varv | 25 |
| 18 | 10 | | | +4 varv | 26 |
| r | 8 | | | +28 varv | 5 |
| r | 6 | | | +37 varv | 19 |
| r | 30 | | | +40 varv | 23 |
| r | 28 | | | +48 varv | 18 |
| r | 9 | | | +48 varv | 8 |
| r | 11 | | | +48 varv | 9 |
| r | 16 | | | +52 varv | 6 |
| ns | 20 | | | | 24 |
| | | |
| --- | --- | --- |
| NC=Not Classified | NT=No time set in qualifying | R=Retired |
| EX=Excluded from meeting | W=Withdrawn | DQ=Disqualified |
| NS=Did not start | NQ=Did not qualify | NPQ=Did not pre-qualify |

Aktuell ställning
| | | | |
| --- | --- | --- | --- |
| Position | Förare | Nation | Poäng |
| 1 | | | 47 |
| 2 | | | 25 |
| 3 | | | 24 |
| 4 | | | 22 |
| 5 | | | 18 |
| 6 | | | 16 |