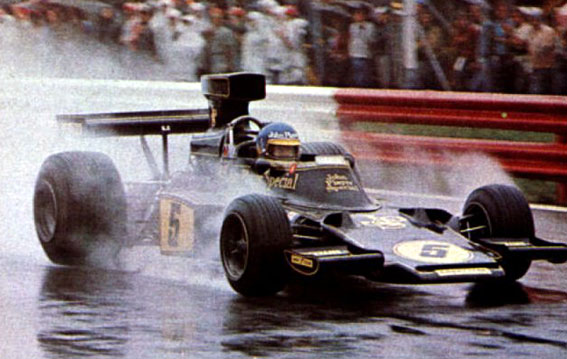 Grosser Preis von Österreich 17 Augusti 1975, Österreichring
Ronnie Peterson startar i Österrikes GP 1975 med 13:e bästa kvalificeringstid. Det är Ronnies 74:e F1 start och han kan denna säsong hålla sig för skratt. Den utlovade vinnarbilen från Colin Chapman lyser fortfarande med sin frånvaro och Ronnie får hålla till godo med den Lotuskonstruktion som debuterade redan säsongen 1970.
Niki Lauda (Ferrari) står ännu en gång i "pole position" och delar första startledet med James Hunt (Hesketh). Emerson Fittipaldi (McLaren) är trea före - något överraskande - Hans Stuck (March).
Starten hade dock föregåtts av ett par otäcka olyckor. Wilson Fittipaldi har i tidskvalet kört av våldsamt och brutit två ben i handen. Ännu värre var olyckan under uppvärmningen på tävlingsdagen, då Mark Donohue kraschar sin Penske March så illa att han medvetslös måste tas till sjukhus för operation. Donohue har slagit huvudet i ställningen till en reklamskylt. Det lättande trycket mot hjärnan hjälper dock inte och Donohue avlider ett par dagar senare.
Vädret slår hastigt om inför starten och regnet börjar ösa ner. Lauda tar dock täten före Hunt och Depailler (som gjort ett ryck från sjunde startposition). Brambilla gör en fantastisk upphämtning från sin åttonde plats och kan tillsammans med Hunt passera Lauda på det 15:e varvet. När Hunt skall varva Lunger lyckas Brambilla ta sig förbi båda bilarna och är i plötsligt i ledning.
Förhållandena blev än sämre och efter 29 varv flaggas loppet av. Brambilla, som tar sin första och enda seger i karriären, blir så upphetsad av att se den svartvitrutiga målflaggan att han spinner av med sin March. Han lyckas dock åter ta sig ut på banan och fullfölja sitt ärevarv - dock med en bil som närmast ser ut att vara redo för skroten.
Brambilla får också snabbaste varvtid med 1.53,90. Endast halva poäng tilldelas i loppet, men likafullt är det March första seger efter fem års hårda ansträngningar.
James Hunt (Hesketh) blir tvåa med Tom Pryce (Shadow) som trea före Jochen Mass (McLaren) och Ronnie som i den gamla Lotus 72:an till slut blir 5:a
Loppet kan således summera följande förare i ledning: Lauda 1-14; Hunt 15-18; Brambilla 19-29.
Summary in english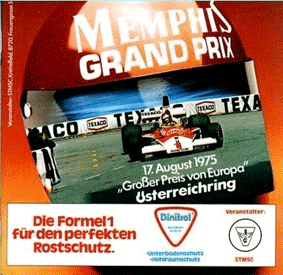 Niki Lauda arrived at his home race with a strong lead in the World Championship with a healthy lead in the World Championship and his chasers were struggling. McLaren had only two serviceable cars as Jochen Mass had written off two M23s at the Nürburgring. Team Lotus was in similar trouble but as Surtees had managed to rebuild a car for John Watson (the team having missed the German GP after the multi-car crash at Silverstone) Lotus had to rely on new boy Brian Henton. Alan Jones stood down from his drive with Hill to make way for Rolf Stommelen who was back in action after his crash in Barcelona while Chris Amon also returned at the wheel of an Ensign. Shadow appeared with one car fitted with a Matra V12 engine and this was driven by Jean-Pierre Jarier.

The Williams team rented out its second car to Swiss driver Jo Vonlanthen, while the second Hesketh was rented out to the American Brett Lunger.

Qualifying resulted in the usual pole position for Lauda with James Hunt a tenth slower in his Hesketh. Third fastest was Emerson Fittipaldi in his McLaren with Hans Stuck fourth for March. The third row featured Clay Regazzoni (Ferrari) and Carlos Pace (Brabham) while the top 10 was completed by Patrick Depailler (Tyrrell), Vittorio Brambilla (March), Jochen Mass (McLaren) and Jody Scheckter (Tyrrell). Jarier qualified the Shadow-Matra 14th. In the course of qualifying Wilson Fittipaldi crashed his Fittipaldi heavily and broke two bones in his hand but there was a far more serious accident in the race day warm-up when Mark Donohue went off at the Hella Licht Corner after a tire failure. The Penske March had cleared the barriers and collided with an advertising hoarding, hitting two marshals as well (one of whom later died). Donohue was conscious and talking but he then lapsed into unconsciousness and despite an operation to relieve the pressure in his brain he died in Graz on the Tuesday after the race.

As the time for the start approached the weather clouded over and it began to rain heavily. Lauda took the lead while Depailler made a good start to take third place behind Hunt. Then came Stuck, Fittipaldi, Brambilla and Scheckter. It was Brambilla who made the biggest impression in the early laps as he overtook Fittipaldi, Stuck and then Depailler.

On lap 15 Hunt and Brambilla caught and passed Lauda and began to pull away from the Ferrari. On lap 19 as Hunt came up to lap Lunger, Brambilla blasted past both cars in one move and began to build a lead. Conditions deteriorated to such an extent that eventually the organizers were petitioned to stop the race. The chequered flag was shown and Brambilla in his excitement lost control of his car and crashed. He was able to rejoin and completed his victory lap with the front end of the car in a state of considerable disrepair.

It had taken five years but the March factory team had finally won a race although as half points were awarded it was, in effect, half a victory.

Hunt was classified second with Tom Pryce third in his Shadow.
Sammanställning

Grand Prix

Österrike

Datum

17 Augusti 1975

Bana

Säsong

1975

Deltävling

12

Längd (km)

5.911

Varv

29

Tid

57:56.690
| | | | | | |
| --- | --- | --- | --- | --- | --- |
| Placering | Nr | Förare | Team | Tid | Grid |
| 1 | 9 | | | 57:56.690 | 8 |
| 2 | 24 | | | 27.030 | 2 |
| 3 | 16 | | | 34.850 | 15 |
| 4 | 2 | | | 72.660 | 9 |
| 5 | 5 | | | 83.330 | 13 |
| 6 | 12 | | | 90.280 | 1 |
| 7 | 11 | | | 99.070 | 5 |
| 8 | 3 | | | +1 varv | 10 |
| 9 | 1 | | | +1 varv | 3 |
| 10 | 18 | | | +1 varv | 18 |
| 11 | 4 | | | +1 varv | 7 |
| 12 | 31 | | | +1 varv | 23 |
| 13 | 25 | | | +1 varv | 17 |
| 14 | 7 | | | +1 varv | 11 |
| 15 | 23 | | | +1 varv | 16 |
| 16 | 22 | | | +2 varv | 25 |
| 17 | 29 | | | +3 varv | 21 |
| nc | 33 | | | +4 varv | 27 |
| r | 32 | | | +6 varv | 26 |
| r | 21 | | | +8 varv | 12 |
| r | 8 | | | +12 varv | 6 |
| r | 20 | | | +15 varv | 28 |
| r | 10 | | | +19 varv | 4 |
| r | 17 | | | +19 varv | 14 |
| r | 14 | | | +27 varv | 24 |
| r | 27 | | | +28 varv | 19 |
| ns | 30 | | | | 20 |
| ns | 28 | | | | 20 |
| nq | 6 | | | | |
| nq | 35 | | | | |
| | | |
| --- | --- | --- |
| NC=Not Classified | NT=No time set in qualifying | R=Retired |
| EX=Excluded from meeting | W=Withdrawn | DQ=Disqualified |
| NS=Did not start | NQ=Did not qualify | NPQ=Did not pre-qualify |

Aktuell ställning
| | | | |
| --- | --- | --- | --- |
| Position | Förare | Nation | Poäng |
| 1 | | | 51.5 |
| 2 | | | 34 |
| 3 | | | 33 |
| 4 | | | 28 |
| 5 | | | 24 |
| 6 | | | 19 |