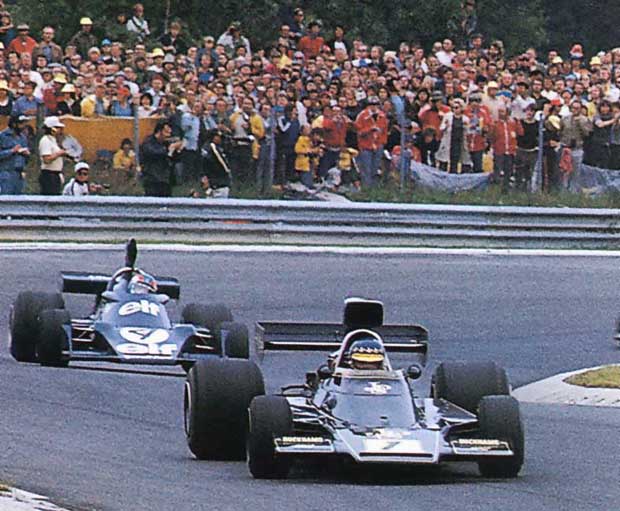 Grosser Preis von Deutschland 4 Augusti 1974, Nürburgring
Ronnie Petersons 58:e start i Formel 1 sker i Tysklands GP 1974. Med den gamla Lotus 72:an lyckas Ronnie endast prestera en åttonde bästa tid i kvalet. De båda Ferraribilarna står i främsta startledet med Lauda före Regazzoni. Emerson Fittipaldi omedelbart därefter tillsammans med Jody Scheckter.
Niki Lauda kör av redan på det första varvet och Clay Regazzoni får ensam försvara stallets färger. Regazzoni vinner loppet i ren utklassningsstil och är hela 50 sekunder före tvåan Jody Scheckter i en Tyrrell (som dock får den snabbaste varvtiden med 7.11,1). Trea blir Carlos Reutemann i en Brabham - mindre än en sekund före Ronnie som blir fyra i loppet!
Summary in english
The boom in Formula 1 in the 1974 season meant that there were 31 cars entered for the Nürburgring and with only 26 cars starting, six would not qualify. The only major change to the entry was the arrival in the second Iso Marlboro of F1 debutante Jacques Laffite. Guy Edwards was back in action for the Hill team while Australian rising star Larry Perkins was entered in the Amon. Token fielded Ian Ashley. Practice got off to a bad start when Howden Ganley's Maki suffered a suspension failure and crashed heavily at Hatzenbach, suffering serious ankle injuries.

The two Ferraris were on the front row of the grid again with Niki Lauda outqualifying Clay Regazzoni. Next up were the other two World Championship contenders Emerson Fittipaldi (McLaren) and Jody Scheckter (Tyrrell) while third row featured Patrick Depailler (Tyrrell) and Carlos Reutemann (Brabham). The top 10 was completed by Denny Hulme (McLaren), Ronnie Peterson (Lotus), Jacky Ickx (Lotus) and Jochen Mass (Surtees).

At the start Fittipaldi failed to get away cleanly and as Hulme tried to pass him he found Ickx in his path and so the two McLarens made contact. Hulme retired on the spot but Fittipaldi seemed to have got away with it and set off.

Regazzoni had gone into the lead when Lauda made a poor start and as Lauda tried to make up ground he clashed with Scheckter and spun out. Further around the lap Fittipaldi suffered a puncture and had to limp around to the pits. He would rejoin but retired soon afterwards because of his damaged suspension.

At the front Regazzoni was being chased by Scheckter, Reutemann and Mass and the top three remained unchanged all afternoon. Mass was passed on the sixth lap by both Peterson and Ickx but he was able to get back ahead of the Swede before his engine failed. Hailwood inherited fifth place but on the 13th lap he lost control when the car landed after the jump at Pflanzgarten and crashed heavily. Tom Pryce (Shadow) finished sixth to score his first World Championship point.

Regazzoni's victory took him to the top of the World Championship table, three points ahead of Scheckter.
Sammanställning

Grand Prix

Tyskland

Datum

4 Augusti 1974

Bana

Säsong

1974

Deltävling

11

Längd (km)

22.835

Varv

14

Tid

1:41:35.000
| | | | | | |
| --- | --- | --- | --- | --- | --- |
| Placering | Nr | Förare | Team | Tid | Grid |
| 1 | 11 | | | 1:41:35.000 | 2 |
| 2 | 3 | | | 50.700 | 4 |
| 3 | 7 | | | 83.300 | 6 |
| 4 | 1 | | | 84.200 | 8 |
| 5 | 2 | | | 85.000 | 9 |
| 6 | 16 | | | 138.100 | 11 |
| 7 | 9 | | | 178.700 | 20 |
| 8 | 17 | | | 205.900 | 18 |
| 9 | 26 | | | 206.400 | 19 |
| 10 | 15 | | | 257.700 | 24 |
| 11 | 18 | | | 317.700 | 25 |
| 12 | 8 | | | 386.300 | 17 |
| 13 | 10 | | | 523.100 | 23 |
| 14 | 32 | | | +1 varv | 26 |
| r | 33 | | | +2 varv | 12 |
| r | 24 | | | +3 varv | 13 |
| r | 19 | | | +4 varv | 10 |
| r | 4 | | | +9 varv | 5 |
| r | 20 | | | +9 varv | 16 |
| r | 14 | | | +10 varv | 15 |
| r | 22 | | | +10 varv | 22 |
| r | 5 | | | +12 varv | 3 |
| r | 21 | | | +12 varv | 21 |
| r | 28 | | | +13 varv | 14 |
| r | 12 | | | +14 varv | 1 |
| dq | 6 | | | | 7 |
| nq | 37 | | | | |
| nq | 23 | | | | |
| nq | 27 | | | | |
| nq | 30 | | | | |
| nq | 30 | | | | |
| nq | 25 | | | | |
| | | |
| --- | --- | --- |
| NC=Not Classified | NT=No time set in qualifying | R=Retired |
| EX=Excluded from meeting | W=Withdrawn | DQ=Disqualified |
| NS=Did not start | NQ=Did not qualify | NPQ=Did not pre-qualify |

Aktuell ställning
| | | | |
| --- | --- | --- | --- |
| Position | Förare | Nation | Poäng |
| 1 | | | 44 |
| 2 | | | 41 |
| 3 | | | 38 |
| 4 | | | 37 |
| 5 | | | 22 |
| 6 | | | 14 |