Memphis Grosser Preis von Österreich 18 Augusti 1974, Österreichring
Ronnie Peterson har sjätte bästa tid efter kvalificeringen inför Österrikes GP 1974. Det är Ronnies 59:e start i Formel 1 och han sitter fortfarande kvar i den ålderstigna Lotus 72:an. Stallet gör allt för att konstruktionen skall vara fortsatt konkurrenskraftig och den aktuella modellen har typbeteckningen Lotus 72E. Den har visat sig hyfsat framgångsrik under de senaste racen och fungerar betydligt bättre än den nyutvecklade Lotus 76:an.
Niki Lauda står i "pole position" före den som närmast hotar Ronnie i det totala sammandraget - Carlos Reutemann. Och det blir Reutemann som tar hem segern. I sin Brabham leder han från start till mål och tar de viktiga nio poängen för Denny Hulme i en McLaren och James Hunt i en Hesketh. Lauda har tvingats bryta, men i den andra Ferraribilen presterar Regazzoni loppets snabbast varvtid med 1.37,22.
Ronnie har ingen lyckad dag och bryter efter problem med transmissionen. Han tappar dessutom sin femteplats i det totala sammandraget till loppets segerherre - Carlos Reutemann.
Summary in english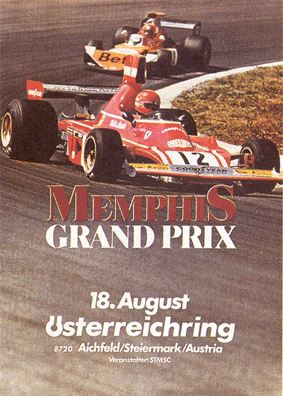 There were four drivers in the fight for the 1974 World Championship when the F1 teams arrived in Austria. Clay Regazzoni was leading with 44 points but Jody Scheckter (41), Niki Lauda (38) and Emerson Fittipaldi (37) were all within striking distance.

The two weeks between the German and Austrian races had been busy with Jochen Mass leaving Surtees, taking his Bang & Olufsen sponsorship with him. Jean-Pierre Jabouille was hired to replace him. Ensign had fallen out with Teddy Yip and so Vern Schuppan was replaced by Mike Wilds while Guy Edwards was out of action again with the Hill team because his wrist was not properly healed and so Rolf Stommelen replaced him. With Mike Hailwood out with a broken leg McLaren handed the Yardley car over to David Hobbs. BRM was down to just one car because of engine supply problems. Ian Scheckter rented a second Hesketh while Austrian rising stars Dieter Quester (Surtees) and Helmut Koinigg (Finotto Brabham) completed the field.

Qualifying produced a popular pole position for Lauda with Carlos Reutemann alongside him on the front row of the grid. Fittipaldi was third with Carlos Pace fourth in the second Brabham while Jody Scheckter (Tyrrell) and Ronnie Peterson (Lotus) were on the third row. Next up was James Hunt (Hesketh) with Clay Regazzoni's Ferrari alongside him while the top 10 was completed by Arturo Merzario in the Iso-Marlboro and Denny Hulme's McLaren.

At the start Reutemann took the lead. He would hold it for the rest of the afternoon. Lauda was second with Pace third and Regazzoni fourth and then came Hunt., Scheckter, Fittipaldi and Merzario. Peterson had made a bad start and was only ninth. In the early laps Regazzoni passed Pace and Scheckter overtook Hunt while Peterson made quick work of Merzario. Scheckter chased after Pace and overtook him on the ninth lap but then went out with a blown engine. Fittipaldi and Peterson were able to catch and pass Hunt and then Pace while Lauda began to drop back with a misfiring engine and was overtaken by Regazzoni, Fittipaldi, Peterson and Pace. The Austrian retired soon afterwards. In the mid-race Peterson faded and was overtaken for fourth place by Pace.

Fittipaldi disappeared with an engine failure on lap 38 and then Regazzoni began to fade with a slow puncture. He was passed by Pace for second place but almost immediately the Brazilian stopped with a fuel pipe problem and so Peterson moved into second place. Three laps later he too was gone with a transmission problem. This left Hulme to finish second with Hunt third and John Watson fourth in his Hexagon Brabham. Regazzoni recovered to finish fifth while the final point went to Vittorio Brambilla in the Beta March.

Regazzoni's two points helped him to ease ahead in the World Championship as none of his rivals had scored.
Sammanställning

Grand Prix

Österrike

Datum

18 Augusti 1974

Bana

Säsong

1974

Deltävling

12

Längd (km)

5.911

Varv

54

Tid

1:28:44.720
| | | | | | |
| --- | --- | --- | --- | --- | --- |
| Placering | Nr | Förare | Team | Tid | Grid |
| 1 | 7 | | | 1:28:44.720 | 2 |
| 2 | 6 | | | 42.920 | 10 |
| 3 | 24 | | | 61.540 | 7 |
| 4 | 28 | | | 69.390 | 11 |
| 5 | 11 | | | 73.080 | 8 |
| 6 | 10 | | | 73.820 | 20 |
| 7 | 33 | | | +1 varv | 17 |
| 8 | 17 | | | +2 varv | 23 |
| 9 | 30 | | | +3 varv | 25 |
| 10 | 23 | | | +4 varv | 19 |
| r | 9 | | | +6 varv | 15 |
| 12 | 26 | | | +6 varv | 21 |
| nc | 35 | | | +8 varv | 24 |
| r | 1 | | | +9 varv | 6 |
| r | 2 | | | +11 varv | 22 |
| r | 4 | | | +12 varv | 14 |
| r | 8 | | | +13 varv | 4 |
| r | 5 | | | +17 varv | 3 |
| nc | 21 | | | +17 varv | 12 |
| r | 20 | | | +30 varv | 9 |
| r | 14 | | | +32 varv | 18 |
| r | 16 | | | +32 varv | 16 |
| r | 12 | | | +37 varv | 1 |
| r | 27 | | | +40 varv | 13 |
| r | 3 | | | +46 varv | 5 |
| nq | 31 | | | | |
| nq | 43 | | | | |
| nq | 18 | | | | |
| nq | 22 | | | | |
| nq | 19 | | | | |
| nq | 32 | | | | |
| | | |
| --- | --- | --- |
| NC=Not Classified | NT=No time set in qualifying | R=Retired |
| EX=Excluded from meeting | W=Withdrawn | DQ=Disqualified |
| NS=Did not start | NQ=Did not qualify | NPQ=Did not pre-qualify |

Aktuell ställning
| | | | |
| --- | --- | --- | --- |
| Position | Förare | Nation | Poäng |
| 1 | | | 46 |
| 2 | | | 41 |
| 3 | | | 38 |
| 4 | | | 37 |
| 5 | | | 23 |
| 6 | | | 22 |