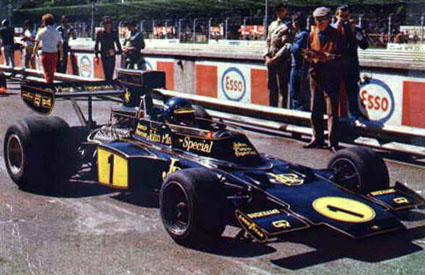 Gran Premio d`Italia 8 September 1974, Monza
Ronnie Peterson i säsongens 13:e GP-lopp. Är detta ett olyckstal inför Ronnies 60:e F1 start?
Som vanligt kan Ronnie inte prestera topptider under träning - därtill är Lotus 72:an alltför ålderstigen och underlägsen konkurrenternas bilar. Ronnie har endast sjunde bästa tid och står i fjärde startledet en bra bit bakom Niki Lauda i "pole position" och Carlos Reutemann som i sin Brabham delar första startledet.
Lauda tar starten och leder loppets första 29 varv. Han tvingas därefter bryta och lämnar över till teamkamraten Regazzoni. När även denne måste lämna in är det Ronnie - som jobbat sig upp i fältet - som intar tätpositionen. Ronnie upprepar bedriften från föregående år och vinner sin tredje seger för säsongen. Emerson Fittipaldi i en McLaren blir tvåa och Jody Scheckter i en Tyrrell trea. Snabbaste varv presterar till allas förvåning Carlos Pace i en Brabham med 1.34,2 (han blir till slut fyra) och loppet ser följande förare i ledning: Lauda 1-29; Regazzoni 30-40; Ronnie 41-52.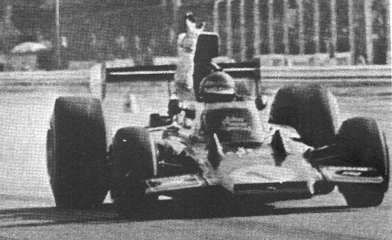 Ronnie tar sig åter upp på femteplatsen i den totala sammanräkningen och inser att han rent teoretiskt fortfarande har en chans att bli mästare...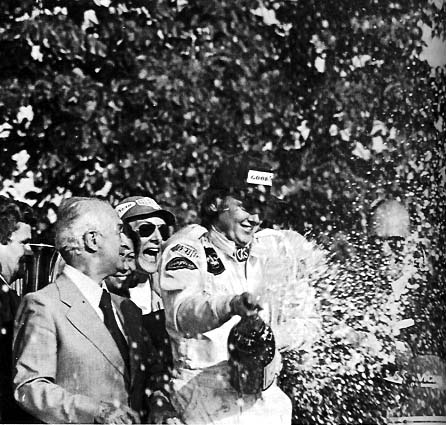 ...men som de två återstående tävlingarna kommer att utvisa - undermåliga experimentbilar och en föråldrad trotjänare har fört honom utom räckhåll för VM-kronan!
Summary in english
The World Championship remained wide open with Clay Regazzoni (46 points) leading Jody Scheckter (41), Niki Lauda (38) and Emerson Fittipaldi (37). There were few changes int he driver-up from previous races with Chris Amon rejoining the fray with his own chassis and Jose Dolhem returning to Surtees in place of Jean-Pierre Jabouille. The Finotto team entered Carlo Facetti in place of Helmut Koinigg.

There was much excitement amongst the tifosi with a Ferrari victory being a distinct possibility and there was much rejoicing when Niki Lauda took pole position from Carlos Reutemann (the winner of the previous race in Austria). Behind them came the Brabhams of Carlos Pace and John Watson (using a works car after he had crashed the Hexagon BT44), making it three Brabhams in the top four places. Then came Regazzoni (Ferrari), Fittipaldi (McLaren), Ronnie Peterson (Lotus), James Hunt (Hesketh), Jean-Pierre Jarier (Shadow) and Patrick Depailler (Tyrrell). Scheckter had a bad time in qualifying and ended up 12th while Dolhem, Facetti, Derek Bell (Surtees), Mike Wilds (Ensign), Amon and Leo Kinnunen (AAW Racing) all failed to qualify.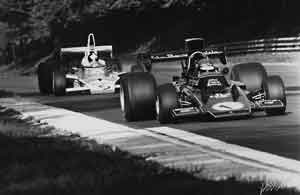 In the race the order at the front was unchanged on the first lap although in the course of the second lap Watson was overtaken for fourth by Regazzoni.. In the laps that followed Regazzoni overtook Pace and Reutemann to move up to make it the perfect Ferrari 1-2. The Brabham challenge then began to fade with Watson going off and dropping back, Reutemann retiring with gearbox failure and Pace suffering from tire troubles. This enabled Peterson to climb through to third place with Fittipaldi fourth and Scheckter fifth. This order remained unchanged until the 30th lap when Lauda's Ferrari began to trail smoke. Regazoni took the lead and the Austrian went on until his engine failed a couple of laps later. For the next 10 laps Regazzoni led and then the same happened to him. Peterson was in the lead but was under pressure from Fittipaldi. The Swede crossed the line less than a second ahead after 12 laps of battling. Scheckter finished third with Arturo Merzario a good fourth for Iso-Marlboro. Pace made it home fifth and Denny Hulme completed the points scorers in his McLaren.

As the teams left Monza the World Championship was even closer than before with Regazzoni on 46pts, Scheckter on 45 and Fittipaldi on 43. Lauda was still in with a chance as well with 38.
Sammanställning

Grand Prix

Italien

Datum

8 September 1974

Bana

Säsong

1974

Deltävling

13

Längd (km)

5.780

Varv

52

Tid

1:22:56.600
| | | | | | |
| --- | --- | --- | --- | --- | --- |
| Placering | Nr | Förare | Team | Tid | Grid |
| 1 | 1 | | | 1:22:56.600 | 7 |
| 2 | 5 | | | 0.799 | 6 |
| 3 | 3 | | | 24.700 | 12 |
| 4 | 20 | | | 87.700 | 15 |
| 5 | 8 | | | +1 varv | 3 |
| 6 | 6 | | | +1 varv | 19 |
| 7 | 28 | | | +1 varv | 4 |
| 8 | 26 | | | +1 varv | 21 |
| 9 | 33 | | | +1 varv | 23 |
| 10 | 16 | | | +2 varv | 22 |
| 11 | 4 | | | +2 varv | 10 |
| r | 11 | | | +12 varv | 5 |
| r | 12 | | | +20 varv | 1 |
| r | 2 | | | +21 varv | 16 |
| r | 27 | | | +27 varv | 14 |
| r | 21 | | | +30 varv | 17 |
| r | 17 | | | +33 varv | 9 |
| r | 10 | | | +36 varv | 13 |
| r | 29 | | | +37 varv | 20 |
| r | 7 | | | +41 varv | 2 |
| r | 9 | | | +42 varv | 18 |
| r | 15 | | | +49 varv | 25 |
| r | 24 | | | +50 varv | 8 |
| r | 37 | | | +51 varv | 24 |
| r | 14 | | | +52 varv | 11 |
| nq | 19 | | | | |
| nq | 31 | | | | |
| nq | 18 | | | | |
| nq | 25 | | | | |
| nq | 22 | | | | |
| nq | 23 | | | | |
| | | |
| --- | --- | --- |
| NC=Not Classified | NT=No time set in qualifying | R=Retired |
| EX=Excluded from meeting | W=Withdrawn | DQ=Disqualified |
| NS=Did not start | NQ=Did not qualify | NPQ=Did not pre-qualify |

Aktuell ställning
| | | | |
| --- | --- | --- | --- |
| Position | Förare | Nation | Poäng |
| 1 | | | 46 |
| 2 | | | 45 |
| 3 | | | 43 |
| 4 | | | 38 |
| 5 | | | 31 |
| 6 | | | 23 |