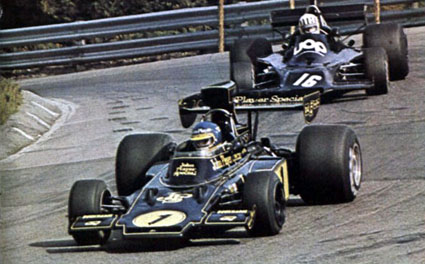 Labatt´s 50 Canadian Grand Prix 22 September 1974, Mosport Park
Ronnie Peterson gör i säsongens näst sista tävling sin 61:a F1 start. Träningen har gått som vanligt, d v s Ronnie kan inte prestera de tider som krävs för framskjutna startpositioner - därtill är den gamla Lotus 72:an inte mäktig. En plats i det femte startledet med en tionde plats är vad Ronnie får nöja sig med.
I "pole position" står Emerson Fittipaldi i sin McLaren, detta före Niki Lauda (Ferrari), Jody Scheckter (Brabham) och Carlos Reutemann (Brabham).
Det blir Lauda som tar starten och som även hinner prestera snabbaste varvtid med 1.13,659 innan han på det 68:e varvet måste bryta efter ett olyckstillbud. Detta möjliggör för Fittipaldi att gå upp i ledning - en ledning han kan behålla loppet ut för att gå i mål som segrare före Clay Regazzoni i en Ferrari. Denna ordning i mål gör att årets mästerskap fortfarande är i högsta grad ovisst - Fittipaldi och Regazzoni delar förstaplatsen med 52 poäng med Jody Scheckter skuggande på 45. Allt skall komma att avgöra i det avslutande GP:t i USA.
Ronnie har kämpat sig upp i fältet och kan köra i mål som trea. Därmed säkrar han femteplatsen i det totala sammandraget, men det är naturligtvis inte en placering han är nöjd med...
Summary in english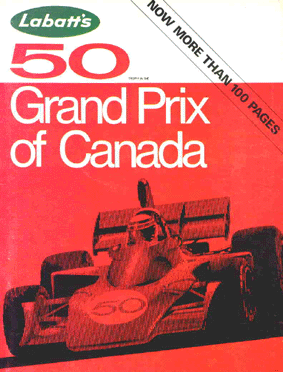 The Formula 1 circus arrived in Canada with two races to go and the World Championship finely balanced between Clay Regazzoni on 46pts, Jody Scheckter on 45, Emerson Fittipaldi on 43 and Niki Lauda on 38.

The entry was smaller than it had been in Europe with several of the tail-end teams not making the trip to the Americas but numbers were bumped up by the appearance of two new American teams: Vel's Parnelli Jones Racing and Penske Cars.

Parnelli had the Viceroy-sponsored Maurice Philippe-designed VPJ4 for Mario Andretti while Penske entered Mark Donohue in the Geoff Ferris-designed PC1 which was supported by the First National City bank. Ian Ashley and Eppie Wietzes were entered in private Brabhams, while BRM had dropped both Henri Pescarolo and Francois Migault and was running Chris Amon alongside Jean-Pierre Beltoise. Surtees had Helmut Koinigg alongside Derek Bell and the Yardley McLaren team had replaced David Hobbs with Jochen Mass.

Qualifying resulted in pole position for Fittipaldi's McLaren with Lauda's Ferrari alongside and Scheckter's Tyrrell third. Then came Carlos Reutemann (Brabham), Jean-Pierre Jarier in the Shadow and Regazzoni's Ferrari. The top 10 was completed by Patrick Depailler (Tyrrell), James Hunt (Hesketh), Carlos Pace (Brabham) and Ronnie Peterson (Lotus). Andretti qualified the Parnelli a promising 16th.

Lauda went into the lead at the start with Fittipaldi and Regazzoni in pursuit. Scheckter was fourth but on the third lap he moved ahead of Regazzoni and set off after the two leaders. The four World Championship contenders were running in the top four positions. The order remained unchanged until after half-distance and it looked as though the teams would go to the last race with three drivers on the same points (Fittipaldi, Lauda and Scheckter would all have had 49 points and Lauda 47 if they had finished in that order) but on lap 49 Scheckter's brakes (which had been causing him problems) failed and he crashed heavily. That moved Regazzoni to third and into the lead in the World Championship again. That order at the front remained the same until the 70th lap when the leader Lauda crashed out after running over debris. Fittipaldi was the new leader with Regazzoni second. In the World Championship that put Fittipaldi a point ahead.

Amid the excitement Peterson was driving an impressive race. he had started 10th but worked his way up to fifth place after Lauda's departure. He then forced his way ahead of Hunt and began to close on Regazzoni. The pair crossed the line separated by less than a second with Hunt just behind them. Depailler finished fifth with Denny Hulme (McLaren) sixth.

The stage was set for an exciting World Championship showdown in Watkins Glen a fortnight later.
Sammanställning

Grand Prix

Datum

22 September 1974

Bana

Säsong

1974

Deltävling

14

Längd (km)

3.957

Varv

80

Tid

1:40:26.136
| | | | | | |
| --- | --- | --- | --- | --- | --- |
| Placering | Nr | Förare | Team | Tid | Grid |
| 1 | 5 | | | 1:40:26.136 | 1 |
| 2 | 11 | | | 13.034 | 6 |
| 3 | 1 | | | 14.494 | 10 |
| 4 | 24 | | | 15.669 | 8 |
| 5 | 4 | | | 55.322 | 7 |
| 6 | 6 | | | +1 varv | 14 |
| 7 | 55 | | | +1 varv | 16 |
| 8 | 8 | | | +1 varv | 9 |
| 9 | 7 | | | +1 varv | 4 |
| 10 | 19 | | | +2 varv | 22 |
| 11 | 27 | | | +2 varv | 11 |
| 12 | 66 | | | +2 varv | 24 |
| 13 | 2 | | | +2 varv | 21 |
| 14 | 26 | | | +3 varv | 20 |
| r | 21 | | | +6 varv | 18 |
| 16 | 33 | | | +8 varv | 12 |
| nc | 15 | | | +10 varv | 25 |
| r | 12 | | | +13 varv | 2 |
| r | 16 | | | +15 varv | 13 |
| r | 28 | | | +19 varv | 15 |
| nc | 14 | | | +20 varv | 17 |
| r | 3 | | | +32 varv | 3 |
| r | 17 | | | +34 varv | 5 |
| r | 20 | | | +40 varv | 19 |
| r | 50 | | | +47 varv | 26 |
| r | 9 | | | +68 varv | |
| nq | 18 | | | | |
| nq | 22 | | | | |
| nq | 10 | | | | |
| nq | 42 | | | | |
| | | |
| --- | --- | --- |
| NC=Not Classified | NT=No time set in qualifying | R=Retired |
| EX=Excluded from meeting | W=Withdrawn | DQ=Disqualified |
| NS=Did not start | NQ=Did not qualify | NPQ=Did not pre-qualify |

Aktuell ställning
| | | | |
| --- | --- | --- | --- |
| Position | Förare | Nation | Poäng |
| 1 | | | 52 |
| " | | | 52 |
| 3 | | | 45 |
| 4 | | | 38 |
| 5 | | | 35 |
| 6 | | | 23 |