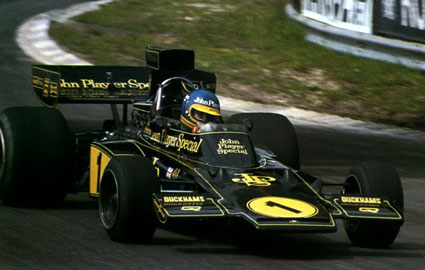 John Player British Grand Prix 20 Juli 1974, Brands Hatch
Ronnie Peterson har inför denna tävling undertecknat ett miljonkontrakt, ett av de bästa som någonsin vid den tidpunkten skrivits av branschens s k asfaltmiljonärer. Ronnie
står i första startledet inför sitt 57:e framträdande i Formel 1 sammanhang. Återigen är det den gamla Lotus 72:an som får gälla, men den nya Lotus 76:an får fungera som reservbil.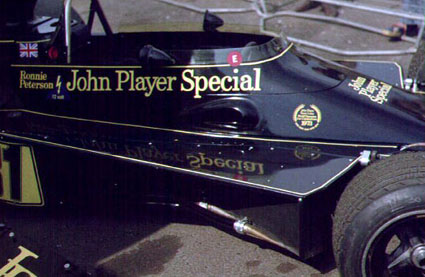 Lauda kan utifrån sin "pole position" direkt ta täten och leder loppet i 69 varv då han tvingas lämna över till Jody Scheckter i en Tyrrell.
Scheckter håller denna ledning de avslutande 5 varven och vinner före Emerson Fittipaldi i en McLaren, med Jacky Ickx (Lotus) som trea. Ronnie i den andra Lotusen blir till slut 10:a efter en miserabel arbetsdag.
Snabbaste varv presterar Lauda med 1.21,1 och loppet kan summeras i följande ledare: Lauda 1-69; Scheckter 70-75.
Summary in english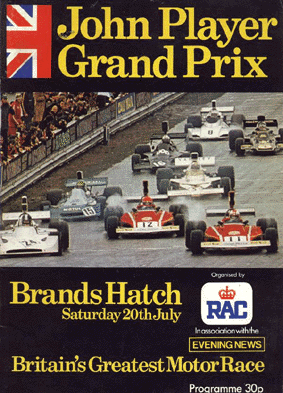 The British Grand Prix attracted the biggest field of the year with no fewer than 34 cars fighting for 25 grid positions. The biggest news was at Brabham. Rikki Von Opel had decided that he did not want to be a Grand Prix driver any longer and he had retired. This gave Bernie Ecclestone the opportunity to hire Carlos Pace. That move freed the second Hexagon Brabham and Italian lady racer Lella Lombardi took over. Surtees hired Derek Bell to partner Jochen Mass while Tom Belso was back in the second Iso Marlboro, although it was also driven in practice by Jean-Pierre Jabouille. Howden Ganley returned to F1 at the wheel of the new Maki. Guy Edwards had broken his wrist after a Formula 5000 accident at Mallory Park the previous weekend and so Graham Hill took on Peter Gethin as a replacement. Appearing for the first time was the Lyncar, driven by John Nicholson. Mike Wilds hired the old Hesketh March previously used by James Hunt while David Purley took over the Token and the field was completed by Leo Kinnunen in his AAW Racing Surtees.

Qualifying resulted in Niki Lauda taking his third consecutive pole position for Ferrari although Ronnie Peterson later equaled the time and so lined up second on the grid. The second row featured Jody Scheckter (Tyrrell) and Carlos Reutemann (Brabham) while the third row featured Tom Pryce (Shadow) and James Hunt (Hesketh), who had collided on the first lap in the previous two races. The fourth row featured World Championship contenders Clay Regazzoni (Ferrari) and Emerson Fittipaldi (McLaren) while the top 10 was completed by Hans Stuck (March) and Patrick Depailler (Tyrrell). The non-qualifiers were Purley, Bell, Lombardi, Belso, Vern Schuppan (Ensign), Nicholson, Ganley, Wilds and Kinnunen.

In the race Lauda went into an immediate with Scheckter and Regazzoni getting ahead of Peterson. Reutemann, Fittipaldi, Pryce, Stuck and the rest followed. Hunt had made a bad start and ruined his chances on the second lap by spinning out of 11th place. The order at the front remained unchanged until the halfway point when Reutemann spun. And then both Peterson and Regazzoni suffered punctures after running over debris from an accident which Stuck had had. That left Lauda and Scheckter out on their own and Fittipaldi third. That order stayed the same until the closing laps when Lauda began to slow with a puncture. Scheckter took the lead and Ferrari decided to call Lauda in but before he got to the pits the tire fell apart. Fittipaldi swept through to take second place while Ickx survived to finish third.
Sammanställning

Grand Prix

Storbritannien

Datum

20 Juli 1974

Bana

Säsong

1974

Deltävling

10

Längd (km)

4.265

Varv

75

Tid

1:43:02.200
| | | | | | |
| --- | --- | --- | --- | --- | --- |
| Placering | Nr | Förare | Team | Tid | Grid |
| 1 | 3 | | | 1:43:02.200 | 3 |
| 2 | 5 | | | 15.300 | 8 |
| 3 | 2 | | | 61.500 | 12 |
| 4 | 11 | | | 67.200 | 7 |
| 5 | 12 | | | +1 varv | 1 |
| 6 | 7 | | | +1 varv | 4 |
| 7 | 6 | | | +1 varv | 19 |
| 8 | 16 | | | +1 varv | 5 |
| 9 | 8 | | | +1 varv | 20 |
| 10 | 1 | | | +2 varv | 2 |
| 11 | 28 | | | +2 varv | 13 |
| 12 | 14 | | | +3 varv | 23 |
| 13 | 26 | | | +6 varv | 22 |
| 14 | 19 | | | +7 varv | 17 |
| r | 15 | | | +11 varv | 24 |
| nc | 37 | | | +13 varv | 14 |
| r | 33 | | | +18 varv | 11 |
| r | 17 | | | +30 varv | 16 |
| r | 9 | | | +39 varv | 9 |
| r | 4 | | | +40 varv | 10 |
| r | 20 | | | +50 varv | 15 |
| r | 10 | | | +58 varv | 18 |
| r | 23 | | | +69 varv | 25 |
| r | 24 | | | +73 varv | 6 |
| r | 27 | | | +75 varv | 21 |
| nq | 42 | | | | |
| nq | 39 | | | | |
| nq | 21 | | | | |
| nq | 208 | | | | |
| nq | 22 | | | | |
| nq | 29 | | | | |
| nq | 25 | | | | |
| nq | 35 | | | | |
| nq | 43 | | | | |
| nq | 27 | | | | |
| | | |
| --- | --- | --- |
| NC=Not Classified | NT=No time set in qualifying | R=Retired |
| EX=Excluded from meeting | W=Withdrawn | DQ=Disqualified |
| NS=Did not start | NQ=Did not qualify | NPQ=Did not pre-qualify |

Aktuell ställning
| | | | |
| --- | --- | --- | --- |
| Position | Förare | Nation | Poäng |
| 1 | | | 38 |
| 2 | | | 37 |
| 3 | | | 35 |
| " | | | 35 |
| 5 | | | 19 |
| 6 | | | 12 |
| " | | | 12 |