Grand Prix de France 7 Juli 1974, Dijon-Prenois
Ronnie Peterson var nu definitivt tillbaka i den gamla Lotus 72:an. Inför sitt 56:e F1 framträdande i årets nionde GP på franska Dijonbanan hade man äntligen beslutat om att skrota JPS 1/9 - Lotus 76:an var årets verkliga flop på GP-banorna, bilen som på vårkanten hade presenterats som 70-talets stora innovation.
Och det går fortsatt över förväntan. Ronnie har i tidskvalet presterat den näst bästa tiden och är endast efter Niki Lauda som således står i "pole position" inför huvudtävlingen.
Det blir Lauda som tar starten, men Ronnie blir för svår och tar över loppet på det 17:e varvet. Ronnie vinner närmast en utklassningsseger och är hela 20 sekunder före Niki Lauda i mål. Trea blir den andra Ferraribilen med Clay Regazzoni. Jody Scheckter (som blir 4:a i sin Tyrrell) presterar det snabbaste varvet med 1.00.0 och loppet ser följande förare i ledarposition: Lauda 1-16; Ronnie 17-80.
Än en gång bet Ronnie huvudet av skam och visade att han kunde köra även underlägsna bilar till seger. Colin Chapman - som fordrade segrar - talade något diffust om att han höll på att konstruera en ny vinnarbil...
Med segern tar Ronnie klivet upp till femteplatsen i den totala sammanställningen i årets GP-serie.
Stämningen i Lotusstallet var inte den bästa. Chapman ville vinna. Ronnie ville vinna och säkert också Ickx som haft en bedrövlig säsong. Bilarna höll inte måttet. Konkurrentstallen lade ut krokarna för att få Ronnie att nappa, mannen som bevisligen var den klart snabbaste i F1-gänget - men som saknade riktigt vinnarmaterial!
- Jag har just skrivit på ett mycket bra kontrakt som sträcker sig fram till sista december 1976, förkunnade Ronnie överraskande från hemmet i Maidenhead utanför London dagen efter vinsten i Frankrikes GP. Jag stannar alltså i Lotus ytterligare i två år. Anledningen till att jag så snabbt satte pennan till papperet är att det haglade anbud över mig och jag fick ingen lugn och ro att koncentrera mig på mitt tävlande. Därför slog jag till!
Summary in english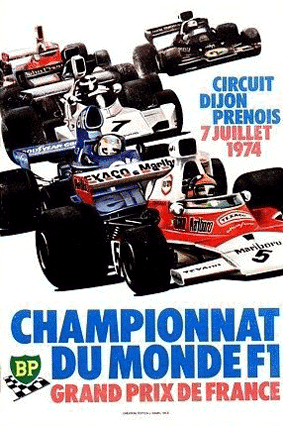 The French Grand Prix continued to be a race in search of a home and arrived in 1974 at Dijon-Prenois. It was the sixth different circuit in nine seasons. The 2.0-mile track was not really up to standard and with 30 entries the paddock was packed. There were several important changes. Carlos Pace had found a job with the Hexagon of Highgate Brabham team, alongside John Watson, while his place at Surtees had gone to Frenchman Jose Dolhem . The Iso Marlboro team rented out its second car to another Frenchman Jean-Pierre Jabouille, while the Finnish Colt Surtees reappeared in the hands of Leo Kinnunen and Gerard Larrousse was back in his Finotto Brabham. The organizers decided that only 22 cars should start and so eight failed to qualify. Attempts were made by FOCA to get the organizers to restrict the entry and these caused considerable discontent amongst the small teams.

Pole position went to World Championship challenger Niki Lauda (Ferrari) with Ronnie Peterson alongside him on the front row in his Lotus. Third on the grid was the very impressive Tom Pryce (Shadow) alongside the second Ferrari of Clay Regazzoni while World Championship leader Emerson Fittipaldi was fifth, just beating his McLaren team mate Mike Hailwood. The top 10 was completed by Jody Scheckter (Tyrrell), Carlos Reutemann (Brabham), Patrick Depailler (who had to race in an old Tyrrell after crashing his 007) and James Hunt (Hesketh).

At the start Pryce was worried about his car overheating and was watching his gauges when the flag was dropped. Reutemann made a good start and tried to pass the cars ahead of him and ran into Pryce, punting the Shadow into the path of Hunt. The two British drivers were both eliminated as they had been a fortnight earlier in Holland. Reutemann also retired at the end of the lap.

At the front Lauda was head of Peterson and Regazzoni with Hailwood and Scheckter giving chase. Further back Fittipaldi made rapid progress through the field and overtook Jacky Ickx (Lotus) for sixth place on the fifth lap. Next time around Scheckter overtook Hailwood for fourth. Hailwood then dropped behind Fittipaldi as well, the Brazilian then closing up on Scheckter. he overtook the South African on lap 15.

Two laps later Peterson was able to dive ahead of Lauda and take the lead. He quickly pulled away from Lauda, who was suffering from a vibration problem. Regazzoni was left alone in third place while fourth-placed Fittipaldi closed in on the Ferrari but then went out with engine failure on lap 28. This promoted Ickx to fifth and Denny Hulme (McLaren) to sixth. The order remained unchanged for the last 50 laps although Scheckter provided some excitement by closing right up to Regazzoni in the closing stages. The pair finished just two-tenths apart. Ickx and Hulme also crossed the line separated by tenths.

The result meant that Lauda took the lead in the World Championship with Regazzoni moving up to second place ahead of Fittipaldi.
Sammanställning

Grand Prix

Frankrike

Datum

7 Juli 1974

Bana

Säsong

1974

Deltävling

9

Längd (km)

3.289

Varv

80

Tid

1:21:55.020
| | | | | | |
| --- | --- | --- | --- | --- | --- |
| Placering | Nr | Förare | Team | Tid | Grid |
| 1 | 1 | | | 1:21:55.020 | 2 |
| 2 | 12 | | | 20.360 | 1 |
| 3 | 11 | | | 27.840 | 4 |
| 4 | 3 | | | 28.110 | 7 |
| 5 | 2 | | | 37.540 | 13 |
| 6 | 6 | | | 38.140 | 11 |
| 7 | 33 | | | +1 varv | 6 |
| 8 | 4 | | | +1 varv | 9 |
| 9 | 20 | | | +1 varv | 15 |
| 10 | 14 | | | +1 varv | 17 |
| 11 | 10 | | | +1 varv | 16 |
| 12 | 17 | | | +1 varv | 12 |
| 13 | 26 | | | +2 varv | 21 |
| 14 | 37 | | | +2 varv | 22 |
| 15 | 27 | | | +3 varv | 20 |
| 16 | 28 | | | +4 varv | 14 |
| r | 5 | | | +53 varv | 5 |
| r | 7 | | | +56 varv | 8 |
| r | 19 | | | +76 varv | 18 |
| r | 15 | | | +79 varv | 19 |
| r | 16 | | | +79 varv | 3 |
| r | 24 | | | +80 varv | 10 |
| nq | 22 | | | | |
| nq | 34 | | | | |
| nq | 21 | | | | |
| nq | 9 | | | | |
| nq | 18 | | | | |
| nq | 8 | | | | |
| nq | 23 | | | | |
| nq | 43 | | | | |
| | | |
| --- | --- | --- |
| NC=Not Classified | NT=No time set in qualifying | R=Retired |
| EX=Excluded from meeting | W=Withdrawn | DQ=Disqualified |
| NS=Did not start | NQ=Did not qualify | NPQ=Did not pre-qualify |

Aktuell ställning
| | | | |
| --- | --- | --- | --- |
| Position | Förare | Nation | Poäng |
| 1 | | | 36 |
| 2 | | | 32 |
| 3 | | | 31 |
| 4 | | | 26 |
| 5 | | | 19 |
| 6 | | | 12 |
| " | | | 12 |