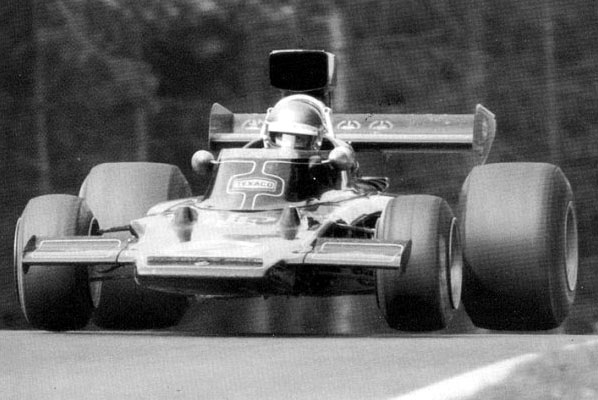 Grosser Preis von Deutschland 5 Augusti 1973, Nürburgring
Ronnie Peterson i sitt 43:e framträdande i Formel 1. Ronnie står i första startled efter att ha presterat den näst bästa tiden i kvalificeringen inför Tysklands GP. I "pole position" återfinns Jackie Stewart i en Tyrrell.
Tyvärr blir tävlingen inte lika upplyftande för Ronnie - han tvingas bryta redan på det första varvet efter problem med tändfördelaren. Stewart leder från start till mål och tar sin femte seger för säsongen. Tvåa blir stallkamraten François Cevert (också i en Tyrrell) före Jacky Ickx i en McLaren.
Snabbaste varv presterar fyran Carlos Pace 7.11,4.
Summary in english
There was only a week between the Dutch and German Grand Prix and when the F1 field gathered in Germany memories of the frightful accident which had claimed the life of Roger Williamson were still vivid. The March team did not appear and also missing were Ferrari, Ensign, Tecno and Hesketh. To boost the field, however, McLaren, Brabham and Surtees were all running three cars. Ferrari had released Jacky Ickx to drive for McLaren for the weekend, Brabham was running Rolf Stommelen in a third car (replacing Andrea de Adamich) while Surtees again ran Jochen Mass. Williams fielded Henri Pescarolo once again.

In qualifying Jackie Stewart took pole position for Tyrrell, just beating Ronnie Peterson's Lotus. Francois Cevert shared the second row with Ickx's McLaren while Niki Lauda (BRM) and Carlos Reutemann (Brabham were on the third row. The McLarens of Peter Revson and Denny Hulme shared the fourth row while BRM monopolized the fifth row with Jean-Pierre Beltoise just ahead of Clay Regazzoni.

Emerson Fittipaldi was still not fully fit with painful ankles which resulted from his practice crash in Holland and he was down in 14th on the grid. Of the rest Howden Ganley had a big crash in his Williams when the brakes failed and the car was seriously damaged and could not be repaired in time for the race.

As usual there was a huge crowd at the Nürburgring and the weather was fine when the race started with Stewart and Cevert going into the lead ahead of Peterson. The Lotus driver's race was soon over, however, as he suffered an engine failure in the course of the first lap, which left Ickx in third place with Lauda, Reutemann, Revson, Carlos Pace (Surtees) and Hulme battling for fourth. This fight quickly broke up as Revson glanced a barrier and dropped to the tail of the field and Lauda crashed heavily at Kesselchen and broke his wrist.

This left Reutemann fourth. The Argentine lasted only until the eighth lap, however, when he went out with engine failure which left Pace to finish fourth ahead of the two Fittipaldis, Wilson for once beating Emerson.

The Tyrrell 1-2 (Stewart's 27th victory) moved Cevert to second place in the World Championship, ahead of Fittipaldi.
Sammanställning
Grand Prix
Tyskland
Datum
5 Augusti 1973
Bana
Nürburgring
Säsong
1973
Deltävling
11
Längd (km)
22.835
Varv
14
Tid
1:42:03.000
| | | | | | |
| --- | --- | --- | --- | --- | --- |
| Placering | Nr | Förare | Team | Tid | Grid |
| 1 | 5 | Jackie Stewart | Tyrrell | 1:42:03.000 | 1 |
| 2 | 6 | François Cevert | Tyrrell | 1.600 | 3 |
| 3 | 30 | Jacky Ickx | McLaren | 41.200 | 4 |
| 4 | 24 | Carlos Pace | Surtees | 53.800 | 11 |
| 5 | 11 | Wilson Fittipaldi | Brabham | 79.900 | 13 |
| 6 | 1 | Emerson Fittipaldi | Lotus | 84.300 | 14 |
| 7 | 31 | Jochen Mass | Surtees | 85.200 | 15 |
| 8 | 17 | Jackie Oliver | Shadow | 85.700 | 17 |
| 9 | 8 | Peter Revson | McLaren | 131.800 | 7 |
| 10 | 26 | Henri Pescarolo | Williams | 142.500 | 12 |
| 11 | 9 | Rolf Stommelen | Brabham | 207.300 | 16 |
| 12 | 7 | Denny Hulme | McLaren | 218.700 | 8 |
| 13 | 12 | Graham Hill | Shadow | 229.000 | 20 |
| 14 | 23 | Mike Hailwood | Surtees | +1 varv | 18 |
| 15 | 18 | David Purley | March | +1 varv | 22 |
| 16 | 15 | Mike Beuttler | March | +1 varv | 19 |
| r | 10 | Carlos Reutemann | Brabham | +7 varv | 6 |
| r | 19 | Clay Regazzoni | BRM | +7 varv | 10 |
| r | 16 | George Follmer | Shadow | +9 varv | 21 |
| r | 20 | Jean-Pierre Beltoise | BRM | +10 varv | 9 |
| r | 21 | Niki Lauda | BRM | +13 varv | 5 |
| r | 2 | Ronnie Peterson | Lotus | +14 varv | 2 |
| ns | 25 | Howden Ganley | Williams | | |
| | | |
| --- | --- | --- |
| NC=Not Classified | NT=No time set in qualifying | R=Retired |
| EX=Excluded from meeting | W=Withdrawn | DQ=Disqualified |
| NS=Did not start | NQ=Did not qualify | NPQ=Did not pre-qualify |

Aktuell ställning
| Position | Förare | Nat. | Poäng |
| --- | --- | --- | --- |
| 1 | Jackie Stewart | GBR | 60 |
| 2 | François Cevert | FRA | 45 |
| 3 | Emerson Fittipaldi | BRA | 42 |
| 4 | Ronnie Peterson | SWE | 25 |
| 5 | Peter Revson | USA | 23 |
| " | Denny Hulme | NZ | 23 |