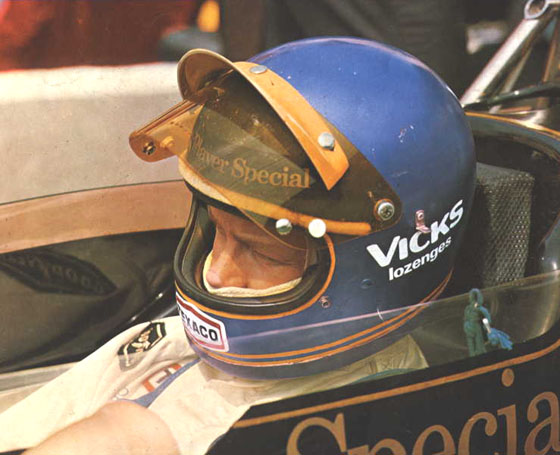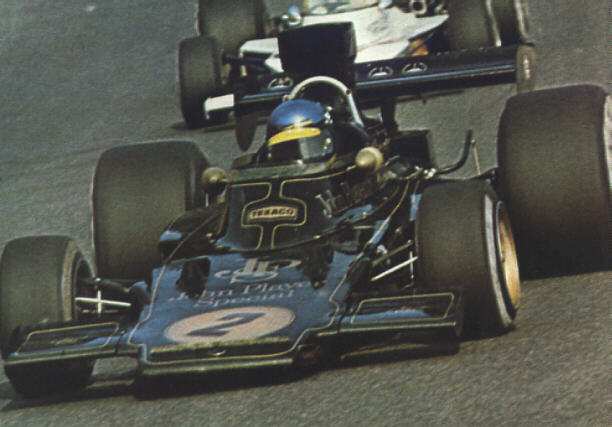 Grosser Preis von Österreich 19 Augusti 1973, Österreichring
Ronnie Petersons 44:e F1 start. De båda Lotusbilarna har gjort bra ifrån sig i tidskvalet och Ronnie står i första startled vid sidan av Emerson Fittipaldi som har "pole position".
Ronnie tar starten och håller ledningen de första 16 varven innan teamkompisen Fittipaldi "tillåts" spåra (om det nu inte är en stallorder som orsakar ordningen). Emerson måste dock bryta efter 48 varv p g a en felande bränsleledning. Ronnie kan därför ohotad ta sin andra seger för säsongen och i karriären och han går in i mål 9 sekunder före Jackie Stewart (Tyrrell) och Carlos Pace (med snabbaste varv på 1.37,29) i en Surtees som trea. Loppet har därmed haft följande förare i ledning: Ronnie 1-16, 49-54; Fittipaldi 17-48.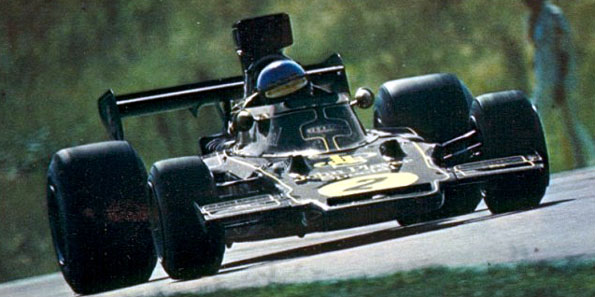 "Om jag haft turen med mig hela säsongen hade jag toppat VM-tabellen nu!" konstaterade Ronnie, sedan han tagit sin andra seger inför 150.000 åskådare på Österreichring i Österrikes GP. Men tre lopp återstår. "Vinner jag samtliga får tabellen ett annat och trevligare utseende än den har i dag. Jag har faktisk chans att bli tvåa igen - vice världsmästare!"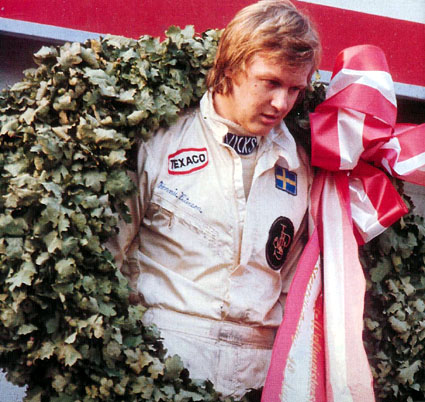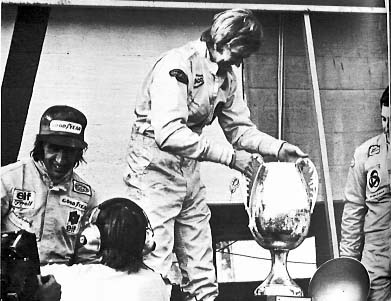 Ronnie på pallen igen!
Med den här triumfen blir Ronnie också historisk, den förste svensk som lyckats vinna två GP.
Summary in english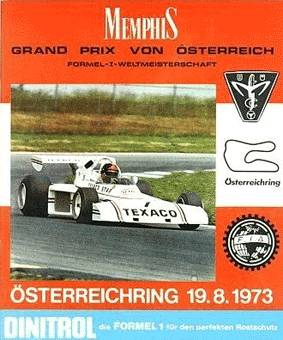 A fortnight after Jackie Stewart's victory at the Nürburgring, the F1 teams gathered again at the Osterreichring with Emerson Fittipaldi needing a good result to get back into contention in the World Championship having been pushed back to third by Francois Cevert's second place in Germany. Having missed the two previous races Ferrari was back in action with major revisions to the 312B/3 but a disillusioned Jacky Ickx was missing and so only one car was run for Arturo Merzario. There was bad news for the Austrian fans as Niki Lauda was out of action after breaking his wrist in Germany. BRM did not replace him for the event. Ensign was back in action, having made major modifications to the car and Tecno also had a new car (this one designed in Italy). It was a disaster. Harvey Postlethwaite had done some serious modification to the Hesketh March. The factory March team returned with Jean-Pierre Jarier driving but the team no longer carried any backing from STP.

In qualifying Fittipaldi took pole (having now recovered from his ankle injuries) and his Lotus team mate Ronnie Peterson was alongside him on the front row. The second row featured the two McLarens of Denny Hulme and Peter Revson while the third row featured Carlos Reutemann (Brabham) and Merzario. Stewart was seventh on the grid, alongside Carlos Pace's Surtees while James Hunt (Hesketh March) and Francois Cevert (Tyrrell) completed the top 10.

At the start Peterson went into the lead with Hulme grabbing second from Fittipaldi. Revson failed to get off the line and this caused some bumping in the midfield and oil being put down on the track by Mike Beuttler's damaged March. Merzario was fourth with Stewart, Reutemann and Pace following. On the fourth lap Stewart was able to pass the Ferrari. Cevert made up for the delays at the start and was soon challenging Merzario but on the sixth lap the two cars collided and Cevert was forced into retirement. Reutemann then challenged Merzario and managed to get up into fifth, although this soon became fourth place as Hulme dropped away, having to pit to have a plug lead reconnected. Fittipaldi was up to second and a few laps later he was waved into the lead by Peterson. There he stayed until lap 49 when the Lotus suffered a split in a fuel pipe and the Brazilian had to stop. That put Stewart into second place behind Peterson while Pace had moved ahead of Reutemann and was third. Stewart's six points left Fittipaldi with a deficit of 24 points with three races remaining. It was virtually an impossible task.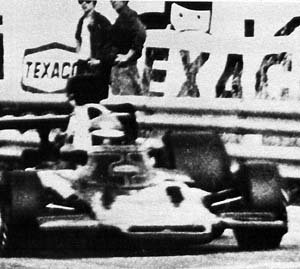 Målgång för Ronnie!
Sammanställning
Grand Prix
Österrike
Datum
19 Augusti 1973
Bana
Osterreichring
Säsong
1973
Deltävling
12
Längd (km)
5.911
Varv
54
Tid
1:28:48.780
| | | | | | |
| --- | --- | --- | --- | --- | --- |
| Placering | Nr | Förare | Team | Tid | Grid |
| 1 | 2 | Ronnie Peterson | Lotus | 1:28:48.780 | 2 |
| 2 | 5 | Jackie Stewart | Tyrrell | 9.010 | 7 |
| 3 | 24 | Carlos Pace | Surtees | 46.640 | 8 |
| 4 | 10 | Carlos Reutemann | Brabham | 47.910 | 5 |
| 5 | 20 | Jean-Pierre Beltoise | BRM | 81.600 | 13 |
| 6 | 19 | Clay Regazzoni | BRM | 98.400 | 14 |
| 7 | 4 | Arturo Merzario | Ferrari | +1 varv | 6 |
| 8 | 7 | Denny Hulme | McLaren | +1 varv | 3 |
| 9 | 26 | Gijs van Lennep | Williams | +2 varv | 23 |
| 10 | 23 | Mike Hailwood | Surtees | +5 varv | 15 |
| r | 1 | Emerson Fittipaldi | Lotus | +6 varv | 1 |
| nc | 25 | Howden Ganley | Williams | +10 varv | 21 |
| r | 18 | Jean-Pierre Jarier | March | +17 varv | 12 |
| r | 28 | Rikky von Opel | Ensign | +20 varv | 19 |
| r | 11 | Wilson Fittipaldi | Brabham | +23 varv | 16 |
| r | 12 | Graham Hill | Shadow | +26 varv | 22 |
| r | 16 | George Follmer | Shadow | +31 varv | 20 |
| r | 9 | Rolf Stommelen | Brabham | +33 varv | 17 |
| r | 17 | Jackie Oliver | Shadow | +45 varv | 18 |
| r | 6 | François Cevert | Tyrrell | +48 varv | 10 |
| r | 27 | James Hunt | March | +51 varv | 9 |
| r | 8 | Peter Revson | McLaren | +54 varv | 4 |
| r | 15 | Mike Beuttler | March | +54 varv | 11 |
| ns | 22 | Chris Amon | Tecno | | |
| ns | 21 | Niki Lauda | BRM | | |
| | | |
| --- | --- | --- |
| NC=Not Classified | NT=No time set in qualifying | R=Retired |
| EX=Excluded from meeting | W=Withdrawn | DQ=Disqualified |
| NS=Did not start | NQ=Did not qualify | NPQ=Did not pre-qualify |

Aktuell ställning
| Position | Förare | Nation | Poäng |
| --- | --- | --- | --- |
| 1 | Jackie Stewart | GBR | 66 |
| 2 | François Cevert | FRA | 45 |
| 3 | Emerson Fittipaldi | BRA | 42 |
| 4 | Ronnie Peterson | SWE | 34 |
| 5 | Denny Hulme | NZ | 23 |
| " | Peter Revson | USA | 23 |