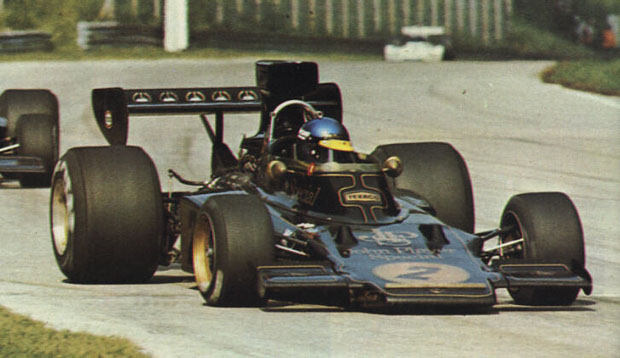 Gran Premio d`Italia 9 September 1973, Monza
Ronnie Peterson i sin 45:e F1 start. Återigen träningssnabbast, för sjunde gången på säsongen och i det främst startledet för tionde gången - det säger det mesta om hans formidabla snabbhet.
Ronnie således i "pole position", denna gång med Peter Revson strax bakom i första startled. Ronnie tar direkt täten och leder från start till mål. Teamkompisen Fittipaldi, som mycket väl skulle ha behövt alla upptänkliga poäng i jakten på VM-ledande Jackie Stewart, kommer tvåa - endast 0,8 sekunder efter Ronnie. Bevisligen existerar inga stallorders!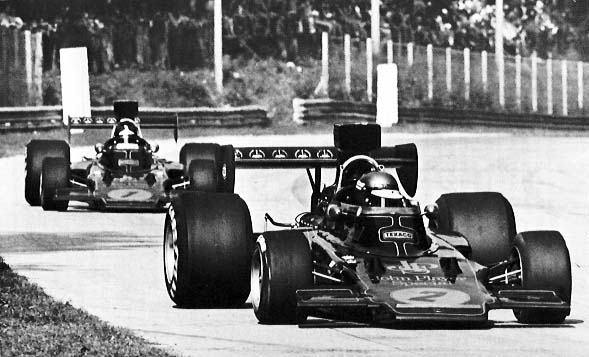 Stewart (Tyrrell) får snabbaste varvtid med 1.35,3 och kör in som fyra bakom Peter Revson i en McLaren. Med endast två tävlingar kvar på säsongen så innebär denna målgång att Stewart har ointagliga 69 poäng, 21 poäng upp på jagande Fittipaldi. Hade Emerson fått passera Ronnie skulle fortfarande VM-titeln vara möjlig att nå åtminstone i teorin (d v s ytterligare två vinster under det att Stewart kammar noll)...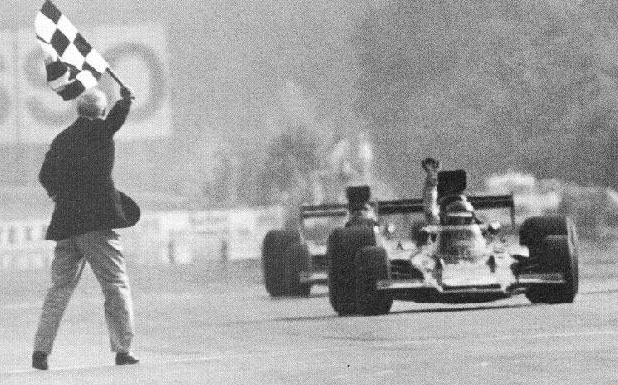 ...men det är alltså Ronnie Peterson som i sin Lotus tar sin tredje seger för säsongen och Lotus första dubbelseger på fem år. Det har lossnat nu!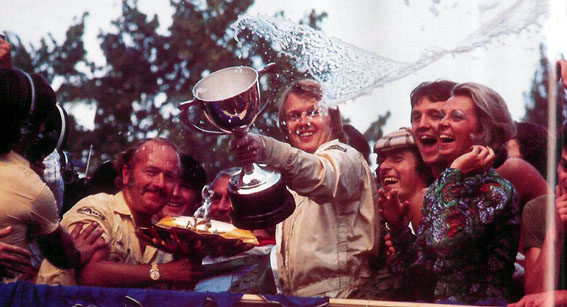 Emerson Fittipaldi var inte glad över att Ronnie ej släppt förbi honom. Han har i efterhand erkänt att det var denna händelse som fick honom att definitivt skriva kontrakt med ett annat stall inför kommande säsong.
Summary in english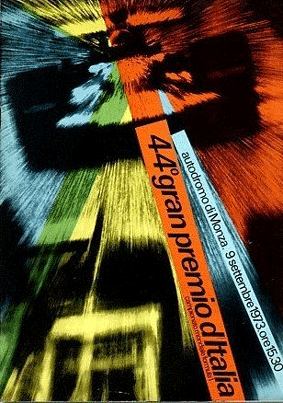 With three races to go in the World Championship Emerson Fittipaldi was faced with the almost impossible task of scoring 24 points in the final three races with Jackie Stewart scoring nothing. The Lotus was becoming the dominant car but it remained fragile, Fittipaldi having retired from the lead at the previous race in Austria with just a few laps to go.

The usual grid was bolstered by the return to full strength of Ferrari which had convinced Jacky Ickx to rejoin the team (on a temporary contract). Niki Lauda was back in action after breaking his wrist at the Nürburgring.

In qualifying the field was reduced by one when James Hunt crashed the Hesketh March heavily and neither Jean-Pierre Jarier's March nor Chris Amon's Tecno were very fast and so both were withdrawn. Up at the front Ronnie Peterson took pole for Lotus while Peter Revson qualified alongside him in his McLaren. The second row featured Denny Hulme in the second McLaren and Fittipaldi's Lotus. Carlos Pace (Surtees) and Stewart shared the third row with Merzario and Mike Hailwood (Surtees) behind them and the Brabhams of Rolf Stommelen and Carlos Reutemann on the fifth row. Francois Cevert was a disappointing 11th in his Tyrrell while Ickx was 14th.

At the start Peterson went into the lead with Fittipaldi chasing him while Hulme claimed third ahead of Stewart and Revson. Merzario disappeared on the second lap when he broke his suspension running over a curb. Both Hulme and Stewart disappeared to the pits, the Scotsman with a puncture and the New Zealander for a check after a wild ride over a curb. This left Revson third. The order at the front remained unchanged while Stewart charged back with a marvelous drive and at the end was up to fourth place. It was enough to make it impossible for Fittipaldi to win the World title and so Peterson was allowed to win. It was Lotus's first 1-2 result for five years.

Kepsen i luften!
Sammanställning
Grand Prix
Italien
Datum
9 September 1973
Bana
Monza
Säsong
1973
Deltävling
13
Längd (km)
5.775
Varv
55
Tid
1:29:17.000
| | | | | | |
| --- | --- | --- | --- | --- | --- |
| Placering | Nr | Förare | Team | Tid | Grid |
| 1 | 2 | Ronnie Peterson | Lotus | 1:29:17.000 | 1 |
| 2 | 1 | Emerson Fittipaldi | Lotus | 0.800 | 4 |
| 3 | 8 | Peter Revson | McLaren | 28.800 | 2 |
| 4 | 5 | Jackie Stewart | Tyrrell | 33.200 | 6 |
| 5 | 6 | François Cevert | Tyrrell | 46.200 | 11 |
| 6 | 10 | Carlos Reutemann | Brabham | 59.800 | 10 |
| 7 | 23 | Mike Hailwood | Surtees | 88.700 | 8 |
| 8 | 3 | Jacky Ickx | Ferrari | +1 varv | 14 |
| 9 | 29 | David Purley | March | +1 varv | 24 |
| 10 | 16 | George Follmer | Shadow | +1 varv | 21 |
| 11 | 17 | Jackie Oliver | Shadow | +1 varv | 19 |
| 12 | 9 | Rolf Stommelen | Brabham | +1 varv | 9 |
| 13 | 20 | Jean-Pierre Beltoise | BRM | +1 varv | 13 |
| 14 | 12 | Graham Hill | Shadow | +1 varv | 22 |
| 15 | 7 | Denny Hulme | McLaren | +2 varv | 3 |
| nc | 25 | Howden Ganley | Williams | +11 varv | 20 |
| r | 15 | Mike Beuttler | March | +21 varv | 12 |
| r | 21 | Niki Lauda | BRM | +22 varv | 15 |
| r | 19 | Clay Regazzoni | BRM | +24 varv | 18 |
| r | 24 | Carlos Pace | Surtees | +38 varv | 5 |
| r | 26 | Gijs van Lennep | Williams | +41 varv | 23 |
| r | 28 | Rikky von Opel | Ensign | +45 varv | 17 |
| r | 11 | Wilson Fittipaldi | Brabham | +49 varv | 16 |
| r | 4 | Arturo Merzario | Ferrari | +53 varv | 7 |
| ns | 27 | James Hunt | March | | |
| | | |
| --- | --- | --- |
| NC=Not Classified | NT=No time set in qualifying | R=Retired |
| EX=Excluded from meeting | W=Withdrawn | DQ=Disqualified |
| NS=Did not start | NQ=Did not qualify | NPQ=Did not pre-qualify |

Aktuell ställning
| Position | Förare | Nation | Poäng |
| --- | --- | --- | --- |
| 1 | Jackie Stewart | GBR | 69 |
| 2 | Emerson Fittipaldi | BRA | 48 |
| 3 | François Cevert | FRA | 47 |
| 4 | Ronnie Peterson | SWE | 43 |
| 5 | Peter Revson | USA | 27 |
| 6 | Denny Hulme | NZ | 23 |