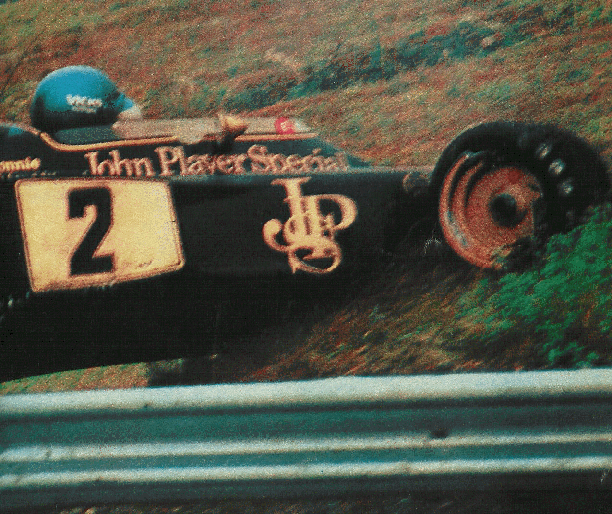 Canadian Grand Prix 23 September 1973, Mosport Park
Ronnie Peterson i sitt 46:e framträdande på GP scenen. Ronnie kraschar svårt under träning. Ronnie kan ändock slutföra ett övertygande tidskval och tar åter en "pole position". Peter Revson, Jody Scheckter och Carlos Reutemann de närmast följande.
Ronnie tar starten, men tvingas efter två varv i ledning lämna över till sin tidigare adept Niki Lauda i en BRM (som för övrigt gjort en fantastisk start från sin åttonde plats). På det 16 varvet gör Ronnie ett "misstag" och spinner av banan, men följden att han måste bryta loppet. Detta är dock följden av en felande fjädring...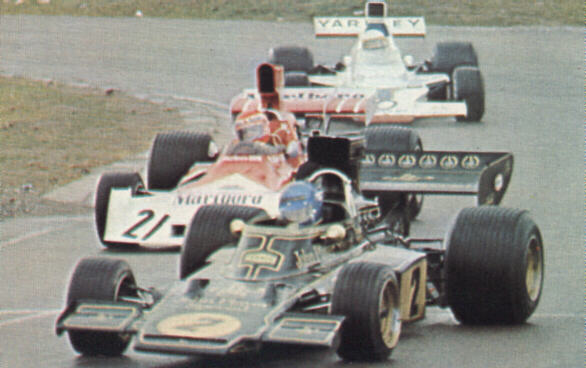 Tätpositionen växlar ett flertal gånger, men det blir till slut Peter Revson i en McLaren som tar segern före Emerson Fittipaldi (Lotus) och Jackie Oliver (Shadow) på en tredjeplats.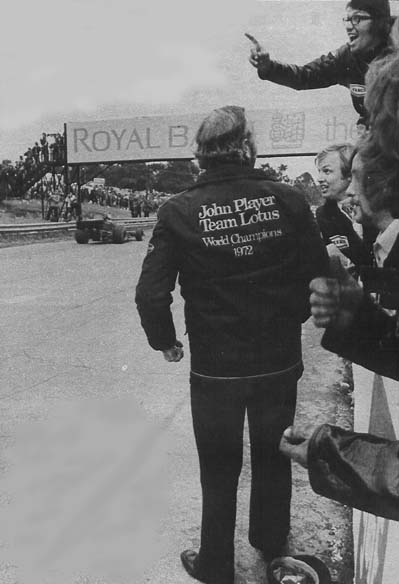 Ronnie väntar på Emerson...
Snabbaste varv har Fittipaldi med 1.15,496 och loppet ser följande förare i ledning: Ronnie 1-2; Lauda 3-19; Fittipaldi 20-32; Stewart 33; Beltoise 34-39; Oliver 40-46; Revson 47-80.
Summary in english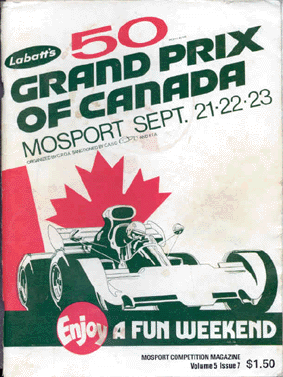 With Jackie Stewart having won the Drivers' World Championship in Italy two weeks earlier, the major interest was over the Constructors' title which was finely balanced between Tyrrell and Lotus. Tyrrell decided to enter three cars for the Canadian race and as Patrick Depailler was out of action after a motorcycle accident Tyrrell decided to run Chris Amon, who had fallen out with Tecno. BRM had hired Peter Gethin to replace Clay Regazzoni, while Ferrari had only one car again as Jacky Ickx had left the team. Tim Schenken made his comeback as Howden Ganley's partner at Williams and Jody Scheckter reappeared in a third McLaren for the first time since he had triggered the big accident at Silverstone.

Qualifying resulted in pole position going to Ronnie Peterson (Lotus) with Peter Revson alongside him on the front row of the grid. Scheckter shared the second row with Carlos Reutemann (Brabham) while Emerson Fittipaldi (Lotus) and Francois Cevert - the pair still fighting over second place in the title - were on the third row. The top 10 was completed by Denny Hulme (McLaren), Niki Lauda (BRM), Stewart and Wilson Fittipaldi (Brabham).

It was raining on race day and at the start Peterson took the lead with Scheckter chasing and then a fast-startring Lauda. Emerson Fittipaldi was fourth ahead of Stewart, Reutemann, Revson and the rest. In the early laps Lauda was the man on the move and he moved into the lead on lap three, leaving Peterson and Scheckter to fight over second, which they did until Peterson crashed on lap 17. By then Scheckter had dropped back behind Fittipaldi and Carlos Pace (Surtees). On lap 20 Lauda pitted for a change of tires and that left Fittipaldi in the lead with Jack Oliver (Shadow) second and Cevert third. There was considerable confusion after Cevert and Scheckter collided on lap 33 after which there was bungled pace car interlude after which things became very confused as this failed to pick up the leader and allowed those ahead to gain almost a lap. All this meant that Oliver ended up in the lead with Revson second and Beltoise third. Of these three Revson had the most competitive car and so eventually moved into the lead and led all the way to the flag while Fittipaldi charged to try to make up for lost ground and overtook Oliver and Beltoise in the closing laps to grab second. For hours after the race confusion reigned but eventually it was confirmed that Revson was the winner - thanks to a lucky break when the pace car came out.
Sammanställning
Grand Prix
Kanada
Datum
23 September 1973
Bana
Mosport Park
Säsong
1973
Deltävling
14
Längd (km)
3.957
Varv
80
Tid
1:59:04.083
| | | | | | |
| --- | --- | --- | --- | --- | --- |
| Placering | Nr | Förare | Team | Tid | Grid |
| 1 | 8 | Peter Revson | McLaren | 1:59:04.083 | 2 |
| 2 | 1 | Emerson Fittipaldi | Lotus | 32.734 | 5 |
| 3 | 17 | Jackie Oliver | Shadow | 34.505 | 14 |
| 4 | 20 | Jean-Pierre Beltoise | BRM | 36.514 | 16 |
| 5 | 5 | Jackie Stewart | Tyrrell | +1 varv | 9 |
| 6 | 25 | Howden Ganley | Williams | +1 varv | 22 |
| 7 | 27 | James Hunt | March | +2 varv | 15 |
| 8 | 10 | Carlos Reutemann | Brabham | +2 varv | 4 |
| 9 | 23 | Mike Hailwood | Surtees | +2 varv | 12 |
| 10 | 29 | Chris Amon | Tyrrell | +3 varv | 11 |
| 11 | 11 | Wilson Fittipaldi | Brabham | +3 varv | 10 |
| 12 | 9 | Rolf Stommelen | Brabham | +4 varv | 18 |
| 13 | 7 | Denny Hulme | McLaren | +5 varv | 7 |
| 14 | 26 | Tim Schenken | Williams | +5 varv | 24 |
| 15 | 4 | Arturo Merzario | Ferrari | +5 varv | 20 |
| 16 | 12 | Graham Hill | Shadow | +7 varv | 17 |
| 17 | 16 | George Follmer | Shadow | +7 varv | 13 |
| r | 24 | Carlos Pace | Surtees | +8 varv | 19 |
| nc | 18 | Jean-Pierre Jarier | March | +9 varv | 23 |
| nc | 28 | Rikky von Opel | Ensign | +12 varv | 26 |
| r | 21 | Niki Lauda | BRM | +18 varv | 8 |
| r | 0 | Jody Scheckter | McLaren | +48 varv | 3 |
| r | 6 | François Cevert | Tyrrell | +48 varv | 6 |
| r | 15 | Mike Beuttler | March | +60 varv | 21 |
| r | 2 | Ronnie Peterson | Lotus | +64 varv | 1 |
| r | 19 | Peter Gethin | BRM | +75 varv | 25 |
| | | |
| --- | --- | --- |
| NC=Not Classified | NT=No time set in qualifying | R=Retired |
| EX=Excluded from meeting | W=Withdrawn | DQ=Disqualified |
| NS=Did not start | NQ=Did not qualify | NPQ=Did not pre-qualify |

Aktuell ställning
| Position | Förare | Nation | Poäng |
| --- | --- | --- | --- |
| 1 | Jackie Stewart | GBR | 71 |
| 2 | Emerson Fittipaldi | BRA | 54 |
| 3 | François Cevert | FRA | 47 |
| 4 | Ronnie Peterson | SWE | 43 |
| 5 | Peter Revson | USA | 36 |
| 6 | Denny Hulme | NZ | 23 |