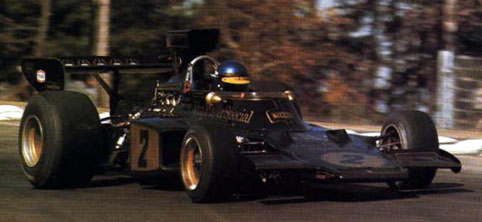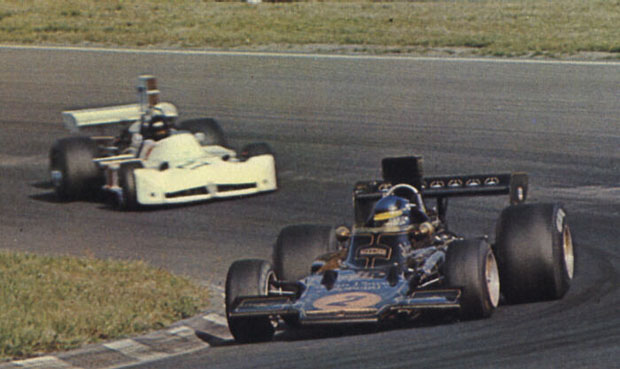 United States Grand Prix 7 Oktober 1972, Watkins Glen
Ronnie Peterson gör sin 47:e F1 start i säsongens sista GP. Ronnie har fortfarande chansen att nå tredjeplatsen i årets VM, men behöver då ta minst fyra poäng mer än François Cevert. Cevert har dessutom möjligheten att nå andraplatsen om inte Fittipaldi gör alltför bra resultat. Det är minst sagt upplagt för en spännande avslutning på årets Formel 1 mästerskap.
Utifrån denna synvinkel blir träningen inför USA:s GP ofattbart tragisk. Efter att ha presterat fjärde bästa kvalificeringstid, omedelbart bakom Fittipaldi, kraschar François Cevert så illa att hans liv inte står att rädda, detta samtidigt som Ronnie skaffar sig den bästa kvaltiden.
De båda övriga förarna i Tyrrell teamet, Jackie Stewart och Chris Amon, väljer att avstå från start i årets sista tävling. För Stewart är årets titel redan i hamn varför den avslutande tävlingen är utan betydelse, men Stewart väljer också att helt avsluta sin racing karriär vilket således sker under tragiska omständigheter. I vilket fall tar Stewart sin tredje VM titel och kan summera sina år i Formel 1 med fantastiska 27 segrar på 99 starter. Han hade redan tidigare förkunnat:
- Nu slutar jag. Det finns inget ärorikt i att dö på en racerbana...
I själva tävlingen står Ronnie i första startledet tillsammans med Carlos Reutemann. Ronnie tar starten och leder loppet från start till mål. Dock efter en makalöst spännande kamp med den nya stjärnan, engelsmannen James Hunt - Ronnie vinner med endast 2/3 sekund till godo. Hunt blir två i en March (sätter snabbaste varvtid med 1.41,652) före Reutemann (Brabham).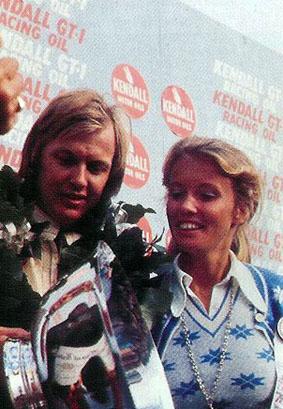 Ronnie på pallen - Barbro hänger på...
Prischecken löd på 200.000 kronor och "pole position" gav ytterligare 30.000!
Ronnie tog dock dödsbudet på François Cevert mycket hårt; fransmannen var en av hans bästa vänner sedan F3-tiden. Efteråt förklarade Ronnie att han knappt själv förstod hur han kunde genomföra loppet.
Detta innebär att Ronnie i den slutliga sammanställningen tar sig upp på en tredjeplats i årets förar-VM endast 3 poäng efter teamkompisen Emerson Fittipaldi. Tillsammans tar de hem konstruktörs-VM åt Lotus.
Ronnie kunde konstatera, efter en titt i sin statistikbok, att han stått i främsta startledet 12 gånger på 15 tävlingar, lett vid något tillfälle i 11 lopp och borrat i ledningen 393 GP-varv. Detta efter att ha varit kvalsnabbast vid 9 tillfällen.
Konstruktörs-VM 1973:
Lotus-Ford 92
Tyrrell-Ford 82
McLaren-Ford 58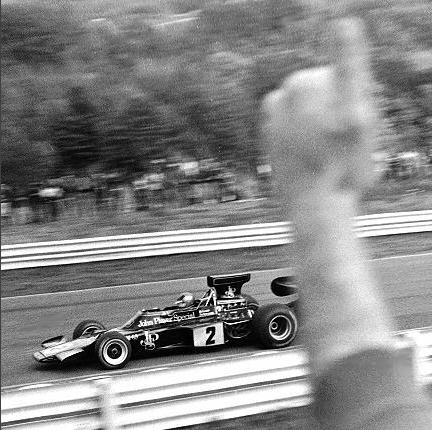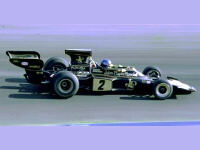 Summary in english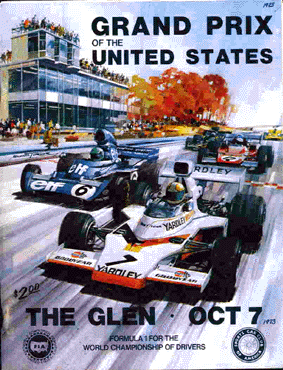 There was much speculation as the F1 circus gathered in upstate New York that the event would be World Champion Jackie Stewart's 100th and last Grand Prix. The only other interest was focussed on the battle for second place in the title race between Stewart's Tyrrell team mate Francois Cevert and Team Lotus's Emerson Fittipaldi. Several teams were running third cars with McLaren's Jody Scheckter being joined by a third Tyrrell run for Chris Amon; a third Shadow (Brian Redman) and a third Surtees (Jochen Mass). John Watson appeared in place of Rolf Stommelen in the third Brabham while Clay Regazzoni was back in action for BRM having not been entered in Canada and Jacky Ickx joined the Iso-Marlboro team. Ronnie Peterson's weekend began with an accident in his Lotus on Friday morning but he was still fastest on the first day. On Saturday Cevert crashed in the final minutes of the morning session, going into the barriers in The Esses at high speed. He was killed instantly. Tyrrell immediately withdrew his two other cars - although this meant that he gave up the chance of winning the Constructors' title - and there was little enthusiasm from the rest of the field for further qualifying. Peterson was therefore on pole position from Carlos Reutemann's Brabham, Fittipaldi's Lotus and James Hunt's Hesketh March. In the race Peterson took the lead at the start and after four laps Hunt passed Reutemann to take second place. Denny Hulme made quick progress to pass Mike Hailwood and Emerson Fittipaldi to run in fourth place.
Peterson and Hunt ran nose-to-tail at the front with Reutemann remaining a constant threat but Emerson Fittipaldi had to pit when he flat-spotted his tires avoiding a spinning Scheckter and he had to pit. In the closing laps Hunt challenged for victory but Peterson held him off and they crossed the line separated by only six-tenths of a second. Reutemann was third with Hulme and Revson fourth and fifth in their McLarens and Fittipaldi sixth.
Sammanställning
Grand Prix
USA
Datum
7 Oktober 1973
Bana
Watkins Glen
Säsong
1973
Deltävling
15
Längd (km)
5.435
Varv
59
Tid
1:41:15.799
| | | | | | |
| --- | --- | --- | --- | --- | --- |
| Placering | Nr | Förare | Team | Tid | Grid |
| 1 | 2 | Ronnie Peterson | Lotus | 1:41:15.799 | 1 |
| 2 | 27 | James Hunt | March | 0.667 | 4 |
| 3 | 10 | Carlos Reutemann | Brabham | 22.930 | 2 |
| 4 | 7 | Denny Hulme | McLaren | 50.226 | 8 |
| 5 | 8 | Peter Revson | McLaren | 80.367 | 7 |
| 6 | 1 | Emerson Fittipaldi | Lotus | 107.945 | 3 |
| 7 | 26 | Jacky Ickx | Williams | +1 varv | 23 |
| 8 | 19 | Clay Regazzoni | BRM | +1 varv | 15 |
| 9 | 20 | Jean-Pierre Beltoise | BRM | +1 varv | 14 |
| 10 | 15 | Mike Beuttler | March | +1 varv | 26 |
| r | 18 | Jean-Pierre Jarier | March | +2 varv | 17 |
| 12 | 25 | Howden Ganley | Williams | +2 varv | 19 |
| 13 | 12 | Graham Hill | Shadow | +2 varv | 18 |
| 14 | 16 | George Follmer | Shadow | +2 varv | 20 |
| 15 | 17 | Jackie Oliver | Shadow | +4 varv | 22 |
| 16 | 4 | Arturo Merzario | Ferrari | +4 varv | 11 |
| nc | 11 | Wilson Fittipaldi | Brabham | +7 varv | 25 |
| r | 0 | Jody Scheckter | McLaren | +20 varv | 10 |
| r | 30 | Jochen Mass | Surtees | +24 varv | 16 |
| r | 21 | Niki Lauda | BRM | +24 varv | 21 |
| r | 23 | Mike Hailwood | Surtees | +25 varv | 6 |
| r | 24 | Carlos Pace | Surtees | +27 varv | 9 |
| r | 9 | John Watson | Brabham | +52 varv | 24 |
| dq | 31 | Brian Redman | Shadow | | 13 |
| r | 28 | Rikky von Opel | Ensign | +59 varv | 27 |
| ns | 6 | François Cevert | Tyrrell | | |
| ns | 5 | Jackie Stewart | Tyrrell | | 5 |
| ns | 29 | Chris Amon | Tyrrell | | 12 |
| | | |
| --- | --- | --- |
| NC=Not Classified | NT=No time set in qualifying | R=Retired |
| EX=Excluded from meeting | W=Withdrawn | DQ=Disqualified |
| NS=Did not start | NQ=Did not qualify | NPQ=Did not pre-qualify |

Total sammanställning i 1973 års förar-VM i Formel 1
| Position | Förare | Nation | Poäng |
| --- | --- | --- | --- |
| 1 | Jackie Stewart | GBR | 71 |
| 2 | Emerson Fittipaldi | BRA | 55 |
| 3 | Ronnie Peterson | SWE | 52 |
| 4 | François Cevert | FRA | 47 |
| 5 | Peter Revson | USA | 38 |
| 6 | Denny Hulme | NZ | 26 |