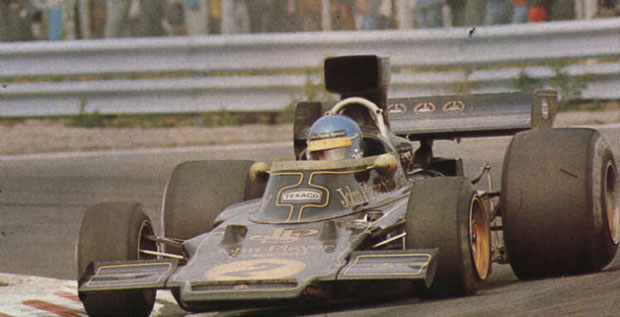 Grote Prijs van Nederland 29 Juli 1973, Zandvoort
Ronnie Peterson visar återigen vem som är den snabbaste föraren i Formel 1 cirkusen och står inför sitt 42:a GP lopp i "pole position" - denna gång före de båda Tyrrellbilarna med Jackie Stewart och François Cevert.
Ronnie tar starten och leder loppet i 63 varv innan han tvingas bryta på grund av att växellådan säckat ihop. Innan denna sorti presterar dock Ronnie loppets snabbaste varvtid med 1.20,31 och det är första gången som Ronnie kan krönas med denna titel.
Stewart vinner före Cevert (båda i Tyrrell) och James Hunt i en March tar tredjeplatsen (Ronnie i Lotus blir i sammandraget 11:a). Loppet ser följande förare i ledning: Ronnie 1-63; Stewart 64-72.
Summary in english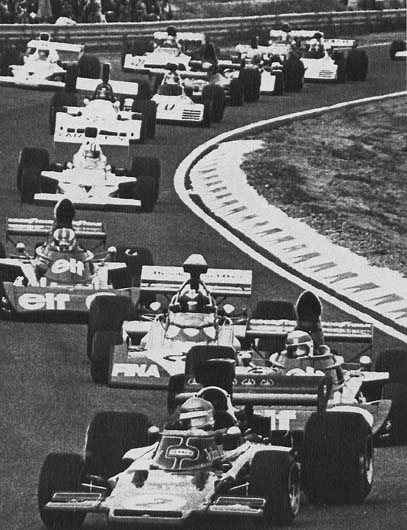 After missing out on a race in 1972 because of safety problems, Zandvoort was back in the World Championship for 1973, the organizers having spent a considerable amount of money to resurface the track and provide run-off areas and crash barriers. A new chicane had been built at the back of the track to slow the cars.

After the huge crash at Silverstone most of the teams were busy repairing their cars, notably Surtees which had had all three cars damaged. Ferrari did not appear because of the poor performance of the 312B/3 and Team MRD also failed to appear, de Adamich being out of action. Williams had a new pay-driver in the second car with local Gijs Van Lennep partnering Howden Ganley.

Qualifying resulted in a blow to Emerson Fittipaldi's World Championship hopes as the Lotus driver crashed heavily on Saturday and suffered serious bruises to his ankles. Ronnie Peterson gave Lotus some consolation with his sixth pole position in nine races but he had the two Tyrrells of Jackie Stewart (Fittipaldi's title rival) and Francois Cevert alongside him on the front row. The second row was shared by Denny Hulme's McLaren and Carlos Reutemann's Brabham while Peter Revson (McLaren), James Hunt (Hesketh March) and Carlos Pace (Surtees) were on the third row. The top 10 was completed by Jean-Pierre Beltoise (BRM) and Jack Oliver (Shadow) while Fittipaldi was a depressed 16th.

At the start of the race Peterson took off into lead with Stewart being chased by a fast-starting Pace and Cevert. On the second lap Fittipaldi retired, unable to continue. On the sixth lap Pace was overtaken by Cevert while Hunt, Hulme, Reutemann and Revson followed.

On lap 8 Williamson's March - which was running 13th - crashed heavily and was flipped and came to rest beside the track and caught fire. David Purley stopped immediately and tried to rescue Williamson but with no help from the ill-equipped marshals. The race was not stopped and no fire vehicles were sent to the scene. Despite Purley's efforts (for which he was later awarded a George Medal) Williamson died in the flames.

Peterson continued to lead until the 63rd lap when gearbox trouble dropped him behind Stewart and Cevert. The Lotus soon retired and so Hunt came through to finish third behind the two Tyrrells. Revson was fourth with Beltoise fifth and Van Lennep sixth.
Sammanställning
Grand Prix
Nederländerna
Datum
29 Juli 1973
Bana
Zandvoort
Säsong
1973
Deltävling
10
Längd (km)
4.226
Varv
72
Tid
1:39:12.450
| | | | | | |
| --- | --- | --- | --- | --- | --- |
| Placering | Nr | Förare | Team | Tid | Grid |
| 1 | 5 | Jackie Stewart | Tyrrell | 1:39:12.450 | 2 |
| 2 | 6 | François Cevert | Tyrrell | 15.830 | 3 |
| 3 | 27 | James Hunt | March | 63.010 | 7 |
| 4 | 8 | Peter Revson | McLaren | 69.130 | 6 |
| 5 | 20 | Jean-Pierre Beltoise | BRM | 73.370 | 9 |
| 6 | 26 | Gijs van Lennep | Williams | +2 varv | 20 |
| 7 | 24 | Carlos Pace | Surtees | +3 varv | 8 |
| 8 | 19 | Clay Regazzoni | BRM | +4 varv | 12 |
| 9 | 25 | Howden Ganley | Williams | +4 varv | 15 |
| 10 | 16 | George Follmer | Shadow | +5 varv | 22 |
| r | 2 | Ronnie Peterson | Lotus | +6 varv | 1 |
| nc | 12 | Graham Hill | Shadow | +16 varv | 17 |
| r | 23 | Mike Hailwood | Surtees | +20 varv | 24 |
| r | 21 | Niki Lauda | BRM | +21 varv | 11 |
| r | 7 | Denny Hulme | McLaren | +41 varv | 4 |
| r | 11 | Wilson Fittipaldi | Brabham | +45 varv | 13 |
| r | 22 | Chris Amon | Tecno | +50 varv | 19 |
| r | 10 | Carlos Reutemann | Brabham | +63 varv | 5 |
| r | 18 | David Purley | March | +64 varv | 21 |
| r | 14 | Roger Williamson | March | +65 varv | 18 |
| r | 15 | Mike Beuttler | March | +70 varv | 23 |
| r | 1 | Emerson Fittipaldi | Lotus | +70 varv | 16 |
| r | 17 | Jackie Oliver | Shadow | +71 varv | 14 |
| ns | 28 | Rikky von Opel | Ensign | | |
| | | |
| --- | --- | --- |
| NC=Not Classified | NT=No time set in qualifying | R=Retired |
| EX=Excluded from meeting | W=Withdrawn | DQ=Disqualified |
| NS=Did not start | NQ=Did not qualify | NPQ=Did not pre-qualify |

Aktuell ställning
| Position | Förare | Nation | Poäng |
| --- | --- | --- | --- |
| 1 | Jackie Stewart | GBR | 51 |
| 2 | Emerson Fittipaldi | BRA | 41 |
| 3 | François Cevert | FRA | 39 |
| 4 | Ronnie Peterson | SWE | 25 |
| 5 | Peter Revson | USA | 23 |
| " | Denny Hulme | NZ | 23 |