John Player British Grand Prix 14 Juli 1973, Silverstone
Ronnie Peterson har inför sin 41:a start i Formel 1 åter lyckats prestera den bästa träningstiden och står i "pole" före Hulme och Revson.
Ronnie tar starten och leder drygt halva loppet innan han tvingas släppa tätpositionen till Peter Revson. Loppet är dock oerhört jämnt och tättrion håller sina positioner in i mål. Revson i en McLaren vinner således före Ronnie och Hulme (McLaren). Som fyra och endast drygt tre sekunder efter segraren låter ett nytt intressant namn för första gången höra tala om sig - James Hunt, som också presterar den snabbaste varvtiden med 1.18,6. Loppet summeras i följande två ledare: Ronnie 1-38; Revson 39-67.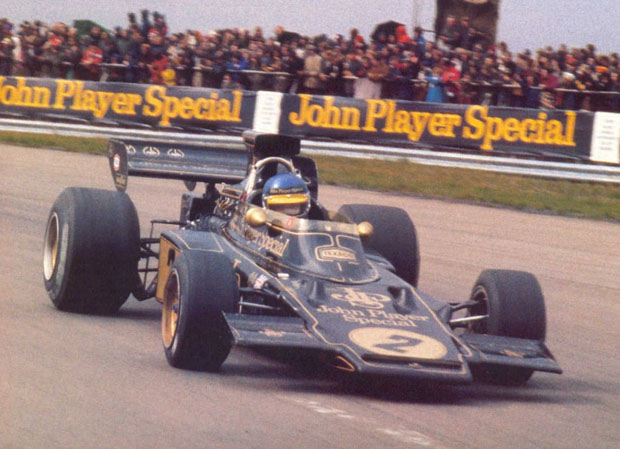 Summary in english
The British Grand Prix marked the midway point in the World Championship and thanks to his three points scored in France Jackie Stewart was leading the title race by a single point from Emerson Fittipaldi. The pair were 10 points clear of third-placed Francois Cevert. As usual there were additional entries for the British GP with four drivers making their Grand Prix debuts. McLaren entered a third car for Jody Scheckter while Jean-Pierre Jarier had concluded that he was wasting his time in F1 and stood down from the March team and in his place the team chose rising British star Roger Williamson. Team Surtees decided to run a third car for Jochen Mass, while John Watson made his first appearance in a Team MRD Brabham BT37, supported by BMW dealer Hexagon of Highgate. Andrea de Adamich was given one of the newer Brabham BT 42s. Williams rented out his second car to New Zealander Graham McRae. Mike Beuttler, David Purley and James Hunt were all in action in their private Marches while Chris Amon reappeared in the Tecno.

Qualifying resulted in French GP winner Ronnie Peterson taking pole position in his Lotus with the McLarens of Denny Hulme and Peter Revson alongside on the front row. Stewart was on the second row with Fittipaldi while Scheckter lined up alongside Francois Cevert (Tyrrell) and Carlos Reutemann (Brabham) on the third row. Then came the BRMs of Niki Lauda and Clay Regazzoni, followed by Hunt, Mike Hailwood (Surtees) and Wilson Fittipaldi (Brabham). Mass was the best of the new boys in 12th place on the grid.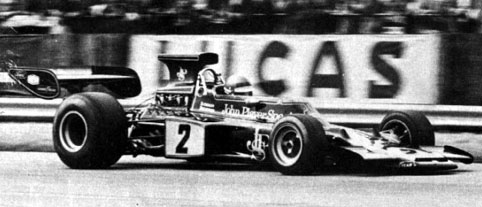 At the start Lauda suffered a driveshaft failure and was hit from behind by Jack Oliver's Shadow. Both cars were out. At the front Peterson had taken the lead but had lost it in the course of the first lap to Stewart while Reutemann had made a remarkable start to run third ahead of Scheckter and Hulme. As they arrived at Woodcote Corner at the end of the first lap Scheckter lost control and spun across the track into the pitwall. The car bounced back into the middle of the road as the main pack arrived. Eight other cars were involved in the shunt. The race was stopped. De Adamich had broken his ankle but Jean-Pierre Beltoise (BRM), George Follmer (Shadow), Mike Hailwood, Carlos Pace and Mass (all three Surtees entries), Graham Hill and Williamson were all involved. Hill was the only one able to drive away from the scene.

It took half an hour to extract de Adamich from his car and then another hour before the race could be restarted with 19 cars. Lauda's BRM had been repaired and he made a great start (thanks to having a vacant space in front of him) and jumped through into second place behind Peterson ahead of Stewart, Fittipaldi, Hulme, Revson and Cevert. Lauda's second place lasted until the second lap when Stewart overtook him but the Austrian held on to third until Fittipaldi passed him on the seventh lap. At the same time Stewart spun because of a gearbox problem. In the laps that followed Lauda drifted back down the field, being passed by Revson, Hulme, a charging Hunt, Cevert and Reutemann. The order remained unchanged until lap 37 when Fittipaldi retired with a driveshaft failure. His retirement cleared the way for Revson to challenge Peterson for the lead and on lap 39 the American went ahead. Behind them Hunt overtook Hulme and began to attack Peterson. The young Hesketh driver could not keep up his challenge, however, and as his tires faded he slipped back behind Hulme in the closing laps.

It was Revson's first Grand Prix victory and the second consecutive race with a new winner, Peterson having scored his first win in France.
Sammanställning
Grand Prix
Storbritannien
Datum
14 Juli 1973
Bana
Silverstone
Säsong
1973
Deltävling
9
Längd (km)
4.711
Varv
67
Tid
1:29:18.500
| | | | | | |
| --- | --- | --- | --- | --- | --- |
| Placering | Nr | Förare | Team | Tid | Grid |
| 1 | 8 | Peter Revson | McLaren | 1:29:18.500 | 3 |
| 2 | 2 | Ronnie Peterson | Lotus | 2.800 | 1 |
| 3 | 7 | Denny Hulme | McLaren | 3.000 | 2 |
| 4 | 27 | James Hunt | March | 3.400 | 11 |
| 5 | 6 | François Cevert | Tyrrell | 36.600 | 7 |
| 6 | 10 | Carlos Reutemann | Brabham | 44.700 | 8 |
| 7 | 19 | Clay Regazzoni | BRM | 71.700 | 10 |
| 8 | 3 | Jacky Ickx | Ferrari | 77.400 | 19 |
| 9 | 25 | Howden Ganley | Williams | +1 varv | 18 |
| 10 | 5 | Jackie Stewart | Tyrrell | +1 varv | 4 |
| 11 | 15 | Mike Beuttler | March | +2 varv | 24 |
| 12 | 21 | Niki Lauda | BRM | +4 varv | 9 |
| 13 | 28 | Rikky von Opel | Ensign | +6 varv | 21 |
| r | 11 | Wilson Fittipaldi | Brabham | +23 varv | 13 |
| r | 1 | Emerson Fittipaldi | Lotus | +31 varv | 5 |
| r | 29 | John Watson | Brabham | +31 varv | 23 |
| r | 12 | Graham Hill | Shadow | +43 varv | 27 |
| r | 22 | Chris Amon | Tecno | +61 varv | 29 |
| r | 26 | Graham McRae | Williams | +67 varv | 28 |
| r | 20 | Jean-Pierre Beltoise | BRM | +67 varv | 17 |
| r | 9 | Andrea de Adamich | Brabham | +67 varv | 20 |
| r | 16 | George Follmer | Shadow | +67 varv | 25 |
| r | 23 | Mike Hailwood | Surtees | +67 varv | 12 |
| r | 31 | Jochen Mass | Surtees | +67 varv | 14 |
| r | 24 | Carlos Pace | Surtees | +67 varv | 15 |
| r | 30 | Jody Scheckter | McLaren | +67 varv | 6 |
| r | 14 | Roger Williamson | March | +67 varv | 22 |
| r | 17 | Jackie Oliver | Shadow | +67 varv | 26 |
| ns | 18 | David Purley | March | | 16 |
| | | |
| --- | --- | --- |
| NC=Not Classified | NT=No time set in qualifying | R=Retired |
| EX=Excluded from meeting | W=Withdrawn | DQ=Disqualified |
| NS=Did not start | NQ=Did not qualify | NPQ=Did not pre-qualify |

Aktuell ställning
| Position | Förare | Nation | Poäng |
| --- | --- | --- | --- |
| 1 | Jackie Stewart | GBR | 42 |
| 2 | Emerson Fittipaldi | BRA | 41 |
| 3 | François Cevert | FRA | 33 |
| 4 | Ronnie Peterson | SWE | 25 |
| 5 | Denny Hulme | NZ | 23 |
| 6 | Peter Revson | USA | 20 |