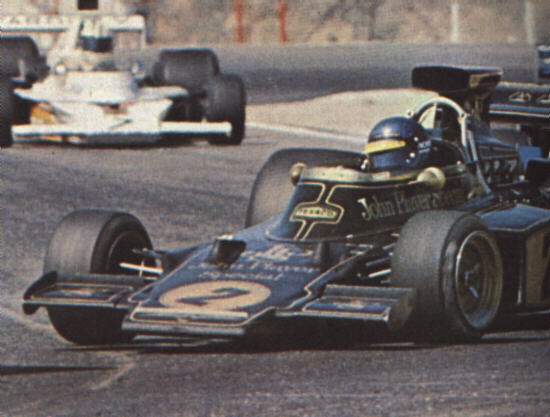 Grand Prix de France 1 Juli 1973, Paul Ricard
Ronnie Peterson gör sin 40:e start i Formel 1 och har i detta lilla "jubileum" en femte plats i startfältet. Stewart står i "pole" före Scheckter och Fittipaldi.
Det var stekhett i värmen under en ständigt brännande sol. Under träningen och kvalet krånglade Ronnies bil stup i ett. Det var det enda, än det andra felet. Bl a tenderade bensinen att koka i ledningarna och fick motorn att gå hackigt, utan rätta krutet.
Det blir Jody Scheckter som tar starten och han behåller denna ledning i 41 varv innan Ronnie, som gjort en kalasstart och direkt intagit andraplatsen, övertar tätpositionen då Scheckter tvingas bryta efter att denne lätt ha touchat Fittipaldis bil i en kurva. Ronnie är helt överlägsen denna dag och vinner sin första GP seger i karriären i ren utklassningsstil. Med drygt fyrtio sekunders marginal går Ronnie i mål som segrare i Frankrikes GP 1973.
- Gissa om jag var nervös att bilen inte skulle hålla över mållinjen, undslapp en lycklig hr Peterson bakom lagerkrans och med segerbucklan under armen efter prisceremonin i årets åttonde deltävling, där han minst av allt väntat sig att vinna sin livs första GP-seger.
Tvåa blir François Cevert i en Tyrrell och Carlos Reutemann i en Brabham blir trea. Denny Hulme i en McLaren presterar det snabbaste varvet med 1.50,99 och loppet ser följande förare i ledning: Scheckter 1-41; Ronnie 42-54.
Med segern avancerar Ronnie upp till en delad fjärdeplats i det totala sammandraget - med 19 poäng dock en bra bit bakom ledande Jackie Stewart på 42 poäng.
Trea i Monte Carlo, tvåa i Anderstorp, båda gångerna med smak på vinst, om inte bilen mankerat, och så det här. Ronnie sken i kapp med solen. Man kan förstå honom efter allt elände, efter tre års fruktlösa försök och så millimeternära han varit många gånger. Svängningarna sker hastigt i den här sporten...
Summary in english
After the Swedish GP the teams rushed south again - a trip of 1200 miles - in order to get to Paul Ricard (having done the trip in reverse before going from Monaco to Anderstorp). This meant that there was little time for any modifications. Ferrari was back up to two cars again (Arturo Merzario rejoining Jacky Ickx) while Andrea de Adamich also reappeared in his Ceramica Pagnossin Brabham. Reine Wisell was called in to replace Mike Beuttler who had suffered some minor injuries when his F2 March had gone under the barriers at Rouen the previous weekend. Peter Revson was away racing in the United States and so McLaren fielded Jody Scheckter once again. Hesketh was back in action with a March for James Hunt and the Ensign team made its first appearance with Rikki Von Opel. John Watson had been scheduled to make his F1 debut with a fourth Brabham (being run by Team MRD, which fielded De Adamich) but the Ulsterman was out of action with a broken leg. With Nanni Galli having retired from racing Williams took on its old hand Henri Pescarolo. Chris Amon was entered in the Tecno but the car failed to appear because of a dispute between the team and its sponsor Martini.

Qualifying resulted in pole position for Jackie Stewart (Tyrrell) with the impressive Scheckter and Emerson Fittipaldi (Lotus) alongside on the front row. The second row featured Francois Cevert in the second Tyrrell and Ronnie Peterson's Lotus, while Denny Hulme (McLaren), Jean-Pierre Jarier (March) and Carlos Reutemann (Brabham) made up row three. The top 10 was completed by Clay Regazzoni's BRM and Merzario's Ferrari.

Scheckter took the lead at the start with a fast-starting Peterson being chased by Stewart, Hulme and Fittipaldi. The five cars stayed together for the first 16 laps but then Hulme disappeared with a tire problem. Stewart stopped with a similar problem a few laps later. With Stewart seemingly out of the way, Peterson waved Fittipaldi through into second place to see if he could challenge Scheckter. On lap 42 Scheckter hesitated while lapping Beltoise and Fittipaldi saw a chance to get ahead. Scheckter refused to give way and the two cars collided. Both retired and so Peterson took the lead and went on to win his first Grand Prix victory.

Cevert finished second with Reutemann third and Stewart recovered to take fourth. Hunt again impressed and finished sixth.
Sammanställning
Grand Prix
Frankrike
Datum
1 Juli 1973
Bana
Paul Ricard
Säsong
1973
Deltävling
8
Längd (km)
5.810
Varv
54
Tid
1:41:36.520
| | | | | | |
| --- | --- | --- | --- | --- | --- |
| Placering | Nr | Förare | Team | Tid | Grid |
| 1 | 2 | Ronnie Peterson | Lotus | 1:41:36.520 | 5 |
| 2 | 6 | François Cevert | Tyrrell | 40.920 | 4 |
| 3 | 10 | Carlos Reutemann | Brabham | 46.480 | 8 |
| 4 | 5 | Jackie Stewart | Tyrrell | 46.930 | 1 |
| 5 | 3 | Jacky Ickx | Ferrari | 48.900 | 12 |
| 6 | 27 | James Hunt | March | 82.540 | 14 |
| 7 | 4 | Arturo Merzario | Ferrari | 89.190 | 10 |
| 8 | 7 | Denny Hulme | McLaren | 89.530 | 6 |
| 9 | 21 | Niki Lauda | BRM | 105.760 | 17 |
| 10 | 12 | Graham Hill | Shadow | +1 varv | 16 |
| 11 | 20 | Jean-Pierre Beltoise | BRM | +1 varv | 15 |
| 12 | 19 | Clay Regazzoni | BRM | +1 varv | 9 |
| 13 | 24 | Carlos Pace | Surtees | +3 varv | 18 |
| 14 | 25 | Howden Ganley | Williams | +3 varv | 24 |
| 15 | 29 | Rikky von Opel | Ensign | +3 varv | 25 |
| r | 11 | Wilson Fittipaldi | Brabham | +4 varv | 19 |
| r | 8 | Jody Scheckter | McLaren | +11 varv | 2 |
| r | 1 | Emerson Fittipaldi | Lotus | +13 varv | 3 |
| r | 23 | Mike Hailwood | Surtees | +24 varv | 11 |
| r | 9 | Andrea de Adamich | Brabham | +26 varv | 13 |
| r | 15 | Reine Wisell | March | +34 varv | 22 |
| r | 16 | George Follmer | Shadow | +38 varv | 20 |
| r | 26 | Henri Pescarolo | Williams | +38 varv | 23 |
| r | 14 | Jean-Pierre Jarier | March | +47 varv | 7 |
| r | 17 | Jackie Oliver | Shadow | +54 varv | 21 |
| | | |
| --- | --- | --- |
| NC=Not Classified | NT=No time set in qualifying | R=Retired |
| EX=Excluded from meeting | W=Withdrawn | DQ=Disqualified |
| NS=Did not start | NQ=Did not qualify | NPQ=Did not pre-qualify |

Aktuell ställning
| Position | Driver | Nat. | Points |
| --- | --- | --- | --- |
| 1 | Jackie Stewart | GBR | 42 |
| 2 | Emerson Fittipaldi | BRA | 41 |
| 3 | François Cevert | FRA | 31 |
| 4 | Ronnie Peterson | SWE | 19 |
| " | Denny Hulme | NZ | 19 |
| 6 | Peter Revson | USA | 11 |