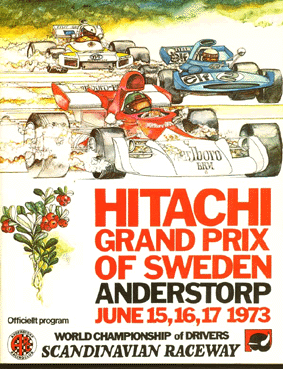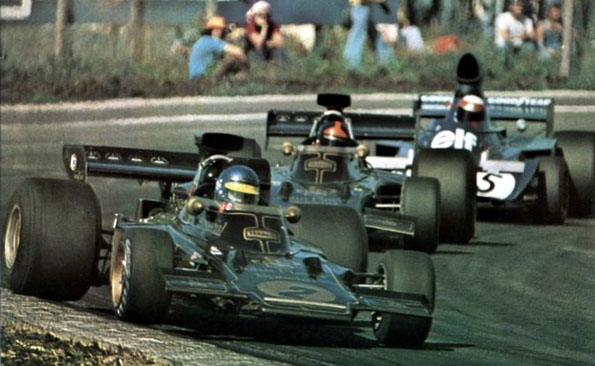 Hitachi Sveriges Grand Prix 17 Juni 1973, Anderstorp
Ronnie Peterson gör sin 39:e F1 start på hemmaplan! För första gången någonsin arrangeras ett Formel 1 lopp i Sverige. Ronnie är kvalsnabbast och står i första startledet tillsammans med Cevert.
Ronnie tar starten och leder loppet i 78 av de 80 varven, men exvärldsmästaren, den 36-årige Denny Hulme i en McLaren sätter snabbaste varvtid med 1.26,146 och lyckas ta sig förbi inför slutfinishen. Han har under loppet gång på gång attackerat Ronnie, men denne har lätt svarat och hållit sin position. Vad var det som hände?
- Jag hade vunnit om inte en förarglig punktering pyst luften så sakteliga ur vänstra bakdäcket, där en liten sten borrat sig in och gjort ett hål, berättade Ronnie efter loppet, då han hyllades som den moraliska vinnaren.
- Till slut, då däcket började bli tomt, gick det så vingligt att jag med möda lyckades hålla bilen kvar på banan. Det var synd att jag inte fick vinna mitt livs hittills troligtvis bästa lopp, därtill på hemmabanan!
Denny Hulme vinner således före Ronnie Peterson och med François Cevert i en Tyrrell som trea. Ronnie avancerar dock i det totala sammandraget och är nu 6:a med 10 poäng.
Summary in english

Ronnie Peterson's success with Team Lotus was the catalyst for a Swedish Grand Prix and the race was held at the grandly-named Scandinavian Raceway, a rather featureless circuit built alongside (and incorporating) the runway of a small airfield at Anderstorp, 80 miles out into the forests from Goteborg and 250 miles from Stockholm.
The field was smaller than usual as there was no time for teams to repair the damage done at Monaco as they had to cover the 1200 miles from Monaco to Anderstorp.

Missing from the action were Arturo Merzario (Ferrari), Chris Amon (Tecno), Andrea de Adamich (Ceramica Pagnossin Brabham) while Nanni Galli had decided to retire and so Williams ran Denmark's Tom Belso until it became clear that there was no money available for the race. Reine Wisell, however, had rented David Purley's March and so there were 21 cars in practice.

P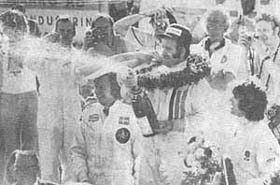 eterson did not disappoint his fans in qualifying, taking pole in his Lotus from Francois Cevert's Tyrrell. The World Championship contenders Jackie Stewart (Tyrrell) and Emerson Fittipaldi (Lotus) shared the second row while Carlos Reutemann (Brabham) and Denny Hulme (McLaren) were on the third. The top 10 was completed by Peter Revson (McLaren), Jacky Ickx (Ferrari), Jean-Pierre Beltoise (BRM) and Mike Hailwood (Surtees).

After the start was delayed by the Grand Prix Drivers Association complaining about photographers in dangerous places, the race began a little late. Emerson Fittipaldi made the best start and grabbed second behind Peterson. Cevert was third with Stewart behind him and then came Reutemann and Hulme, although the McLaren driver moved ahead of the Brabham on the fourth lap. The order then remained stable until the 34th lap when Stewart overtook Cevert and began to close of the two JPS Lotuses ahead of him.
Cevert, in trouble with tires, dropped back and was overtaken by Hulme on lap 62. Hulme then closed the gap on Stewart and on lap 71 he moved to third place when Fittipaldi suddenly slowed with a gearbox failure. With just three laps to go Hulme overtook Stewart when the Scot suffered a rear brake failure.
On the penultimate lap Hulme was able to pass the local hero to snatch victory, the New Zealander's decision to run harder tires having paid off. Peterson was second with Cevert third.
Sammanställning
Grand Prix
Sverige
Datum
17 Juni 1973
Bana
Anderstorp
Säsong
1973
Deltävling
7
Längd (km)
4.018
Varv
80
Tid
1:56:46.049
| | | | | | |
| --- | --- | --- | --- | --- | --- |
| Placering | Nr | Förare | Team | Tid | Grid |
| 1 | 7 | Denny Hulme | McLaren | 1:56:46.049 | 6 |
| 2 | 2 | Ronnie Peterson | Lotus | 4.039 | 1 |
| 3 | 6 | François Cevert | Tyrrell | 14.667 | 2 |
| 4 | 10 | Carlos Reutemann | Brabham | 18.068 | 5 |
| 5 | 5 | Jackie Stewart | Tyrrell | 25.998 | 3 |
| 6 | 3 | Jacky Ickx | Ferrari | +1 varv | 8 |
| 7 | 8 | Peter Revson | McLaren | +1 varv | 7 |
| 8 | 15 | Mike Beuttler | March | +3 varv | 21 |
| 9 | 19 | Clay Regazzoni | BRM | +3 varv | 12 |
| 10 | 24 | Carlos Pace | Surtees | +3 varv | 16 |
| 11 | 25 | Howden Ganley | Williams | +4 varv | 11 |
| r | 1 | Emerson Fittipaldi | Lotus | +4 varv | 4 |
| 13 | 21 | Niki Lauda | BRM | +5 varv | 15 |
| 14 | 16 | George Follmer | Shadow | +6 varv | 19 |
| r | 20 | Jean-Pierre Beltoise | BRM | +23 varv | 9 |
| r | 17 | Jackie Oliver | Shadow | +30 varv | 17 |
| r | 23 | Mike Hailwood | Surtees | +39 varv | 10 |
| r | 14 | Jean-Pierre Jarier | March | +44 varv | 20 |
| r | 12 | Graham Hill | Shadow | +64 varv | 18 |
| r | 11 | Wilson Fittipaldi | Brabham | +80 varv | 13 |
| r | 27 | Reine Wisell | March | | 14 |
| ns | 26 | Tom Belso | Williams | | |
| | | |
| --- | --- | --- |
| NC=Not Classified | NT=No time set in qualifying | R=Retired |
| EX=Excluded from meeting | W=Withdrawn | DQ=Disqualified |
| NS=Did not start | NQ=Did not qualify | NPQ=Did not pre-qualify |

Aktuell ställning
| Position | Förare | Nation | Poäng |
| --- | --- | --- | --- |
| 1 | Emerson Fittipaldi | BRA | 41 |
| 2 | Jackie Stewart | GBR | 39 |
| 3 | François Cevert | FRA | 25 |
| 4 | Denny Hulme | NZ | 19 |
| 5 | Peter Revson | USA | 11 |
| 6 | Ronnie Peterson | SWE | 10 |