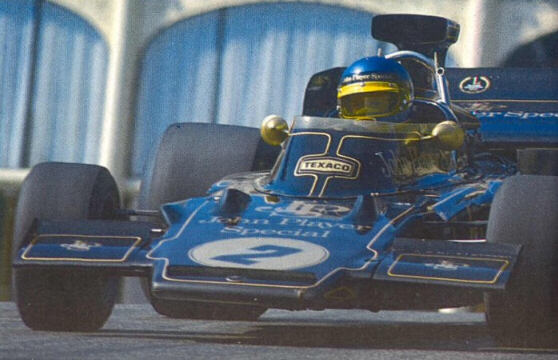 Grand Prix de Monaco 3 Juni 1973
Ronnie Peterson i sitt 38:e F1 lopp i karriären. De båda Lotusbilarna går mycket bra och efter tidskvalet står Ronnie vid sidan av teamkamraten Emerson Fittipaldi i det första startledet.
Det blir emellertid Cevert som tar starten, men Ronnie kan redan på det andra varvet överta ledningen. Denna kan han behålla i sex varv, men måste släppa den på det 8:e till Jackie Stewart - som sedan behåller den in i mål. Ronnie har problem med bränsletrycket som faller katastrofalt - motorn förlorar kraft - och han tvingats också släppa till Fittipaldi, som endast är 1,3 sekunder efter segraren i mål. Men Ronnie lyckas ändock bärga tredjeplatsen och tar därmed sina första poäng för säsongen.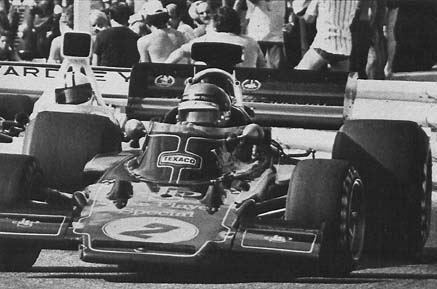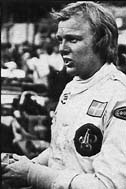 Snabbast varv har Fittipaldi med 1.28,1 och loppet ser följande förare i ledning: Cevert 1; Ronnie 2-7; Stewart 8-78.
"Jag körde för allt jag var värd, men bilen ville bara inte mera!"
...konstaterade Ronnie efter de 80 gatloppsvarven.
Summary in english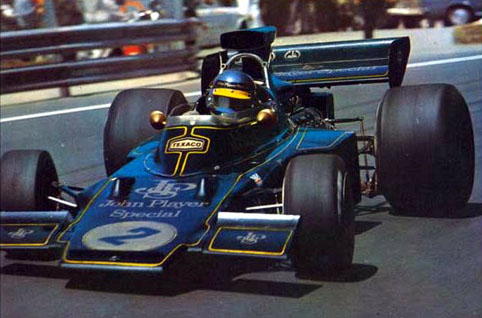 Monaco was later than usual and there were big changes to the circuit with a new tunnel section and a new section of track around the new Swimming Pool between Tabac and the a new corner called La Rascasse. This meant that the pits (which were back to their original location after a year down on the waterfront) were much better than they had been.

The field had grown again with the arrival of two new customer March teams: Hesketh Racing, which was running F1 debutante James Hunt, and David Purley's Lec Refrigeration operation under Mike Earle. There were 26 entries but George Follmer seriously damaged his Shadow in a collision with Arturo Merzario's Ferrari on Saturday and so the American had to miss the race.

Pole position went to Jackie Stewart in the Tyrrell with Ronnie Peterson's Lotus alongside. Then came Denny Hulme (McLaren) and Francois Cevert (Tyrrell) on the second row and Emerson Fittipaldi (Lotus) and an impressive Niki Lauda (BRM) on the third. Jacky Ickx (Ferrari) and Clay Regazzoni (BRM) shared row four while the top 10 was completed by Wilson Fittipaldi's Brabham and Howden Ganley in the Williams. The Tecno continued to do well with Chris Amon qualifying 12th while Hunt did a good job in 18th position.

At the start Cevert burst through to take the lead but on the second lap he suffered a puncture when he hit a curb and so Peterson went ahead, chased by a quick-starting Regazzoni, Stewart, Emerson Fittipaldi, Lauda, Ickx and the rest. Peterson was able to build a lead and it became clear that Regazzoni was holding up the rest of the field. It was not until the sixth lap that the BRM driver made a mistake and went up the escape road at the chicane. This allowed Stewart to set off after Peterson. The Lotus driver ran into fuel feed trouble and dropped to sixth, leaving Stewart in the lead with Emerson Fittipaldi second, Lauda third, Ickx fourth and Wilson Fittipaldi fifth. On lap 25 Lauda went out with gearbox trouble and on lap 45 Ickx suffered a driveshaft failure and so Wilson Fittipaldi ran third until lap 71 when he began to suffer problems with a fuel leak which forced him to retire. This gave Peterson third place. Cevert, Peter Revson (McLaren) and Hulme completed the points scorers, although the impressive Hunt was ahead of Hulme until he went out in the closing laps with an engine failure.

Stewart's victory (his 25th) equaled Jim Clark's record of victories in the World Championship.
Sammanställning
Grand Prix
Monaco
Datum
3 Juni 1973
Bana
Monte Carlo
Säsong
1973
Deltävling
6
Längd (km)
3.278
Varv
78
Tid
1:57:44.300
| | | | | | |
| --- | --- | --- | --- | --- | --- |
| Placering | Nr | Förare | Team | Tid | Grid |
| 1 | 5 | Jackie Stewart | Tyrrell | 1:57:44.300 | 1 |
| 2 | 1 | Emerson Fittipaldi | Lotus | 1.300 | 5 |
| 3 | 2 | Ronnie Peterson | Lotus | +1 varv | 2 |
| 4 | 6 | François Cevert | Tyrrell | +1 varv | 4 |
| 5 | 8 | Peter Revson | McLaren | +2 varv | 15 |
| 6 | 7 | Denny Hulme | McLaren | +2 varv | 3 |
| 7 | 9 | Andrea de Adamich | Brabham | +3 varv | 25 |
| 8 | 23 | Mike Hailwood | Surtees | +3 varv | 13 |
| r | 27 | James Hunt | March | +5 varv | 18 |
| 10 | 17 | Jackie Oliver | Shadow | +6 varv | 22 |
| r | 11 | Wilson Fittipaldi | Brabham | +7 varv | 9 |
| r | 14 | Jean-Pierre Jarier | March | +11 varv | 14 |
| r | 12 | Graham Hill | Shadow | +16 varv | 24 |
| r | 4 | Arturo Merzario | Ferrari | +20 varv | 16 |
| r | 10 | Carlos Reutemann | Brabham | +32 varv | 19 |
| r | 3 | Jacky Ickx | Ferrari | +34 varv | 7 |
| r | 25 | Howden Ganley | Williams | +37 varv | 10 |
| r | 20 | Jean-Pierre Beltoise | BRM | +39 varv | 11 |
| r | 18 | David Purley | March | +47 varv | 23 |
| r | 24 | Carlos Pace | Surtees | +47 varv | 17 |
| r | 26 | Nanni Galli | Williams | +48 varv | 21 |
| r | 21 | Niki Lauda | BRM | +54 varv | 6 |
| r | 22 | Chris Amon | Tecno | +56 varv | 12 |
| r | 19 | Clay Regazzoni | BRM | +63 varv | 8 |
| r | 15 | Mike Beuttler | March | +75 varv | 20 |
| ns | 16 | George Follmer | Shadow | | |
| | | |
| --- | --- | --- |
| NC=Not Classified | NT=No time set in qualifying | R=Retired |
| EX=Excluded from meeting | W=Withdrawn | DQ=Disqualified |
| NS=Did not start | NQ=Did not qualify | NPQ=Did not pre-qualify |

Aktuell ställning
| Position | Förare | Nation | Poäng |
| --- | --- | --- | --- |
| 1 | Emerson Fittipaldi | BRA | 41 |
| 2 | Jackie Stewart | GBR | 37 |
| 3 | François Cevert | FRA | 21 |
| 4 | Peter Revson | USA | 11 |
| 5 | Denny Hulme | NZ | 10 |
| 6 | Arturo Merzario | ITA | 6 |