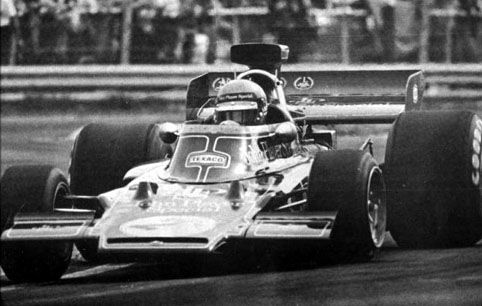 Grand Prix de Belgique 20 Maj 1973, Zolder
Ronnie Peterson väntar fortfarande på den första segern inför sin 37:e start. Återigen är Ronnie snabbast på tidsträningen och tar "pole position" före Hulme.
Uppvärmningen på tävlingsdagen blir händelserik för Ronnie. Zolder-banan har fått en ny beläggning som är svårbemästrad och hal. Ronnie kvaddar två bilar på träningen.

Ronnie tar starten med kan endast behålla sin ledning under det första varvet, men tvingas lämna över till Cevert då han märker att bromsarna inte fungerar som de ska. Ronnie faller tillbaka till en femteplats. På det 46:e varvet sladdar Lotusen av banan genom ett par skyddsstängsel och ramponeras ungefär på samma plats som han kraschat de andra bilarna tidigare samma dag. Ronnie är dock oskadd och kan enbart konstatera att han tagit ett svårslaget rekord med tre totalskrotade bilar på en och samma dag.
Jackie Stewart vinner före Cevert (som har det snabbaste varvet på 1.25,42) och Fittipaldi.
Loppet ser följande förare i ledning: Ronnie 1; Cevert 2-19; Fittipaldi 20-24; Stewart 25-70.
Det har nu gått fem tävlingar i rad utan att Ronnie lyckats ta hem en enda poäng till Lotusstallet. Oturen grinar honom i ansiktet - skall det aldrig vända?
Summary in english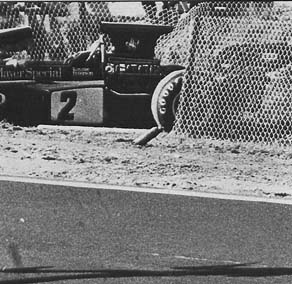 After visiting Nivelles in 1972, the Belgian GP moved to Zolder in the Flemish part of Belgium. The organizers started resurfacing late because of a dispute with the teams and so when practice began the tarmac was still not properly hardened. The result was that the track surface broke up in places on Friday. Resurfacing work was carried out overnight, amid threats from the Grand Prix Drivers Association that they would cancel the event if the track broke up again on Saturday. The disputes continued well into Saturday morning but finally it became clear that the track was all right and there was a rush to qualify. The field was as normal with the addition of Chris Amon in a new Tecno. Arturo Merzario was back in action in the second Ferrari having missed the Spanish GP because his new car was not ready.

Qualifying resulted in pole position for Ronnie Peterson's Lotus with Denny Hulme second in the McLaren M23. Then came Ickx's Ferrari and Francois Cevert's Tyrrell. The third row featured Jean-Pierre Beltoise in his BRM and Jackie Stewart's Tyrrell, while the top 10 was completed by Carlos Reutemann (Brabham), Carlos Pace (Surtees), Emerson Fittipaldi (Lotus) and Peter Revson (McLaren).

Peterson took the lead at the start with Cevert chasing and then Ickx, Hulme and Reutemann. On the second lap Cevert took the lead and began to pull away. Hulme dropped away after going off on oil being dropped by Ickx and soon afterwards Ickx retired with an oil pump failure. This put Reutemann third but he went out with engine failure on the 14th lap. Four laps later Fittipaldi and Stewart (who were now third and fourth) overtook Peterson and on lap 20 the Fittipaldi took the lead when Cevert spun. Five laps later Stewart went into the lead and began to pull away. Fittipaldi began to suffer from fuel pressure problems and on lap 48 dropped behind Cevert to give Stewart a 1-2 with the Lotus driver surviving to finish third.

De Adamish and Lauda ended up fourth and fifth with Amon sixth.
Sammanställning
Grand Prix
Belgien
Datum
20 Maj 1973
Bana
Zolder
Säsong
1973
Deltävling
5
Längd (km)
4.220
Varv
70
Tid
1:42:13.430
| | | | | | |
| --- | --- | --- | --- | --- | --- |
| Placering | Nr | Förare | Team | Tid | Grid |
| 1 | 5 | Jackie Stewart | Tyrrell | 1:42:13.430 | 6 |
| 2 | 6 | François Cevert | Tyrrell | 31.840 | 4 |
| 3 | 1 | Emerson Fittipaldi | Lotus | 122.790 | 9 |
| 4 | 9 | Andrea de Adamich | Brabham | +1 varv | 18 |
| 5 | 21 | Niki Lauda | BRM | +1 varv | 14 |
| 6 | 22 | Chris Amon | Tecno | +3 varv | 15 |
| 7 | 7 | Denny Hulme | McLaren | +3 varv | 2 |
| 8 | 24 | Carlos Pace | Surtees | +4 varv | 8 |
| 9 | 12 | Graham Hill | Shadow | +5 varv | 23 |
| r | 19 | Clay Regazzoni | BRM | +7 varv | 12 |
| r | 15 | Mike Beuttler | March | +7 varv | 20 |
| r | 14 | Jean-Pierre Jarier | March | +10 varv | 16 |
| r | 20 | Jean-Pierre Beltoise | BRM | +14 varv | 5 |
| r | 11 | Wilson Fittipaldi | Brabham | +24 varv | 19 |
| r | 2 | Ronnie Peterson | Lotus | +28 varv | 1 |
| r | 8 | Peter Revson | McLaren | +37 varv | 10 |
| r | 25 | Howden Ganley | Williams | +54 varv | 21 |
| r | 10 | Carlos Reutemann | Brabham | +56 varv | 7 |
| r | 16 | George Follmer | Shadow | +57 varv | 11 |
| r | 17 | Jackie Oliver | Shadow | +59 varv | 22 |
| r | 26 | Nanni Galli | Williams | +64 varv | 17 |
| r | 3 | Jacky Ickx | Ferrari | +64 varv | 3 |
| r | 23 | Mike Hailwood | Surtees | +66 varv | 13 |
| | | |
| --- | --- | --- |
| NC=Not Classified | NT=No time set in qualifying | R=Retired |
| EX=Excluded from meeting | W=Withdrawn | DQ=Disqualified |
| NS=Did not start | NQ=Did not qualify | NPQ=Did not pre-qualify |

Aktuell ställning
| Position | Förare | Nation | Poäng |
| --- | --- | --- | --- |
| 1 | Emerson Fittipaldi | BRA | 35 |
| 2 | Jackie Stewart | GBR | 28 |
| 3 | François Cevert | FRA | 18 |
| 4 | Peter Revson | USA | 9 |
| " | Denny Hulme | NZ | 9 |
| 6 | Arturo Merzario | ITA | 6 |