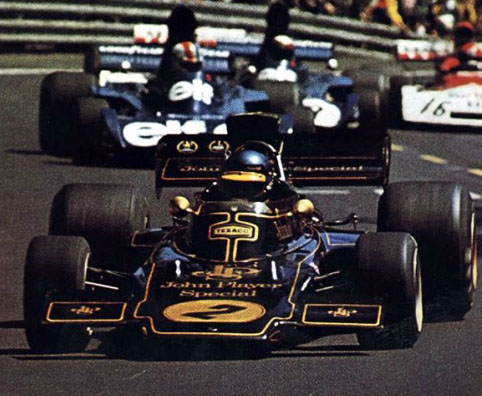 Gran Premio de España 29 April 1973, Montjuich Park
Ronnie Peterson tar i sitt 36:e F1 lopp återigen en "pole position". Denny Hulme står bredvid och i andra startled återfinns Cevert och Stewart.
Ronnie tar starten och har även snabbaste varvtid på 1.23,8 då han på det 56:e varvet tvingas bryta efter att växellådan givit upp. Oturen håller i sig...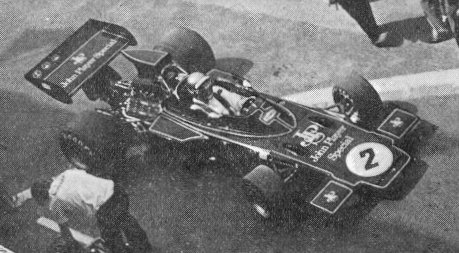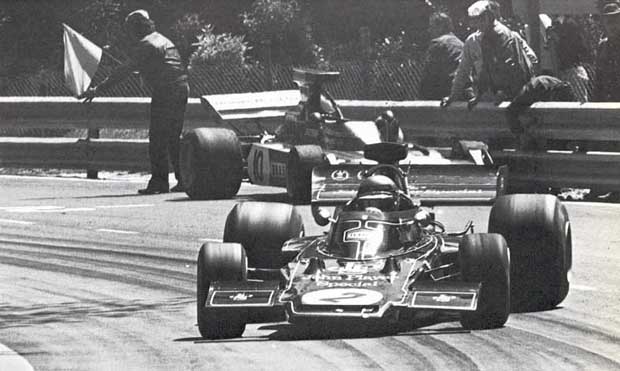 Ledningen övertas av teamkamraten Fittipaldi som i sin Lotus håller denna in i mål. Cevert i en Tyrrell blir tvåa och George Follmer (!) i en Shadow tar en sensationell tredjeplats.
Ronnie har utklassat F1-eliten i Barcelona i 59 varv av 75, men återigen tvingats bryta loppet efter mekaniska problem. Ronnies egen kommentar till tvivlarna:
"Det är inte fel på mig och min bilkörning, bara det att jag har en infernalisk otur och svårt att komma ur en ond cirkel med alltför många brutna lopp!"
Summary in english
After the South African Grand Prix there was a seven-week break before the next round of the World Championship. In the gap there were two non-championship races with Peter Gethin winning the Race of Champions at Brands Hatch in a Formula 5000 Chevron and Jackie Stewart winning a snowy International Trophy at Silverstone. The Spanish GP returned to Montjuich Park and with new rules about deformable structures, the field was smaller than might have been expected with Ferrari running only one car for Jacky Ickx. Andrea de Adamich had switched his Ceramica Pagnossin sponsorship from Surtees to a third Brabham while Graham Hill made his first appearance in his Embassy-sponsored Shadow.

March driver Jean-Pierre Jarier was committed to race in a Formula 2 race at the Nürburgring and so the factory team ran Henri Pescarolo instead. Nanni Galli was fit enough to race for Williams once again, the team having the new IR1 chassis ready (this being name after sponsor Iso-Rivolta) although it was not very different to the Politoys of the previous year.

Qualifying resulted in pole position going to Ronnie Peterson's Lotus with Denny Hulme's McLaren M23 alongside on the front row. The second row was shared by the Tyrrells of Francois Cevert and Jackie Stewart while the third featured Peter Revson (in a second M23) and Ickx in the Ferrari. Emerson Fittipaldi was back on the fourth row in his Lotus alongside Clay Regazzoni's BRM while the top 10 was completed by Mike Hailwood's Surtees and Jean-Pierre Beltoise's BRM.

At the start Peterson went into the lead from Hulme and Stewart. Niki Lauda made a good start from 11th on the grid to run sixth while Hailwood was forced to start from the pits, half a lap behind the rest of the field after an engine change after the morning warm-up. On the third lap Hulme was pushed back to third place by Stewart while Fittipaldi worked his way ahead of Lauda and Beltoise to run fifth. The order then stabilized until the 20th lap when Hulme pitted to replace a wheel which was out of balance. A few laps later Fittipaldi overtook fourth placed Cevert and when Stewart retired on lap 47 with a brake failure the two Lotuses were left running 1-2. It did not last long. On lap 57 Peterson went out with gearbox trouble, leaving Fittipaldi in the lead. Reutemann had moved into second but the Brabham lasted only a few laps before stopping with a driveshaft failure, leaving Cevert to finish second with Follmer third in a Shadow (in only his second Grand Prix).
Sammanställning
Grand Prix
Spanien
Datum
29 April 1973
Bana
Montjuich Park
Säsong
1973
Deltävling
4
Längd (km)
3.791
Varv
75
Tid
1:48:18.700
| | | | | | |
| --- | --- | --- | --- | --- | --- |
| Placering | Nr | Förare | Team | Tid | Grid |
| 1 | 1 | Emerson Fittipaldi | Lotus | 1:48:18.700 | 7 |
| 2 | 4 | François Cevert | Tyrrell | 42.700 | 3 |
| 3 | 20 | George Follmer | Shadow | 73.100 | 14 |
| 4 | 6 | Peter Revson | McLaren | +1 varv | 5 |
| 5 | 15 | Jean-Pierre Beltoise | BRM | +1 varv | 10 |
| 6 | 5 | Denny Hulme | McLaren | +1 varv | 2 |
| 7 | 12 | Mike Beuttler | March | +1 varv | 19 |
| 8 | 11 | Henri Pescarolo | March | +2 varv | 18 |
| 9 | 14 | Clay Regazzoni | BRM | +6 varv | 8 |
| 10 | 17 | Wilson Fittipaldi | Brabham | +6 varv | 12 |
| 11 | 24 | Nanni Galli | Williams | +6 varv | 20 |
| 12 | 7 | Jacky Ickx | Ferrari | +6 varv | 6 |
| r | 18 | Carlos Reutemann | Brabham | +9 varv | 15 |
| r | 23 | Howden Ganley | Williams | +12 varv | 21 |
| r | 2 | Ronnie Peterson | Lotus | +19 varv | 1 |
| r | 3 | Jackie Stewart | Tyrrell | +28 varv | 4 |
| r | 16 | Niki Lauda | BRM | +47 varv | 11 |
| r | 25 | Graham Hill | Shadow | +48 varv | 22 |
| r | 9 | Mike Hailwood | Surtees | +50 varv | 9 |
| r | 19 | Jackie Oliver | Shadow | +52 varv | 13 |
| r | 21 | Andrea de Adamich | Brabham | +58 varv | 17 |
| r | 10 | Carlos Pace | Surtees | +62 varv | 16 |
| | | |
| --- | --- | --- |
| NC=Not Classified | NT=No time set in qualifying | R=Retired |
| EX=Excluded from meeting | W=Withdrawn | DQ=Disqualified |
| NS=Did not start | NQ=Did not qualify | NPQ=Did not pre-qualify |

Aktuell ställning
| Position | Förare | Nation | Poäng |
| --- | --- | --- | --- |
| 1 | Emerson Fittipaldi | BRA | 31 |
| 2 | Jackie Stewart | GBR | 19 |
| 3 | François Cevert | FRA | 12 |
| 4 | Peter Revson | USA | 9 |
| " | Denny Hulme | NZ | 9 |
| 6 | Arturo Merzario | ITA | 6 |