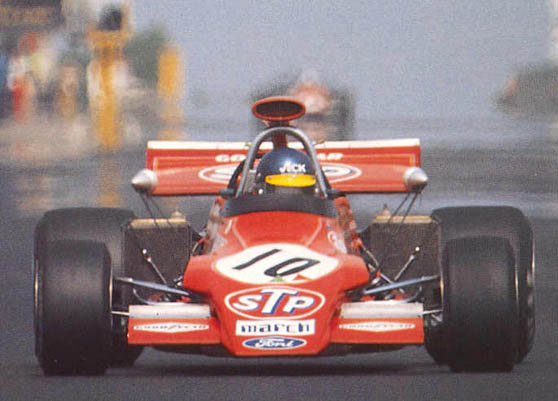 Grosser Preis von Deutschland 30 Juli 1972, Nürburgring
Ronnie Peterson gör i Tysklands GP 1972 sin tjugoåttonde F1 start i karriären. Ronnie presterar sin bästa träningstid någonsin och står med en fjärde tid i andra startled tillsammans med VM ledaren Emerson Fittipaldi. Jacky Ickx i "pole" före Jackie Stewart.
Ickx tar starten, men Ronnie gör en mycket bra start och lyckas passera Stewart upp till en andra plats. Fittipaldi är den enda i fältet som plockar några större placeringar och på det femte varvet passerar han Ronnie. Ronnie spinner på det nionde varvet och tappar placeringar till Regazzoni och Stewart. Fittipaldis tvingas ge upp med växellådsproblem och Stewart kör på det sista varvet av efter att ha touchat Regazzoni. Ronnie kan därmed ta hem årets första pallplats bakom Ickx (med ledning från start till mål och snabbaste varvtid med 7.13,6) och Regazzoni - en dubbelseger för Ferrari.
Summary in english
Emerson Fittipaldi's victories in Belgian and Britain had given the Brazilian a lead in the in the World Championship. When the F1 teams gathered in Germany the Brazilian had 43 points to Jackie Stewart's 27. With Mario Andretti and Peter Revson racing in the United States, Ferrari fielded Arturo Merzario, who had done a good job to finish sixth on his F1 debut in Britain but the team was back up to three cars as Clay Regazzoni was back in action after his arm injury (from playing football) had healed. Revson's place at McLaren was taken as usual by Brian Redman. The Williams team was back with the old Marches as Henri Pescarolo had destroyed the new car at Brands Hatch. BRM had had another switch around with Reine Wisell and Howden Ganley back in the team and Jack Oliver and Peter Gethin standing down.
Qualifying saw Jacky Ickx fastest for Ferrari with Jackie Stewart second in his Tyrrell. Fittipaldi was third fastest and shared the second of the grid with Ronnie Peterson's March. Francois Cevert was on the third row with Carlos Reutemann (Brabham) while the top 10 was completed by Regazzoni, Chris Amon (Matra), Pescarolo and Denny Hulme (McLaren).
In the race Ickx took the lead while Stewart and Peterson banged wheels as they fought over second. Peterson won and Stewart dropped to fifth behind Regazzoni and Fittipaldi. Reutemann was sixth.
Fittipaldi was the only man to make much progress in the race, passing Regazzoni during the second lap on Peterson on the fifth lap. On the ninth lap Peterson spun and fell behind Regazzoni and Stewart. Two laps later Fittipaldi's Lotus began to smoke and he retired with a gearbox failure, leaving Regazzoni to take second place. At the start of the last lap Stewart was right with him and at Hatzenbach he challenged for second place. The two cars touched and Stewart went into the barriers. Regazzoni completed the lap to give Ferrari a 1-2 finish and Peterson collected third. Ganley was fourth from Redman and Graham Hill scored a point for Brabham, which was only his second point of the year.
Sammanställning
Grand Prix
Tyskland
Datum
30 Juli 1972
Bana
Nürburgring
Säsong
1972
Deltävling
8
Längd (km)
22.835
Varv
14
Tid
1:42:12.300
| | | | | | |
| --- | --- | --- | --- | --- | --- |
| Placering | Nr | Förare | Team | Tid | Grid |
| 1 | 4 | Jacky Ickx | Ferrari | 1:42:12.300 | 1 |
| 2 | 9 | Clay Regazzoni | Ferrari | 48.300 | 7 |
| 3 | 10 | Ronnie Peterson | March | 66.700 | 4 |
| 4 | 17 | Howden Ganley | BRM | 140.200 | 18 |
| 5 | 5 | Brian Redman | McLaren | 155.700 | 19 |
| 6 | 11 | Graham Hill | Brabham | 179.600 | 15 |
| 7 | 26 | Wilson Fittipaldi | Brabham | 180.100 | 21 |
| 8 | 28 | Mike Beuttler | March | 310.700 | 27 |
| 9 | 6 | Jean-Pierre Beltoise | BRM | 320.200 | 13 |
| 10 | 7 | François Cevert | Tyrrell | 343.700 | 5 |
| r | 1 | Jackie Stewart | Tyrrell | +1 varv | 2 |
| 12 | 19 | Arturo Merzario | Ferrari | +1 varv | 22 |
| 13 | 16 | Andrea de Adamich | Surtees | +1 varv | 20 |
| 14 | 15 | Tim Schenken | Surtees | +1 varv | 12 |
| 15 | 8 | Chris Amon | Matra | +1 varv | 8 |
| nc | 21 | Carlos Pace | March | +3 varv | 11 |
| r | 20 | Henri Pescarolo | March | +4 varv | 9 |
| r | 2 | Emerson Fittipaldi | Lotus | +4 varv | 3 |
| r | 3 | Denny Hulme | McLaren | +6 varv | 10 |
| r | 14 | Mike Hailwood | Surtees | +6 varv | 16 |
| r | 12 | Carlos Reutemann | Brabham | +8 varv | 6 |
| r | 22 | Rolf Stommelen | March | +8 varv | 14 |
| r | 25 | Dave Walker | Lotus | +8 varv | 23 |
| r | 27 | Derek Bell | Tecno | +10 varv | 25 |
| r | 29 | Dave Charlton | Lotus | +10 varv | 26 |
| r | 23 | Niki Lauda | March | +10 varv | 24 |
| r | 18 | Reine Wisell | BRM | +11 varv | 17 |
| | | |
| --- | --- | --- |
| NC=Not Classified | NT=No time set in qualifying | R=Retired |
| EX=Excluded from meeting | W=Withdrawn | DQ=Disqualified |
| NS=Did not start | NQ=Did not qualify | NPQ=Did not pre-qualify |

Aktuell ställning
| Position | Förare | Nation | Poäng |
| --- | --- | --- | --- |
| 1 | Emerson Fittipaldi | BRA | 43 |
| 2 | Jackie Stewart | GBR | 27 |
| 3 | Jacky Ickx | BEL | 25 |
| 4 | Denny Hulme | NZ | 21 |
| 5 | Clay Regazzoni | CH | 13 |
| 6 | Peter Revson | USA | 10 |