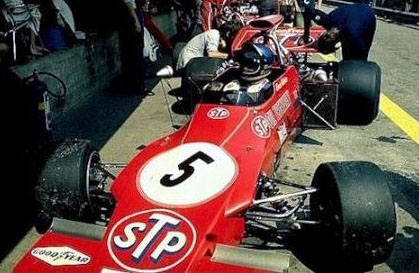 Grosser Preis von Österreich 13 Augusti 1972, Österreichring
Ronnie Peterson gör sin 29:e Formel 1 start i karriären. Ronnie sitter åter i den F2-baserade konstruktionen March 721G. Tidskvalet har inte varit det bästa och Ronnie har endast 11:e bästa tid. Fittipaldi står i "pole" före Regazzoni.
Ronnie gör egentligen ett fantastiskt lopp och är som bäst uppe på en tredje plats, men tyvärr uppstår problem med bränsletillförseln och han faller tillbaka i fältet och blir till slut tolva.

Fittipaldi i en Lotus vinner, Hulme i en McLaren blir tvåa och Revson - också i en McLaren - blir trea.
Snabbaste varv presterar Hulme med 1.38,32 och loppet ser följande förare i ledning: Stewart 1-23; Fittipaldi 24-54.
Summary in english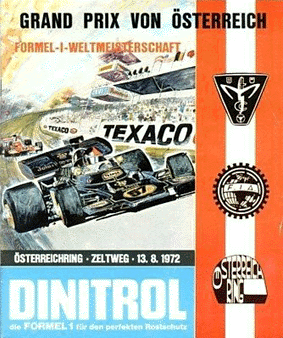 The field was unchanged from the German GP, except for the reappearance of the Connew. Pole position was taken by World Championship leader Emerson Fittipaldi with Ferrari's Clay Regazzoni alongside him on the front row. Jackie Stewart shared the second row in his Tyrrell with Peter Revson (McLaren) while Brabham's Carlos Reutemann was on the third row with Chris Amon (Matra). The top 10 was completed by Tim Schenken (Surtees), Denny Hulme (McLaren), Howden Ganley (BRM) and Jacky Ickx (Ferrari). It was a bad weekend for Williams with Henri Pescarolo having a huge crash and destroying one of the team's March chassis (having demolished the new Williams F1 car at Brands Hatch a fortnight earlier).
At the start Stewart went into the lead, ahead of Regazzoni, Fittipaldi and a fast-starting Hulme. Reutemann, Revson and Amon gave chase. Regazzoni immediately started having fuel-feed problems but managed to keep Fittipaldi behind him for four laps before losing second place by which time Stewart was three seconds clear at the front. Regazzoni pitted soon afterwards. Fittipaldi chased after Stewart and gradually closed the gap and so the two were running together. On lap 24 Fittipaldi took the lead. By that point Hulme had closed up to them and he was able to pass Stewart for second place on lap 27. Stewart continued to drop back down through the order, losing third to Peterson and fourth to Revson, soon afterwards Peterson ran into trouble with fuel feed problems and dropped away, leaving Revson in third place. The battle for the lead continued all the way to the flag but Fittipaldi was able to hold on to win by just over a second. The victory gave Fittipaldi a lead in the championship of 25 points with only three races remaining. Denny Hulme would need to win all three without Emerson scoring a point to beat the young Brazilian to the title.

Sammanställning
Grand Prix
Österrike
Datum
13 Augusti 1972
Bana
Osterreichring
Säsong
1972
Deltävling
9
Längd (km)
5.911
Varv
54
Tid
1:29:16.660
| | | | | | |
| --- | --- | --- | --- | --- | --- |
| Placering | Nr | Förare | Team | Tid | Grid |
| 1 | 31 | Emerson Fittipaldi | Lotus | 1:29:16.660 | 1 |
| 2 | 12 | Denny Hulme | McLaren | 1.180 | 7 |
| 3 | 14 | Peter Revson | McLaren | 36.530 | 4 |
| 4 | 25 | Mike Hailwood | Surtees | 44.760 | 12 |
| 5 | 10 | Chris Amon | Matra | 45.640 | 6 |
| 6 | 9 | Howden Ganley | BRM | 61.190 | 10 |
| 7 | 1 | Jackie Stewart | Tyrrell | 69.090 | 3 |
| 8 | 7 | Jean-Pierre Beltoise | BRM | 81.450 | 21 |
| 9 | 2 | François Cevert | Tyrrell | +1 varv | 20 |
| 10 | 4 | Niki Lauda | March | +1 varv | 22 |
| 11 | 24 | Tim Schenken | Surtees | +2 varv | 8 |
| 12 | 5 | Ronnie Peterson | March | +2 varv | 11 |
| 13 | 6 | Peter Gethin | BRM | +3 varv | 16 |
| 14 | 11 | Andrea de Adamich | Surtees | +3 varv | 13 |
| 15 | 27 | Rolf Stommelen | March | +6 varv | 17 |
| nc | 23 | Carlos Pace | March | +8 varv | 18 |
| nc | 15 | Nanni Galli | Tecno | +9 varv | 23 |
| r | 16 | Graham Hill | Brabham | +18 varv | 14 |
| r | 28 | Wilson Fittipaldi | Brabham | +23 varv | 15 |
| r | 3 | Mike Beuttler | March | +30 varv | 24 |
| r | 29 | François Migault | Connew | +32 varv | 25 |
| r | 18 | Jacky Ickx | Ferrari | +34 varv | 9 |
| r | 17 | Carlos Reutemann | Brabham | +40 varv | 5 |
| r | 19 | Clay Regazzoni | Ferrari | +41 varv | 2 |
| r | 21 | Dave Walker | Lotus | +48 varv | 19 |
| ns | 22 | Henri Pescarolo | March | | |
| | | |
| --- | --- | --- |
| NC=Not Classified | NT=No time set in qualifying | R=Retired |
| EX=Excluded from meeting | W=Withdrawn | DQ=Disqualified |
| NS=Did not start | NQ=Did not qualify | NPQ=Did not pre-qualify |

Aktuell ställning
| Position | Förare | Nation | Poäng |
| --- | --- | --- | --- |
| 1 | Emerson Fittipaldi | BRA | 52 |
| 2= | Jackie Stewart | GBR | 27 |
| 2= | Denny Hulme | NZ | 27 |
| 4 | Jacky Ickx | BEL | 25 |
| 5 | Peter Revson | USA | 14 |
| 6 | Clay Regazzoni | CH | 13 |