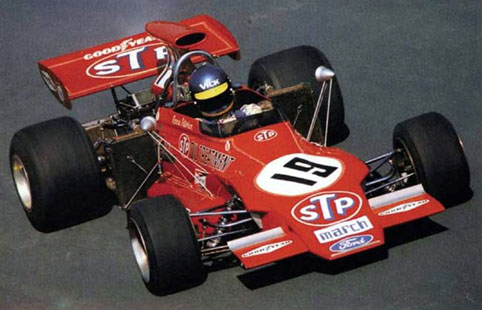 Gran Premio d`Italia 10 September 1972, Monza
Ronnie Peterson startar sitt 30:e F1 lopp på Monza den 10 september 1972. Detta är en bana där Ronnie ofta gör mycket bra resultat, men på samma datum och plats kommer Ronnie att sex år senare krascha så svårt att det kostar honom hans liv.
I tidskvalet har såväl Ronnie som bilen en av sina sämre dagar och han startar som nummer 24 och står därmed i det sista startledet. V12-bilarna har däremot gjort bra ifrån sig och Ickx i en Ferrari står i "pole" före Amon i en Matra.
Ickx tar starten och leder de första 13 varven. Därefter tar sig Regazzoni förbi och lyckas hålla denna placering i ett par varv innan han gör ett misstag så att Ickx åter kan ta sig upp i ledning. Med endast nio varv kvar ger motorn i Ferrarin upp och Fittipaldi kan defilera in i mål som segrare, men också som världsmästare 1972 eftersom segern innebär att de två återstående tävlingarna blir utan betydelse.
Mike Hailwood i en Surtees kör in som tvåa - Hulme i en McLaren blir trea. Ronnie blir till slut 9 (Reine Wisell i en Lotus blir 12:a) och blir därmed bäst placerade March (Ronnie är den i startfältet som plockat flest placeringar).
Summary in english
In the interests of safety two new chicanes had been built at Monza to reduce the speeds and break up the groups of slipstreaming cars. The first chicane was just after the pits (before the old banking began) and the second where the track went on to the back straight int he old Curva del Vialone. The track alterations changed the character of the track considerably with a new emphasis on braking.
Emerson Fittipaldi had a 25-point lead in the World Championship with only three races left and so Denny Hulme needed to win all three to grab the title with the Brazilian failing to score any major results. Team, Lotus was, however, still being dogged by the Italian authorities as a result of the death of Jochen Rindt at Monza two years earlier and the team again turned up as World Wide Racing with one car for Fittipaldi. Dave Walker was left at home.
Ferrari was up to three cars with Mario Andretti rejoining Jacky Ickx and Clay Regazzoni while Surtees was up to four cars as John Surtees decided to have a rare race alongside Tim Schenken, Mike Hailwood and Andrea de Adamich. BRM was also running four cars again with Jean-Pierre Beltoise, Howden Ganley and Peter Gethin being rejoined by Reine Wisell. The Martini Tecno team ran two cars (one for Derek Bell and one for Nanni Galli).
The V12 cars were fast in qualifying with Ickx taking pole from Chris Amon's Matra. Jackie Stewart (Tyrrell) was on the second row with Regazzoni while Hulme and Fittipaldi shared the third row. Then came Andretti and Peter Revson (McLaren) with the top 10 being completed by Hailwood and Wisell.
At the start Stewart suffered a transmission failure and so there were some lively moments as the field tried to get around the stricken Tyrrell. Ickx had taken the lead from Regazzoni and Fittipaldi with Andretti and the slow-starting Amon ahead of Hailwood and Hulme. As slipstreaming was a thing of the past, the order remained fairly stable with Amon beginning his recovery by overtaking Andretti. The two Ferraris were able to pull away at the front and on lap 14 Ickx went wide and so Regazzoni took the lead. Three laps later this proved to be his downfall as the two cars arrived at the Vialone chicane to find that Pace had spun. Regazzoni clipped the March and damaged his rear suspension. He was out. Ickx was back in the lead and Fittipaldi was only just behind. Amon and Hailwood were also within range (Hailwood having overtaken Andretti earlier).
Hailwood soon lost his airbox and dropped away from the leaders and Amon's brake caught fire and put him out and so it was left as a straight fight between Ickx and Fittipaldi. With just nine laps to go Ickx's engine failed and Fittipaldi took the lead. Hailwood was second with Hulme third.
Emerson Fittipaldi was crowned as World Champion.

Sammanställning
Grand Prix
Italien
Datum
10 September 1972
Bana
Monza
Säsong
1972
Deltävling
10
Längd (km)
5.775
Varv
55
Tid
1:29:58.400
| | | | | | |
| --- | --- | --- | --- | --- | --- |
| Placering | Nr | Förare | Team | Tid | Grid |
| 1 | 6 | Emerson Fittipaldi | Lotus | 1:29:58.400 | 6 |
| 2 | 10 | Mike Hailwood | Surtees | 14.500 | 9 |
| 3 | 14 | Denny Hulme | McLaren | 23.800 | 5 |
| 4 | 15 | Peter Revson | McLaren | 35.700 | 8 |
| 5 | 28 | Graham Hill | Brabham | 65.600 | 13 |
| 6 | 23 | Peter Gethin | BRM | 81.900 | 12 |
| 7 | 3 | Mario Andretti | Ferrari | +1 varv | 7 |
| 8 | 21 | Jean-Pierre Beltoise | BRM | +1 varv | 16 |
| 9 | 19 | Ronnie Peterson | March | +1 varv | 24 |
| 10 | 16 | Mike Beuttler | March | +1 varv | 25 |
| 11 | 22 | Howden Ganley | BRM | +3 varv | 17 |
| 12 | 24 | Reine Wisell | BRM | +4 varv | 10 |
| 13 | 18 | Niki Lauda | March | +5 varv | 20 |
| r | 4 | Jacky Ickx | Ferrari | +9 varv | 1 |
| r | 20 | Chris Amon | Matra | +17 varv | 2 |
| r | 9 | Andrea de Adamich | Surtees | +22 varv | 21 |
| r | 7 | Johnny Surtees | Surtees | +35 varv | 19 |
| r | 8 | Tim Schenken | Surtees | +35 varv | 22 |
| r | 29 | Wilson Fittipaldi | Brabham | +35 varv | 15 |
| r | 5 | Clay Regazzoni | Ferrari | +39 varv | 4 |
| r | 26 | Carlos Pace | March | +40 varv | 18 |
| r | 30 | Carlos Reutemann | Brabham | +41 varv | 11 |
| r | 2 | François Cevert | Tyrrell | +41 varv | 14 |
| r | 11 | Nanni Galli | Tecno | +49 varv | 23 |
| r | 1 | Jackie Stewart | Tyrrell | +55 varv | 3 |
| nq | 25 | Henri Pescarolo | March | | |
| nq | 12 | Derek Bell | Tecno | | |
| | | |
| --- | --- | --- |
| NC=Not Classified | NT=No time set in qualifying | R=Retired |
| EX=Excluded from meeting | W=Withdrawn | DQ=Disqualified |
| NS=Did not start | NQ=Did not qualify | NPQ=Did not pre-qualify |

Aktuell ställning
| Position | Förare | Nation | Poäng |
| --- | --- | --- | --- |
| 1 | Emerson Fittipaldi | BRA | 61 |
| 2 | Denny Hulme | NZ | 31 |
| 3 | Jackie Stewart | GBR | 27 |
| 4 | Jacky Ickx | BEL | 25 |
| 5 | Peter Revson | USA | 17 |
| 6 | Mike Hailwood | GBR | 13 |
| " | Clay Regazzoni | CH | 13 |