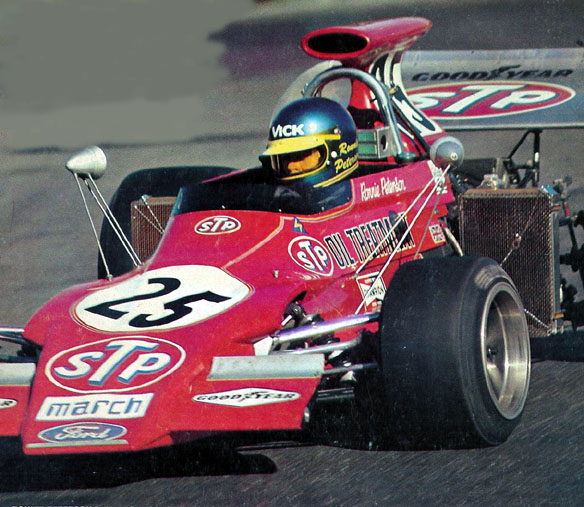 Canadian Grand Prix 24 September 1972, Mosport Park
Ronnie Petersons 31:a F1 lopp. Revson och Hulme har med sin erfarenhet från CanAm serien god kännedom om banan och står i första startled efter avslutande tidskval. Ronnie har överraskat alla och har med tredje bästa träningstid den bästa startpositionen hittills under karriären.
Starten blir försenad p g a dimma, men när den väl går är Ronnie mycket snabb och tar täten. På det fjärde varvet gör emellertid Ronnie ett litet misstag och Stewart kan smita förbi. Denna ordning håller sig till det 54:e varvet då Ronnie skall varva Graham Hill. Denne vägrar att lämna väg, vilket slutar i att bilarna kör ihop och att Ronnies March får en skadad styrmekanism. Ronnie stannar inte långt ifrån depåerna och knuffar bilen tillbaka till garagen. Efter att ha fått igång maskineriet igen återvänder Ronnie ut på banan, men blir diskvalificerad.
Stewart vinner loppet och har även snabbaste tid med 1.15,7. Tvåa och trea blir Revson och Hulme i en varsin McLaren.

Summary in english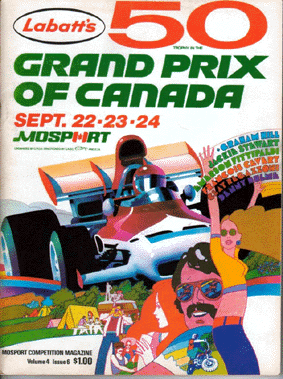 As the Mont Tremblant circuit had been closed down because of a dispute with the local racing authorities the Canadian Grand Prix settled at an upgraded Mosport Park. There was a big field as usual. Team Lotus had replaced Dave Walker with Reine Wisell, while the Swede's drive in the fourth BRM had gone to local hero Bill Brack while Skip Barber turned up in a Gene Mason Racing March 711.
Qualifying resulted in pole position for Peter Revson's McLaren with Denny Hulme alongside, the team having an advantage because of the knowledge of the track gained from CanAm races. The front row was completed by Ronnie Peterson's March. The new World Champion Emerson Fittipaldi was on the second row with his predecessor Jackie Stewart alongside. The third row featured Francois Cevert (Tyrrell) and the Ferraris of Clay Regazzoni and Jacky Ickx while the top 10 was completed by Carlos Reutemann's Brabham and Chris Amon's Matra. The job of being best of the rest went on this occasion to Brabham's Wilson Fittipaldi.
There was a fog on race morning and the start of the race had to be delayed. When the weather cleared a bit Peterson took the lead with Stewart moving up to second ahead of Revson. Hulme dropped right into the midfield.
Peterson stayed ahead until the fourth lap when he made a mistake and Stewart was able to get ahead of begin to pull away. Further back Ickx passed Revson although the American was later able to get the place back as the Ferrari began to lose power. Ickx faded quickly behind Fittipaldi and Regazzoni. The order remained largely unchanged until lap 54 when Peterson was trying to lap Graham Hill. The Brabham driver refused to get out of the way and the two cars collided, the March suffering a bent steering. Peterson stopped not far from the exit of the pits and pushed the car back to the garages. He rejoined but was disqualified. This left Revson and Fittipaldi fighting for second place but a challenge from Emerson resulted in him damaging his front wing and he dropped back and had to pit. This left Regazzoni in third place but he stumbled over Barber in the closing laps and so was overtaken by Reutemann and Hulme. The McLaren driver managed to get ahead when Reutemann ran out of fuel at the end of the race. Stewart thus ended up on the podium with the two McLaren drivers with Revson second and Hulme third.
Sammanställning
Grand Prix
Kanada
Datum
24 September 1972
Bana
Mosport Park
Säsong
1972
Deltävling
11
Längd (km)
3.957
Varv
80
Tid
1:43:16.900
| | | | | | |
| --- | --- | --- | --- | --- | --- |
| Placering | Nr | Förare | Team | Tid | Grid |
| 1 | 1 | Jackie Stewart | Tyrrell | 1:43:16.900 | 5 |
| 2 | 19 | Peter Revson | McLaren | 48.200 | 1 |
| 3 | 18 | Denny Hulme | McLaren | 54.600 | 2 |
| 4 | 8 | Carlos Reutemann | Brabham | 60.700 | 9 |
| 5 | 11 | Clay Regazzoni | Ferrari | 67.000 | 7 |
| 6 | 4 | Chris Amon | Matra | +1 varv | 10 |
| 7 | 22 | Tim Schenken | Surtees | +1 varv | 13 |
| 8 | 7 | Graham Hill | Brabham | +1 varv | 17 |
| r | 29 | Carlos Pace | March | +2 varv | 18 |
| 10 | 15 | Howden Ganley | BRM | +2 varv | 14 |
| 11 | 5 | Emerson Fittipaldi | Lotus | +2 varv | 4 |
| 12 | 10 | Jacky Ickx | Ferrari | +3 varv | 8 |
| 13 | 28 | Henri Pescarolo | March | +7 varv | 21 |
| r | 6 | Reine Wisell | Lotus | +15 varv | 16 |
| dq | 26 | Niki Lauda | March | | 19 |
| dq | 25 | Ronnie Peterson | March | | 3 |
| nc | 27 | Mike Beuttler | March | +21 varv | 24 |
| r | 2 | François Cevert | Tyrrell | +29 varv | 6 |
| r | 16 | Peter Gethin | BRM | +55 varv | 12 |
| nc | 33 | Skip Barber | March | +56 varv | 22 |
| r | 14 | Jean-Pierre Beltoise | BRM | +59 varv | 20 |
| r | 17 | Bill Brack | BRM | +60 varv | 23 |
| r | 9 | Wilson Fittipaldi | Brabham | +75 varv | 11 |
| r | 23 | Andrea de Adamich | Surtees | +78 varv | 15 |
| ns | 31 | Derek Bell | Tecno | | |
| | | |
| --- | --- | --- |
| NC=Not Classified | NT=No time set in qualifying | R=Retired |
| EX=Excluded from meeting | W=Withdrawn | DQ=Disqualified |
| NS=Did not start | NQ=Did not qualify | NPQ=Did not pre-qualify |

Aktuell ställning
| Position | Förare | Nation | Poäng |
| --- | --- | --- | --- |
| 1 | Emerson Fittipaldi | BRA | 61 |
| 2 | Jackie Stewart | GBR | 36 |
| 3 | Denny Hulme | NZ | 35 |
| 4 | Jacky Ickx | BEL | 25 |
| 5 | Peter Revson | USA | 23 |
| 6 | Clay Regazzoni | CH | 15 |