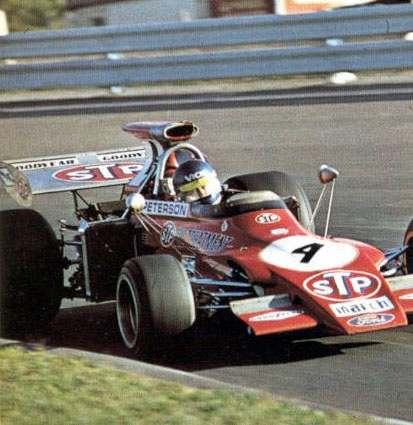 United States Grand Prix 8 Oktober 1972, Watkins Glen
Ronnie Peterson gör sitt 32:a F1 lopp i säsongsavslutningen på Watkins Glen. Ingenting har fungerat i tidskvalet och med 26.e bästa tid tvingas Ronnie starta som en av de allra sista. Stewart står i "pole position" före Revson och Hulme.
Tävlingen blir en uppvisning från Stewarts sida som leder från start till mål och även tar den snabbaste varvtiden med 1.41,644. Ronnie gör återigen ett fantastiskt lopp och plockar 22 (!) placeringar för att sluta som fyra bakom Cevert och McLaren (som tagit de resterande pallplatserna). Reine Wisell i en Lotus blir för övrigt 10:a.
Emerson Fittipaldi, som redan ett par tävlingar tidigare kortas som världsmästare, blir den yngste totalsegraren någonsin med sina 25 år.
För Ronnie blir året en stor besvikelse och han slutar på en total 9:onde plats med endast 12 poäng. Ronnie har dock återigen bevisat att han kan köra mycket snabbt och klokt med undermålig materiel. Förväntningarna inför nästa års säsong i Lotus är därför stora - frågan är dock vad Lotus kommer att göra med årets vinnarbil för att hålla positionen som ledande konstruktör...?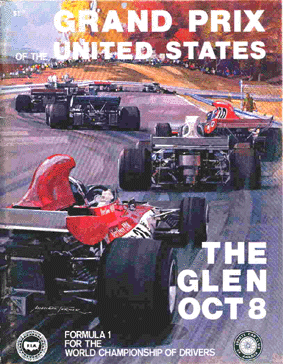 Summary in english
There was a huge field of 31 cars for the final race of the year with many teams entering third cars. Team Lotus had Dave Walker and Reine Wisell alongside Emerson Fittipaldi, while Tyrrell ran a third car for Patrick Depailler. McLaren ran its spare car for a youngster called Jody Scheckter. Surtees loaned out one car to Sam Posey while running Tim Schenken, Mike Hailwood and Andrea de Adamich. John Surtees himself briefly drove a fifth car but did not race. BRM had four cars as in Canada but Bill Brack was replaced by Brian Redman.
Qualifying saw Jackie Stewart fastest for Tyrrell with Peter Revson and Denny Hulme alongside him on the front row in their McLarens. Francois Cevert shared the second row with Carlos Reutemann's Brabham while Clay Regazzoni (Ferrari), Chris Amon (Matra) and the impressive young Scheckter were on the third row. Emerson Fittipaldi and Mario Andretti (Ferrari) completed the top 10. On Sunday morning Amon ran into trouble and so decided to start from the back in a spare car, leaving his grid position vacant.
At the start Stewart went into the lead with Hulme second but Regazzoni ran into Reutemann and Revson. This enabled Fittipaldi to grab third place with Scheckter fourth, a fast-starting Jacky Ickx (Ferrari) fifth and then the recovering Regazzoni. Both Revson and Reutemann had to stop for repairs. On lap five Fittipaldi had to pit because of a slow puncture and so Scheckter moved to third place. Cevert now began to charged and after passing the Ferraris he was able to catch and overtake Scheckter for third place. At half distance Cevert caught and passed Hulme to give Tyrrell a 1-2. When rain started to fall Scheckter made a mistake a spun, dropping down the order and so fourth place went to Ronnie Peterson's March with Ickx behind him.
Sammanställning
Grand Prix
USA
Datum
8 Oktober 1972
Bana
Watkins Glen
Säsong
1972
Deltävling
12
Längd (km)
5.435
Varv
59
Time
1:41:45.354
| | | | | | |
| --- | --- | --- | --- | --- | --- |
| Place | No | Förare | Team | Time | Grid |
| 1 | 1 | Jackie Stewart | Tyrrell | 1:41:45.354 | 1 |
| 2 | 2 | François Cevert | Tyrrell | 32.268 | 4 |
| 3 | 19 | Denny Hulme | McLaren | 37.528 | 3 |
| 4 | 4 | Ronnie Peterson | March | 82.516 | 26 |
| 5 | 7 | Jacky Ickx | Ferrari | 83.119 | 12 |
| 6 | 9 | Mario Andretti | Ferrari | +1 varv | 10 |
| 7 | 3 | Patrick Depailler | Tyrrell | +1 varv | 11 |
| 8 | 8 | Clay Regazzoni | Ferrari | +1 varv | 6 |
| 9 | 21 | Jody Scheckter | McLaren | +1 varv | 8 |
| 10 | 12 | Reine Wisell | Lotus | +2 varv | 16 |
| 11 | 28 | Graham Hill | Brabham | +2 varv | 27 |
| 12 | 34 | Sam Posey | Surtees | +2 varv | 23 |
| 13 | 6 | Mike Beuttler | March | +2 varv | 21 |
| 14 | 26 | Henri Pescarolo | March | +2 varv | 22 |
| 15 | 18 | Chris Amon | Matra | +2 varv | 7 |
| 16 | 33 | Skip Barber | March | +2 varv | 20 |
| r | 23 | Mike Hailwood | Surtees | +3 varv | 14 |
| r | 20 | Peter Revson | McLaren | +5 varv | 2 |
| nc | 5 | Niki Lauda | March | +10 varv | 25 |
| r | 27 | Carlos Pace | March | +11 varv | 15 |
| r | 14 | Peter Gethin | BRM | +12 varv | 28 |
| r | 16 | Howden Ganley | BRM | +15 varv | 17 |
| r | 11 | Dave Walker | Lotus | +15 varv | 30 |
| r | 30 | Wilson Fittipaldi | Brabham | +16 varv | 13 |
| r | 17 | Jean-Pierre Beltoise | BRM | +19 varv | 18 |
| r | 15 | Brian Redman | BRM | +25 varv | 24 |
| r | 29 | Carlos Reutemann | Brabham | +28 varv | 5 |
| r | 25 | Andrea de Adamich | Surtees | +34 varv | 19 |
| r | 22 | Tim Schenken | Surtees | +37 varv | 31 |
| r | 10 | Emerson Fittipaldi | Lotus | +42 varv | 9 |
| r | 31 | Derek Bell | Tecno | +51 varv | 29 |
| ns | 24 | Johnny Surtees | Surtees | | |
| | | |
| --- | --- | --- |
| NC=Not Classified | NT=No time set in qualifying | R=Retired |
| EX=Excluded from meeting | W=Withdrawn | DQ=Disqualified |
| NS=Did not start | NQ=Did not qualify | NPQ=Did not pre-qualify |

Slutlig ställning i 1972 års GP i Formel 1
| Position | Förare | Nation | Poäng |
| --- | --- | --- | --- |
| 1 | Emerson Fittipaldi | BRA | 61 |
| 2 | Jackie Stewart | GBR | 45 |
| 3 | Denny Hulme | NZ | 39 |
| 4 | Jacky Ickx | BEL | 27 |
| 5 | Peter Revson | USA | 23 |
| 6 | Clay Regazzoni | CH | 15 |
| " | François Cevert | FRA | 15 |
Konstruktörsmästerskapet
Lotus-Ford 61
Tyrrell-Ford 51
McLaren-Ford 47