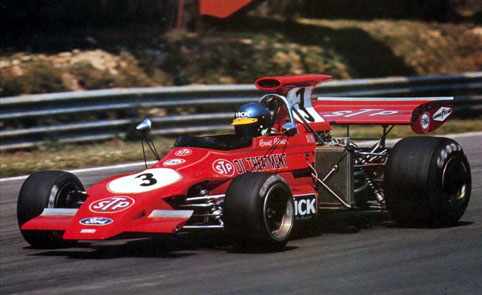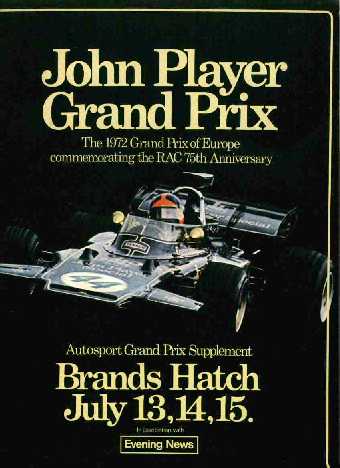 John Player British Grand Prix 15 Juli 1972, Brands Hatch
Ronnie Petersons 27:e start under F1 karriären. Återigen brottas Ronnie med en bil med otillräckliga prestanda, men lyckas ändock ta en plats bland de tio främsta i startfältet och står med 8:e bästa träningstid bredvid Mike Hailwood i fjärde startledet. I "pole position" står Jacky Ickx före Emerson Fittipaldi.
Ronnie lyckas ta en placering direkt efter start och kan under loppet avancera ytterligare. Fjärdeplatsen ser ut att vara i hamn efter det att Cevert har kraschat på det 61:a varvet, men ett varv före mål får Ronnie ett motorbortfall i Paddock Hill Bend och kör rätt in i de övergivna bilarna efter Cevert och Hill.
Jacky Ickx i en Ferrari tappar ledningen till Fittipaldi på det 48:e varvet efter oljetrycksproblem.
I det total sammandraget från tävlingen är Ronnie sjua. Fittipaldi vinner i sin Lotus före Stewart (som i sin Tyrrell också presterad snabbaste varvtiden med 1.24,0) och Revson (McLaren).
Summary in english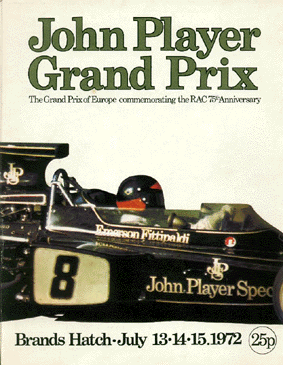 The teams rushed back from France to prepare for the British Grand Prix and there were a number of new cars in the entry list, notably the first Williams (known as a Politoys). There was also another British car called the Connew, which was being driven by Francois Migault. The entry was slightly smaller than usual as BRM had given up running five cars and decided to concentrate on three. With Helmut Marko permanently out of action because of his eye injury, BRM took the moment to have a clear-out and dropped both Howden Ganley and Reine Wisell and took on Jack Oliver instead to partner Jean-Pierre Beltoise and Peter Gethin. Regazzoni was still out of action with a broken arm (from a football accident) and with Mario Andretti racing in the United States, Ferrari gave its sportscar driver Arturo Merzario an opportunity in F1. Nanni Galli, who had raced for Ferrari in France, went back to the Tecno team.
Qualifying resulted in Jacky Ickx taking pole in his Ferrari with Emerson Fittipaldi alongside in his Lotus. Peter Revson (McLaren) shared the second row with Jackie Stewart (Tyrrell) while Tim Schenken was again quick in the Surtees and qualified fifth, ahead of Beltoise's BRM. The top 10 was completed by Mike Hailwood (Surtees), Ronnie Peterson (March), Merzario and Carlos Reutemann (Brabham).
Ickx took the lead at the start with Fittipaldi second and a fast-starting Beltoise third. Then came Revson, Stewart, Schenken and Peterson. Stewart was the man on the move and moved ahead of Revson on lap three and Beltoise on lap seven. he then closed up on Fittipaldi and took second place on lap 25 although Fittipaldi fought back and retook the position on lap 36. Ickx was only just ahead of them. On the 49th lap, however, Ickx slowed with an oil pressure problem and so the battle for second became the fight for the lead. Revson was running in a lonely third place. The order remained unchanged until the finish. Fourth place looked to be safe for Peterson after Cevert crashed on lap 61 but on the 75th lap the March 's engine cut at Paddock Hill Bend and Peterson crashed into the cars which had been abandoned by Cevert and Graham Hill. Amon took fourth place with Hulme fifth and F1 debutante Merzario sixth.

Sammanställning
Grand Prix
Storbritannien
Datum
15 Juli 1972
Bana
Brands Hatch
Säsong
1972
Deltävling
7
Längd (km)
4.265
Varv
76
Tid
1:47:50.200
| | | | | | |
| --- | --- | --- | --- | --- | --- |
| Placering | Nr | Förare | Team | Tid | Grid |
| 1 | 8 | Emerson Fittipaldi | Lotus | 1:47:50.200 | 2 |
| 2 | 1 | Jackie Stewart | Tyrrell | 4.099 | 4 |
| 3 | 19 | Peter Revson | McLaren | 72.500 | 3 |
| 4 | 17 | Chris Amon | Matra | +1 varv | 17 |
| 5 | 18 | Denny Hulme | McLaren | +1 varv | 11 |
| 6 | 6 | Arturo Merzario | Ferrari | +1 varv | 9 |
| r | 3 | Ronnie Peterson | March | +2 varv | 8 |
| 8 | 27 | Carlos Reutemann | Brabham | +3 varv | 10 |
| 9 | 4 | Niki Lauda | March | +3 varv | 19 |
| 10 | 33 | Rolf Stommelen | March | +5 varv | 25 |
| 11 | 11 | Jean-Pierre Beltoise | BRM | +6 varv | 6 |
| r | 28 | Wilson Fittipaldi | Brabham | +7 varv | 22 |
| 13 | 31 | Mike Beuttler | March | +7 varv | 23 |
| r | 22 | Tim Schenken | Surtees | +12 varv | 5 |
| r | 2 | François Cevert | Tyrrell | +16 varv | 12 |
| r | 9 | Dave Walker | Lotus | +17 varv | 15 |
| r | 5 | Jacky Ickx | Ferrari | +27 varv | 1 |
| r | 26 | Graham Hill | Brabham | +29 varv | 21 |
| r | 25 | Carlos Pace | March | +37 varv | 13 |
| r | 14 | Jackie Oliver | BRM | +40 varv | 14 |
| r | 21 | Mike Hailwood | Surtees | +45 varv | 7 |
| r | 29 | Dave Charlton | Lotus | +55 varv | 24 |
| r | 30 | Nanni Galli | Tecno | +67 varv | 18 |
| r | 24 | Henri Pescarolo | Williams | +69 varv | 26 |
| r | 12 | Peter Gethin | BRM | +71 varv | 16 |
| r | 23 | Andrea de Adamich | Surtees | +73 varv | 20 |
| ns | 34 | François Migault | Connew | | |
| | | |
| --- | --- | --- |
| NC=Not Classified | NT=No time set in qualifying | R=Retired |
| EX=Excluded from meeting | W=Withdrawn | DQ=Disqualified |
| NS=Did not start | NQ=Did not qualify | NPQ=Did not pre-qualify |

Aktuell ställning
| Position | Förare | Nation | Poäng |
| --- | --- | --- | --- |
| 1 | Emerson Fittipaldi | BRA | 43 |
| 2 | Jackie Stewart | GBR | 27 |
| 3 | Denny Hulme | NZ | 21 |
| 4 | Jacky Ickx | BEL | 16 |
| 5 | Peter Revson | USA | 10 |
| 6 | Jean Pierre Beltoise | FRA | 9 |
| " | Chris Amon | NZ | 9 |
| " | François Cevert | FRA | 9 |