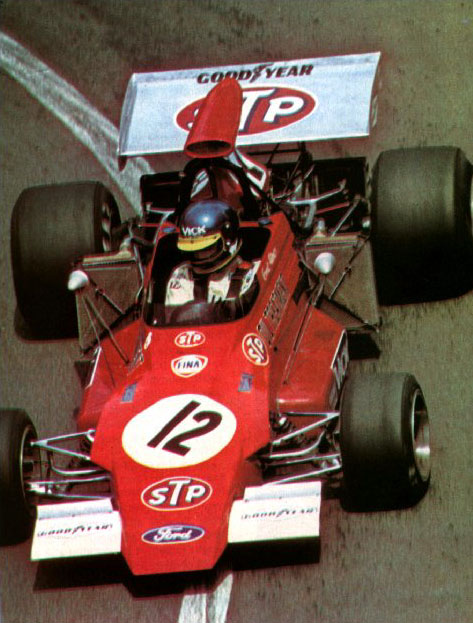 Grand Prix de France 2 Juli 1972, Clermont-Ferrand
Ronnie Petersons 26:e start i Formel 1. Hos March har uppfinningsrikedomen inte tagit semester och Ronnie kommer till tävlingen i en F2 bil försedd med en F1 motor och med den nya beteckningen 721G. Träningen blir som vanligt problematisk och Ronnie lyckas endast prestera en 9:e bästa tid.
Snabbast under kvalet är Amon som står i "pole" före Hulme.
Efter start lyckas Ronnie hålla sin plats i fältet och kan så småningom avancera några placeringar. Som bäst är Ronnie uppe på en tredje plats, men en del i torsionsfjädringen lossnar baktill och med svår understyrning faller han tillbaka. Trots detta kan Ronnie köra i mål som femma, knappt en minut efter vinnaren Jackie Stewart (Tyrrell). Tvåa blir Emerson Fittipaldi i en Lotus före trean Chris Amon - som också presterar snabbaste varvtiden 2.53,9 i sin Matra. Loppet ser följande förare i ledning; Amon 1-19; Stewart 20-38.
Summary in english
As the Dutch Grand Prix was canceled because safety work had not been done, there had been a month-long break between the Belgian and French GPs. In that time there had been a rather curious Grand Prix of the Italian Republic at the Vallelunga circuit, in the hills outside Rome. Ferrari did not bother to compete and there were only seven cars in the race after Niki Lauda had a big crash in his BRM in practice. The race was won by Emerson Fittipaldi from the Surtees of Andrea de Adamich. and Nanni Galli third in the new Tecno.
The Clermont Ferrand track had been improved to meet the new safety standards and there was a big field with Jackie Stewart back in action after missing the Belgian GP because of a stomach ulcer. Tyrrell had a new 005 chassis but this was crashed early on by Francois Cevert. The team ran a third car for Elf protege Formula 3 driver Patrick Depailler. McLaren again ran Brian Redman in its second car as Peter Revson was busy in a USAC race in Pocono. With Mario Andretti also away and Clay Regazzoni having broken his arm playing football, Ferrari took on Tecno driver Nanni Galli for the weekend. The Tecno was therefore driven by Derek Bell.
Qualifying saw the latest version of the Matra on pole position in the hands of Chris Amon with Denny Hulme second for McLaren. The second row featured Stewart and Jacky Ickx (Ferrari), while Tim Schenken (Surtees) and Helmut Marko (BRM) caused some excitement by qualifying on row three head of Francois Cevert (Tyrrell) and Emerson Fittipaldi (Lotus). Galli was disappointing in the Ferrari, qualifying only 19th while local hero Jean-Pierre Beltoise having to start at the back of the grid in Howden Ganley's car after his own broke down on Sunday morning.
Amon took the lead from Hulme and Stewart with Ickx and Marko chasing. In the opening varvs Fittipaldi moved ahead of Hailwood, Schenken and Marko to take fifth place. On the ninth varv Marko's race (and sadly his career) ended when a stone thrown up by Fittipaldi's car hit him in the left eye. He lost sight in that eye and never raced F1 again, but did help to develop the careers of many young Austrian drivers in the years that followed, notably Gerhard Berger. Peterson inherited sixth place, having overtaken Hailwood. Stewart overtook Hulme on varv 17 and then Amon had to pit because on a puncture, caused by the flying stones and so Stewart took the lead. Hulme stopped for new tires and dropped down the order, leaving Ickx in second place. The Ferrari than had a puncture and Ickx had to pit and so Fittipaldi moved to second place ahead of Peterson and Cevert. In the closing varvs Amon recovered, repassing Peterson (who had been overtaken by Cevert) and then Cevert himself to grab third place.
Sammanställning
Grand Prix
Frankrike
Datum
2 Juli 1972
Bana
Clermont-Ferrand
Säsong
1972
Deltävling
6
Längd (km)
8.055
Varv
38
Tid
1:52:21.500
| | | | | | |
| --- | --- | --- | --- | --- | --- |
| Placering | Nr | Förare | Team | Tid | Grid |
| 1 | 4 | Jackie Stewart | Tyrrell | 1:52:21.500 | 3 |
| 2 | 1 | Emerson Fittipaldi | Lotus | 27.700 | 8 |
| 3 | 9 | Chris Amon | Matra | 31.900 | 1 |
| 4 | 7 | François Cevert | Tyrrell | 49.300 | 7 |
| 5 | 12 | Ronnie Peterson | March | 56.800 | 9 |
| 6 | 26 | Mike Hailwood | Surtees | 96.100 | 10 |
| 7 | 2 | Denny Hulme | McLaren | 108.100 | 2 |
| 8 | 19 | Wilson Fittipaldi | Brabham | 145.100 | 14 |
| 9 | 11 | Brian Redman | McLaren | 175.500 | 13 |
| 10 | 18 | Graham Hill | Brabham | 179.500 | 20 |
| 11 | 3 | Jacky Ickx | Ferrari | +1 varv | 4 |
| 12 | 20 | Carlos Reutemann | Brabham | +1 varv | 17 |
| 13 | 30 | Nanni Galli | Ferrari | +1 varv | 19 |
| 14 | 28 | Andrea de Adamich | Surtees | +1 varv | 12 |
| 15 | 5 | Jean-Pierre Beltoise | BRM | +1 varv | 24 |
| 16 | 10 | Rolf Stommelen | March | +1 varv | 15 |
| 17 | 27 | Tim Schenken | Surtees | +2 varv | 5 |
| r | 6 | Dave Walker | Lotus | +4 varv | 22 |
| r | 15 | Mike Beuttler | March | +5 varv | 23 |
| nc | 8 | Patrick Depailler | Tyrrell | +5 varv | 16 |
| r | 24 | Reine Wisell | BRM | +13 varv | 18 |
| r | 17 | Carlos Pace | March | +20 varv | 11 |
| r | 25 | Helmut Marko | BRM | +30 varv | 6 |
| r | 14 | Niki Lauda | March | +34 varv | 21 |
| ns | 16 | Henri Pescarolo | March | | |
| ns | 23 | Howden Ganley | BRM | | |
| ns | 22 | Peter Gethin | BRM | | |
| ns | 21 | Derek Bell | Tecno | | |
| ns | 29 | Dave Charlton | Lotus | | |
| | | |
| --- | --- | --- |
| NC=Not Classified | NT=No time set in qualifying | R=Retired |
| EX=Excluded from meeting | W=Withdrawn | DQ=Disqualified |
| NS=Did not start | NQ=Did not qualify | NPQ=Did not pre-qualify |

Aktuell ställning
| Position | Förare | Nation | Poäng |
| --- | --- | --- | --- |
| 1 | Emerson Fittipaldi | BRA | 34 |
| 2 | Jackie Stewart | GBR | 21 |
| 3 | Denny Hulme | NZ | 19 |
| 4 | Jacky Ickx | BEL | 16 |
| 5 | François Cevert | FRA | 9 |
| " | Jean Pierre Beltoise | FRA | 9 |