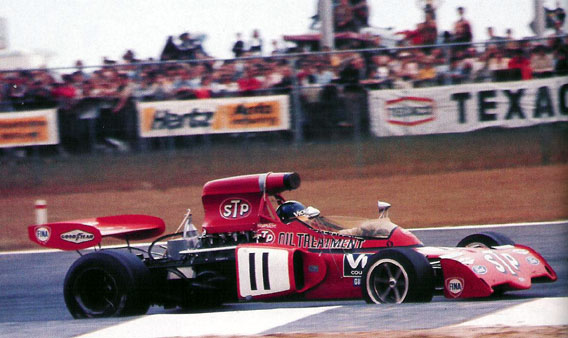 Grand Prix de Belgique 4 Juni 1972, Nivelles
Ronnie Peterson gör sin 25:e F1 start i Belgiens GP 1972 på banan Nivelle i Spa utanför Bryssel. Experimenterandet har fortsatt inom March stallet och Ronnie har stora problem med 712X:an under tidsträningen. Ronnie får endast en 14:e bästa tid och är långt efter Fittipaldi som står i "pole position" före Regazzoni och Hulme. Ronnies teamkamrat Niki Lauda lyckas ännu sämre och startar absolut sist.
Fittipaldi i en Lotus vinner före Cevert (Tyrrell) och Hulme (McLaren). Ronnie kommer till slut i mål som 9:a, två varv efter.
Snabbaste varv Chris Amon med 1.12,12 och loppet ser följande två ledare; Regazzoni 1-8 och Fittipaldi 9-85.
Summary in english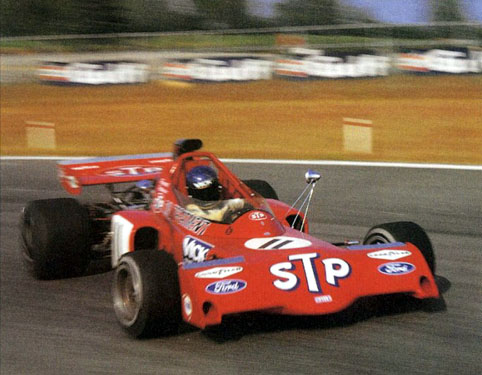 With Spa being considered too dangerous for Formula 1 machinery, the Belgians decided to hold their Grand Prix at a new track near Brussels called Nivelles. It was safe but inspired little enthusiasm. The World Championship was still very open with four different winner in the first four races (Jackie Stewart in Argentina, Denny Hulme in South Africa, Emerson Fittipaldi in Spain and Jean-Pierre Beltoise in Monaco). Although Fittipaldi looked to be quickest a few days before the Belgian race Hulme beat him in the Gold Cup at Oulton Park.
When the field gathered at Nivelles Stewart was missing, having been ordered by doctors to rest because of an stomach ulcer. Reine Wisell was out of action as well, having injured his hand in the Gold Cup and his place in the five-car team was taken by Vern Schuppan (although he failed to make the start because Peter Gethin damaged his car and so took over Helmut Marko's car and the Austrian took Schuppan's. Ferrari still had two cars as Mario Andretti was elsewhere but Peter Revson was back in action of McLaren. Carlos Reutemann was also back in action after his ankle injury and so Brabham had increased to three cars, with Wilson Fittipaldi running an older BT34 while Reutemann and Graham Hill used the new BT37.
The Martini Tecno team made its first appearance with one car for Nanni Galli but it was not very competitive.
Emerson Fittipaldi took pole position with Clay Regazzoni (Ferrari) and Hulme alongside him on the front row. Jacky Ickx (Ferrari) shared the second row with Francois Cevert's Tyrrell, while Beltoise (BRM), Revson (McLaren) and Mike Hailwood (Surtees) on the third. The top 10 was completed by Reutemann and Andrea de Adamich (Surtees).
In the race Regazzoni made the best start and took the lead with Fittipaldi and Ickx chasing him. Then came Hulme, Cevert, Hailwood and Beltoise. There was then a gap because De Adamich had collided with Revson and caused some considerable confusion. Reutemann was also in trouble with a gear lever problem.
Regazzoni stayed ahead until the ninth lap but then Fittipaldi overtook him and began to move away. Cevert moved ahead of Hulme on the 12th lap and so when Ickx stopped with a throttle problem on lap 26, Cevert was third and in a position to challenge Regazzoni for second place. He moved ahead on lap 31. Regazzoni remained third until lap 58 when he stumbled while lapping Galli's Tecno and crashed. This put Amon third but as usual the New Zealander had no luck at all and on lap 77 he had to pit for more fuel because his fuel pumps were playing up. This promoted Hulme to third with Hailwood fourth, Carlos Pace again impressive in the Williams March in fifth and the recovering Amon in sixth.

Sammanställning
Grand Prix
Belgien
Datum
4 Juni 1972
Bana
Spa
Säsong
1972
Deltävling
5
Längd (km)
3.724
Varv
85
Tid
1:44:06.700
| | | | | | |
| --- | --- | --- | --- | --- | --- |
| Placering | Nr | Förare | Team | Tid | Grid |
| 1 | 32 | Emerson Fittipaldi | Lotus | 1:44:06.700 | 1 |
| 2 | 8 | François Cevert | Tyrrell | 26.600 | 5 |
| 3 | 9 | Denny Hulme | McLaren | 58.100 | 3 |
| 4 | 34 | Mike Hailwood | Surtees | 72.000 | 8 |
| 5 | 16 | Carlos Pace | March | +1 varv | 11 |
| 6 | 5 | Chris Amon | Matra | +1 varv | 13 |
| 7 | 10 | Peter Revson | McLaren | +2 varv | 7 |
| 8 | 25 | Howden Ganley | BRM | +2 varv | 15 |
| 9 | 11 | Ronnie Peterson | March | +2 varv | 14 |
| 10 | 27 | Helmut Marko | BRM | +2 varv | 23 |
| 11 | 6 | Rolf Stommelen | March | +2 varv | 20 |
| 12 | 12 | Niki Lauda | March | +3 varv | 25 |
| 13 | 19 | Carlos Reutemann | Brabham | +4 varv | 9 |
| 14 | 33 | Dave Walker | Lotus | +6 varv | 12 |
| r | 17 | Graham Hill | Brabham | +12 varv | 16 |
| nc | 15 | Henri Pescarolo | March | +26 varv | 19 |
| r | 30 | Clay Regazzoni | Ferrari | +28 varv | 2 |
| r | 36 | Andrea de Adamich | Surtees | +30 varv | 10 |
| r | 22 | Nanni Galli | Tecno | +31 varv | 24 |
| r | 29 | Jacky Ickx | Ferrari | +38 varv | 4 |
| r | 14 | Mike Beuttler | March | +54 varv | 22 |
| r | 18 | Wilson Fittipaldi | Brabham | +57 varv | 18 |
| r | 24 | Peter Gethin | BRM | +58 varv | 17 |
| r | 23 | Jean-Pierre Beltoise | BRM | +70 varv | 6 |
| r | 35 | Tim Schenken | Surtees | +74 varv | 21 |
| ns | 26 | Vern Schuppan | BRM | | |
| | | |
| --- | --- | --- |
| NC=Not Classified | NT=No time set in qualifying | R=Retired |
| EX=Excluded from meeting | W=Withdrawn | DQ=Disqualified |
| NS=Did not start | NQ=Did not qualify | NPQ=Did not pre-qualify |

Aktuell ställning
| Position | Förare | Nation | Poäng |
| --- | --- | --- | --- |
| 1 | Emerson Fittipaldi | BRA | 28 |
| 2 | Denny Hulme | NZ | 19 |
| 3 | Jacky Ickx | BEL | 16 |
| 4 | Jackie Stewart | GBR | 12 |
| 5 | Jean Pierre Beltoise | FRA | 9 |
| 6 | Clay Regazzoni | CH | 7 |